A Publix application online is a wise choice, and the company scores very high reviews when it comes to employees expressing how they like working there. Although the starting pay is just about average, Publix offers great benefits and a chance for employees who meet the minimum requirements of working at least a year to purchase their privately held stock.
This means you can acquire a piece of ownership of this supermarket chain!
Is Publix Hiring?
The employee turnover rate at Publix is lower than average, so it's always a good idea to visit the store of your choice and ask if there are any openings. You should do this instead of just relying on the information provided to you on the careers website.
Many times, there are a handful of job openings that have not been posted yet. By visiting the stores and asking, you may be able to place yourself in a great position to be hired immediately.
These stores are continually hiring and due to the likelihood of many stores being available in any area, there is a great chance you can quickly find the job you are looking for.
Working at Publix Reviews 
Unlike some other retail companies, Publix also scores very high in the reviews in regards to how they are treated by management.
The following are some pros and cons of working at Publix, so you can get a better idea of what it's like to work there.
Pros
The company is very organized 
Benefits are excellent 
The working environment is very friendly 
Managers treat their employees well and are very flexible with scheduling
Free lunch or at least 50% off certain items
There is a lot of room for advancement within the company 
Customers who shop there are very nice
You can purchase privately-owned stocks from Publix
Cons
The minimum pay should be higher
Managers work too many hours every week
Not enough work hours assigned every week
The work scheduling is not consistent
Some part-time employees find it difficult to advance to a full-time position
In some stores, breaks can be too short
Related Posts
History of Publix
Publix prides itself on having a true American success story. At the ripe age of 18, late founder George W Jenkins had big dreams of becoming a real estate mogul.
However, he found a job working as a stock clerk at a Piggly Wiggly in Atlanta, GA. He soon became a temporary manager and eventually began managing a few stores. 
In 1930, he left his job and started his own store and he named it Publix Food Store in Winter Haven, FL.
Slowly, Jenkins expanded the company to where it is now, with over 1,250 locations across the southeastern region of the United States. Publix now employs over 197,000 workers.
Jobs at Publix
There are many entry-level jobs at Publix stores where even 14-year-olds can find employment. If you are at least 14 years of age, you can work as a cashier, floral clerk, or bagger.
If you are at least 16 years of age, you can find an entry-level job working in the above-mentioned positions as well as a bakery clerk, grocery clerk, and produce clerk.
You have to be at least 18 years of age to work as a baker apprentice, cake decorator apprentice, cleaning and sanitation worker, deli clerk, meals clerk, meat and seafood clerk, or meat cutter.
Skilled positions at Publix that require you to be at least 18 and have previous experience are baker, cake decorator, meat cutter, pharmacy technician, and wine specialist.
The store managerial positions consist of assistant department managers, department managers, assistant store managers, and store managers.
Publix also offers positions in these areas: 
Distribution and logistics 
Pharmacy 
Support areas
Information technology 
Internships
The following are the most common entry-level and experienced store positions.
Publix Cashier
The first and most important part of this job is greeting customers with a smile. You will primarily be working at the cash register but don't be surprised if you have to switch gears and occasionally bag items while someone else works the register.
This is a job where you are really in the public eye. If you haven't noticed, a cashier at Publix will stand at the entrance of his or her station when no one is checking out and paying for their products, and they'll guide the customers to their cash register.
This is a great example of the courteous service Publix expects you to provide once you are hired by the store. This job is very easy to learn and the most difficult aspect is learning the fruits and vegetables so that you can identify and weigh those products upon checkout.
Once again, you can be a Publix cashier if you are at least 14 years of age. You will be trained on the job.
Publix Bagger
This is one of the most common jobs 14-year-olds can consider applying for. Also known as front service clerks, baggers should also interact with customers in order to make a great impression on the store.
Aside from learning how to bag groceries correctly, you're going to be assisting customers by taking their shopping cards to their cars and unloading the groceries into their vehicles.
With this job, you also have to be ready to answer questions such as where the bathroom is, how to find a certain product, and where a customer can find the manager. Keep in mind you are also going to be entering and exiting the store frequently, so it's possible that you will be subjected to high temperatures when you are outside.
You'll also have cleaning duties, so be prepared to learn how to clean bathrooms!
Publix Bakery Clerk
In this position, you will be providing fresh bakery products for customers. This includes bread and rolls as well as many other bakery products.
You'll interact quite a bit with customers and make recommendations for products. Be ready to answer any questions while providing the best customer service experience possible.
Once again, this job requires you to be at least 16 years of age.
Part of this job involves using dangerous equipment such as sharp knives or powered equipment. If you are under 18 years of age, you will not be expected to use any equipment that places you in a high liability position.
This job involves a lot of walking and standing up. You'll also be carrying certain products and boxes that weigh up to 60 pounds.
Publix Floral Clerk
If you've ever walked into a Publix and you have seen the flower and balloon display area usually located next to the greeting cards, you have probably wondered if there was one employee dedicated to taking care of that. 
Of course, there is a floral clerk that makes sure this department has proper presentation and is visually appealing to Publix customers.
In this position, you will do all that and much more in helping customers find the products they are looking for. You'll make recommendations of products, you'll create flower arrangements, and you will water and trim plants as necessary.
Additionally, you'll be in charge of keeping your area clean and assist with any duties the manager requests you to perform.
For this position, you have to be at least 14 years of age. However, you are not allowed to handle any dangerous equipment such as knives and power tools unless you are 18.
Additionally, those who take this job and are at least 16 years of age are required to unload trucks as they arrive at the rear of the store.
Publix Deli Clerk
A deli clerk at Publix is one of the most fast-paced jobs you can imagine. You'll have to be at least 18 years of age to be able to handle the cheese and meat slicers to provide fresh products for your customers.
You'll also have to operate the oven, microwave, and fryer. There is a lot of equipment you need to learn how to handle but you can rest assured you're going to get plenty of on-the-job training.
In this position, you also prepare sandwiches according to the Publix menu. You will also learn how to prepare platters and fulfill the quick orders that Publix is known for.
For this position, it's important to be able to know at least some basic math skills as well as the ability to read and write.
Publix Produce Clerk
Produce clerks at Publix are always on the go, organizing the fruits and veggies and placing them in their proper displays. You'll be constantly busy at this position as customers tend to disorganize the displays as they are searching for products.
You'll have to get to know your department and be able to answer any and all questions from customers about which products to choose and where they are located. You will be regularly changing prices on products and placing sale price signs where they need to go.
In this job, you will also be working in the receiving area as well as on the sales floor.
You have to be at least 16 years old to apply for this job and 18 years or older to be able to use the power equipment or knives.
Publix Baker
Just about anyone who has tried Publix bakery products will agree they are absolutely delicious. Your job as a baker is to provide quality baked goods using special Publix recipes. 
You will be in a position to help customers choose the types of products they need for their special occasions. Additionally, you will help baker apprentices learn and sharpen their skills so they can become full-fledged bakers at some point.
The minimum qualifications for this position are that you have to be 18 years of age and have some experience as a baker or a baker apprentice, and you must have the ability to solve simple math as well as read and write pretty well.
Many bakers start out at the entry level as either a cashier, bagger, or bakery clerk, for example. The positions for bakers are usually filled by employees who already have some type of experience as Publix employees.
Publix Cake Decorator
This position requires quite a bit of skill and practice. You need to have or develop some kind of creativity in decorating cakes, pies, and other baked goods while adhering to the company guidelines and the preferences of customers.
You will be packaging and labeling products before placing them in the refrigerated showcases. You'll also be in charge of rotating the products to make sure they are as fresh as possible for the customers.
At times, you will be helping customers with the setup and delivery of the wedding cakes. As an experienced cake decorator, you will also be in charge of training other associates in this position.
The minimum qualifications are that you have to be at least 18 years old, and you should have some experience as an apprentice for this position.
Publix Meat Cutter
This is another position where you can start out as an apprentice. A Publix meat cutter, most commonly referred to as a butcher, will adhere to the high safety standards set forth by this company.
If you get hired for this position, you need to be experienced enough to not only cut and prepare meats properly, you will be providing advice and guidance to customers and how to cut and prepare their own meats.
This is a job where you definitely need to practice your skills every day and become the best meat cutter you can be. It's also a job where you have to be very careful and practice all the safety standards on a constant basis.
You will also help to unload the meat products from trucks arriving in the receiving area of the store. It's important to be able to occasionally help lift packages weighing approximately 110 pounds, so this requires a great level of strength.
You'll have to be at least 18 years of age, and you should be willing to help train other associates as they go through their apprenticeships.
Publix Pharmacy Technician
Publix will offer you on-the-job training if you would like to become a pharmacy technician. Of course, you will have to be at least 18 years of age and have the active license or registration required by your state.
A pharmacy tech at this store plays a significant role in customers' overall health. You will provide many valuable services to your customers such as immunizations, therapy management, and health screenings.
If you are a nationally certified technician, you will receive premium pay for this position. Pharmacy techs at Publix also enjoy an annual bonus during the holidays, seven days off for yearly holidays, tuition reimbursement, and many other great benefits.
Publix Assistant Department Manager
As an assistant department manager, you will lead your team of employees to success and profitability in your respective department.
You can apply for one of these positions in the following six categories:
Deli 
Customer service 
Grocery
Bakery
Meat
Produce
So, for example, if you're an assistant deli manager, you are responsible for the efficiency in which your team members serve meat and cheeses to the customers. This means you will help train and re-train employees if necessary, and you will monitor the daily activities to make sure your department is running as smoothly as possible.
This position can lead to a department manager position, which means you will be earning approximately $15,000-$20,000 more per year.
Publix Department Manager
In this position, you can expect to work many hours while you make a great effort to find dependable workers and keep them motivated.
You will empower your assistant department manager to take care of the important business in their respective departments and you will also play a pivotal role in how well your employees perform.
Your daily tasks include managing inventory, keeping customers satisfied, profitability reports, training your associates, and evaluating their performance. You will also be expected to handle difficult situations, such as a conflict between employees and dissatisfied customers.
Publix Assistant Store Manager
As an assistant store manager at Publix, you will help the store manager supervise the operations as well as the staff members. 
You'll constantly work with department managers to make sure customer service is up to standards. This job requires you to be the eyes and ears of the store manager so that you can help make appropriate adjustments to the store as needed.
Many store managers give the assistant manager the responsibility of making out the work schedules for employees. For this position, it's also important to know you're in charge of helping out with sales goals and following directions from upper management in order to make your store a success.
Many assistant store managers are perfectly happy with their positions without thinking about ever becoming store managers. However, if you have your eyes set on being a store manager someday, you will be happy to know that you will get a hefty raise in the form of approximately $25,000 to $35,000 a year.
Publix Store Manager
Publix boasts about how they usually promote their own employees to be store managers. In other words, you can start out as a cashier and find yourself 8 to 10 years later as the head honcho of your store!
Hiring from within is an important culture to have at any supermarket chain. This is because an employee who has worked many years in a retail store should know more than the average experienced manager with high credentials coming in from another company.
Being a store manager at Publix does not involve sitting at a desk all day long. You will be walking the floor constantly, meeting and greeting customers, and talking to your employees. 
You'll also meet with your department managers and other management staff about once a week to gain feedback and make improvements to ensure profitability for your store.
Publix Pharmacist
At Publix, a pharmacist is more than just someone who fills prescriptions and dispenses medications. A person who fills this position is expected to become a trusted person in the community.
By using Publix's state-of-the-art technology, you will be providing the utmost care to patients who walk into the store. You'll provide customers with health screening, you will offer community immunization clinics, and health and wellness events.
You will also be providing many other types of screenings for patients, including:
Lipid testing
Glucose testing
Weight and BMI assessments
Blood pressure testing
Publix Internships
For all college students seeking a degree as well as current Publix employees doing the same, this retail chain offers an extensive internship program.
Every summer from May to August, Publix offers college students paid internships at their Lakeland, FL company facilities. This is a chance to learn far more real-world skills than you would learn in a classroom setting, all while getting paid.
This retail supermarket chain makes things interesting by offering interns two performance evaluations during their 10 to 12 weeks of internship. 
You also get to attend luncheons with important people of the company, you can participate in local events, and you'll be given the opportunity to conduct your own presentation at the end of your internship in front of a large group of Publix executives and leaders.
You can choose from the following internship programs:
Risk management
Pharmacy
Loss prevention
Distribution
Corporate accounting
Facilities
Purchasing
Human Resources
Information technology
… and a few more!
You can find all the internship opportunities available at Publix during the month of February. You will find them at the "Publix Jobs Center."
How to Apply at Publix
Filling out a Publix application online is a fairly simple process. You're going to register for an account with an email and a password.
Once you have confirmed your email address, you will be redirected to a page taking you to a link that will allow you to begin the application process.
On the application, Publix will ask you if you understand that the store has a safe working environment for yourself and for shoppers and that you are willing to take a drug test as a condition of employment.
The next question it will ask is if you have transportation that is reliable so you can get to work. Then, it will ask you if you are legally eligible to be employed in the United States.
From there it will give you five different pages where you are going to enter your personal info, your job interests, availability, education, and your employment history.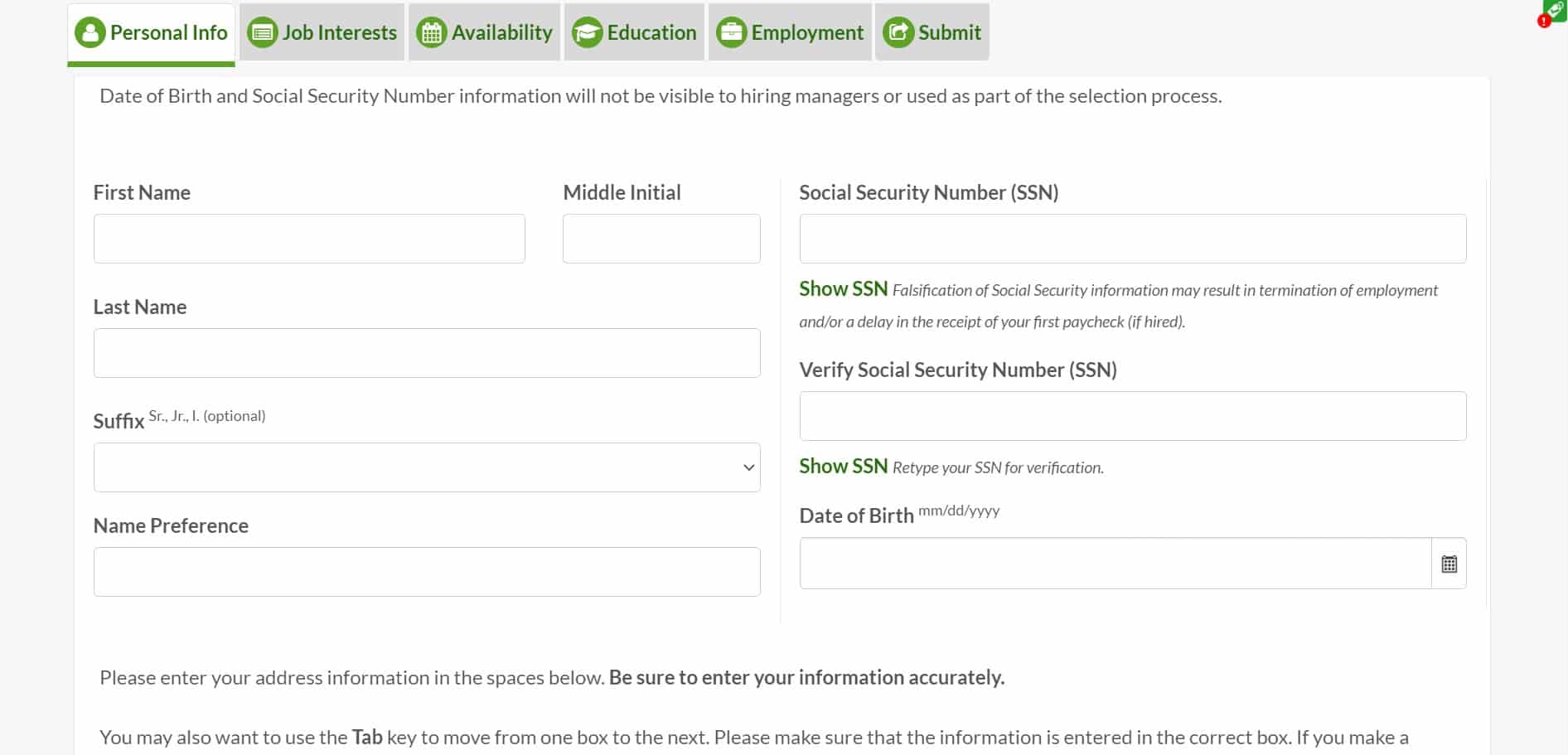 Here are a few tips to give you the best chance of getting hired during the application process:
Select at least three different Publix stores to apply to. Take your time filling out the job application and be as accurate as possible.
Make sure you keep your availability to work "open." Public stores are busiest during nights and weekends, so if you make yourself available for these times, you have a better chance of getting hired.
After you submit your Publix application online, visit the store, and introduce yourself to the management staff. This will show them that you are very interested in getting hired to work for them, and it will give you an edge over the competition. Visit at least three Publix stores and introduce yourself.
It's important to update your application every 30 days. This is the way you can keep your information current, so your application can stay active, and the store manager can see it. 
The best way to conduct yourself in a Publix interview is to show up in business attire. You need to look as professional as possible, and you should bring a resume.
Publix Application Process
The whole process of getting hired at Publix from beginning to end for an hourly position can take anywhere between one week to five weeks, on average. 
This all depends on the necessity of the store you applied to. If you apply and haven't gotten a call for an interview within one week, it's important to follow up by visiting the store and inquiring.
Once you do get a call back for an interview, make sure you show up looking professional. This is not one of those retail positions where you can just show up in any type of clothing as long as it's neat. You must look like you are really serious about getting a job at Publix because they have high standards.
If you pass the interview, you will be scheduled for a background check immediately and this includes a drug test.
Once you pass your background check, it can take anywhere between two days to three weeks to finally get hired officially.
Minimum Age to Work at Publix
In order to work at Publix, you have to be at least 14 years of age to get a job as a cashier, bagger, or floral clerk. Also, you have to be at least 16 years of age to be a clerk in the bakery, produce, and grocery departments.
Employees under the age of 18 are limited in the types of tools they are allowed to use while working at Publix for safety reasons.
Does Publix drug test you before they hire you?
Publix is one of the very few companies that have a very strict hiring process where they will drug test you during their background check. Whether you are applying for an hourly job or a salary position, you will be interviewed thoroughly before going to the next phase of the process, which includes a background check.
Final Thoughts
Publix is one of those rare companies that gets great reviews from present and former workers. If you are looking for an entry-level position, this retail chain may give you the comfort of knowing it can actually turn into a great career.
Publix loves to hire from within, and many of its managerial staff members started out at the entry-level.
If you're someone who needs to support your family while earning a steady paycheck, this retail store has a comprehensive benefits plan once you become a full-time worker. Publix appears to be the type of organization that truly cares about its employees and instills a caring attitude and culture in its upper management.
Another aspect that strikes me as very important is the working atmosphere. Publix has a very clean and organized store making it a pleasure to come to work. Employees also say their co-workers are very team-oriented and they work in a friendly environment.
Publix is also known to welcome people with disabilities to apply, with open arms.
Teenagers looking for an entry-level position while attending high school will find a job at Publix is much more appealing than working at a fast-food restaurant. Seniors looking for part-time positions will also find a great opportunity by working one of the many part-time jobs available, as well.
Featured image courtesy of Stilfehler, CC BY-SA 3.0, via Wikimedia Commons.