Aldi is very competitive when it comes to starting and average pay for retail supermarket chains. In this article, you will see the differences in pay for each position whether entry-level or experienced, the full-time and part-time hours you will work, whether Aldi pays weekly or bi-weekly, the raises you may receive, break policy information, and the dress code.
What Is the Aldi Starting Pay?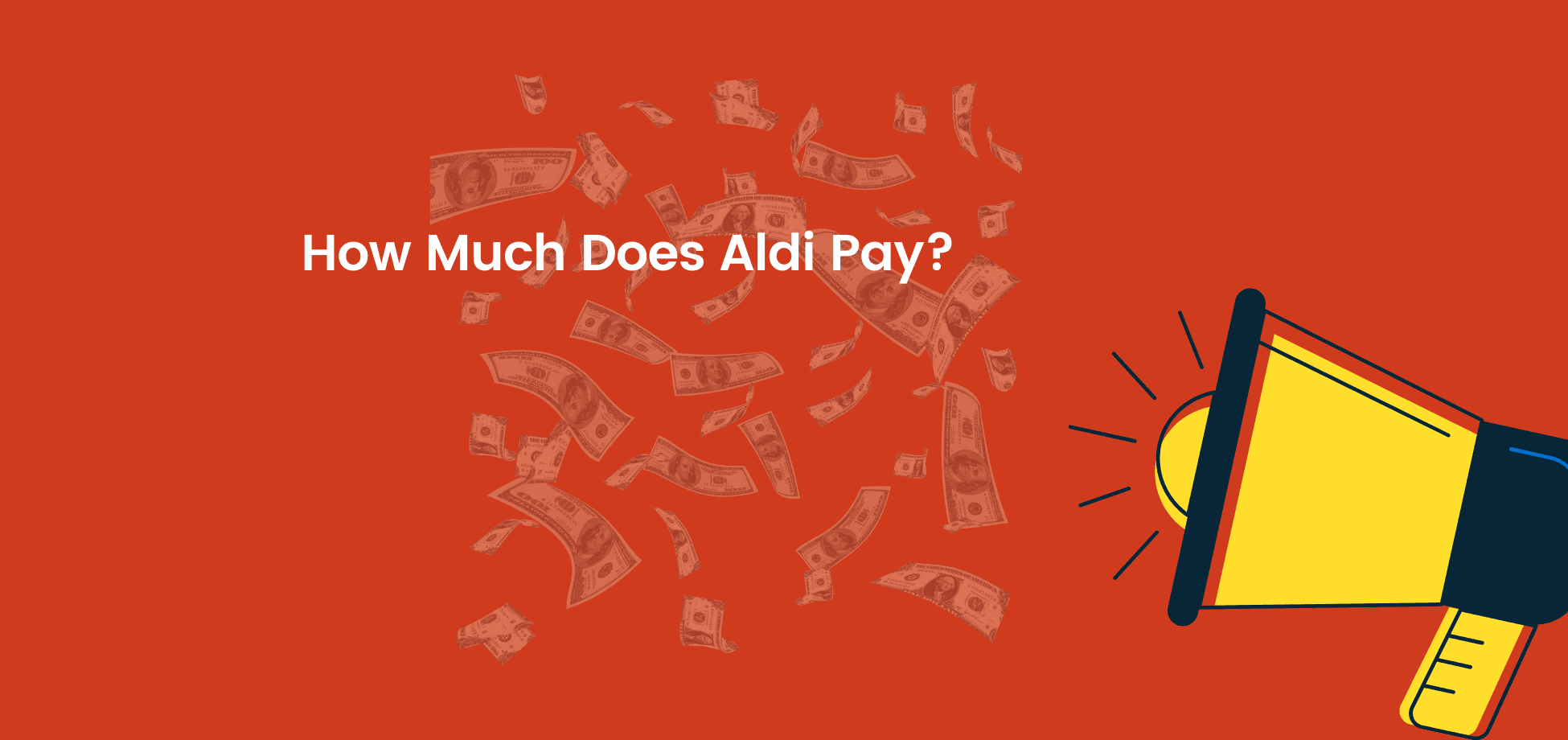 The starting pay for entry-level workers depends on the cost of living in the area in which you will apply. The average starting hourly rate is between $12.50 and $15.20 an hour. 
This pay is well above average for any retail supermarket chain. However, with that high hourly rate, comes plenty of responsibility and lots of hard work.
Employees who have worked at Aldi either love the job or hate it, depending on whether they believe the amount of work they put in on a daily basis is worth the pay.
Many who love the job say they can't imagine being anywhere else because of the excellent compensation and great benefits. Others say the work is exhausting and the pay is not worth the physical demands placed on your body.
Related Posts
Aldi Full-time Hours
If you are hired as a full-time employee, you are expected to work at least 25 hours a week, and preferably more. It's not uncommon to work a consistent 38 to 40 hours per week and have plenty of overtime available, as well.
This is due to all the stores having a roster of only 8 to 10 employees for each store. It places plenty of responsibility on the workers assigned to the store to be dependable and to keep absenteeism to a minimum.
Here's an example of the shift hours you may work at the store:
5 AM to 1 PM
6 AM to 2 PM
7 AM to 3 PM
9 AM to 5 PM
1 PM to 9 PM
3 PM to 12 PM
Store managers are expected to work an unlimited amount of time in order to get the work done. It's not uncommon for a store manager to work approximately 50 to 60 hours a week.
Aldi Part-time Pay
The part-time pay for entry-level employees is generally the same pay as for full-time workers. You'll start out somewhere between $12.50 to $15.20 per hour. 
Aldi tends to pay a very high part-time starting pay in some areas due to the limited number of hours they will assign you and the nature of the physical work.
As an example, if you are assigned only 18 hours a week at the $15.20 an hour rate, you would make approximately $273.00 a week and about $14,227 a year working half the number of hours of a full-time worker! 
Aldi Part-time Hours
Part-time workers at Aldi usually get an average of between 15 to 24 hours of work every week.
An example of the possible part-time shifts you may work are:
6 AM to 10 AM
7 AM to 12 PM
1 PM to 5 PM
3 PM to 8 PM
5 PM to 10 PM
7 PM to 11 PM
Of course, all stores are different, and it's up to the management staff to create the most effective schedules for their stores.
Be aware that sometimes, even though you are only a part-time worker, you may be called upon to work an eight or ten-hour day. If you want to someday get promoted to full-time, it would be a wise choice to try to fill in any open slots when somebody calls out sick.
Aldi Stocker pay
Aldi is currently hiring only part-time stockers at the present time and the starting salary, on average, is between $12.50 to $15.20 an hour.
Based on approximately $13.25 an hour and working an average of 20 hours a week, you would make approximately $265 a week, or $13,700 per year.
Many part-time stockers find themselves working an average of 25 to 30 hours a week. This would bump up your weekly pay and yearly salary considerably.
Aldi Cashier Pay
The average starting pay for a cashier at Aldi is approximately $13.50 an hour. Since Aldi only hires cashiers part-time until they can prove themselves to be exceptional at their jobs, you would only get approximately 24 hours a week.
Using that figure, you'd make approximately $324 a week and $16,848 in yearly salary.
Cashiers at this retail supermarket know all too well they need to become very proficient at scanning items as quickly as possible. Your supervisors will do their best to ensure that you are scanning at least 1,000 products every hour during your shift.
Aldi Store Associate Pay
The average starting pay for a store associate is $13.50 an hour. This is a 38 to 40 hour a week job that will give you approximately $540 a week, and a yearly salary of $28,080.
Store associates are constantly active, performing a variety of tasks as directed by the management staff. It is a very physically demanding job that will require you to work long hours and be on your feet all day.
Since this job is full-time, you will get the same comprehensive health benefits package that a salaried employee would get.
Aldi Shift Manager Pay
A shift manager makes a starting wage of approximately $12.70 an hour but there are perks to this job. For every hour you work at this position as a manager, you get an extra 3 to 4 dollars an hour.
Therefore, the average worker in this position makes approximately $16 an hour to start. This comes out to $640 a week on average, plus $33,280 in yearly salary.
Shift managers are extremely busy all the time, motivating their fellow workers and guiding them to have a successful workday. 
Aldi Assistant Manager Salary
An assistant manager makes approximately $19.75 an hour. This means you'll make about $790 a week and a yearly salary in the neighborhood of $41,080.
Usually, the job of an assistant manager is a salaried position. At Aldi, this position is considered an hourly job. This could work to your advantage.
You will no doubt have to work some overtime hours throughout your work year, and this should catapult your yearly salary past the $45,000 a year mark.
Aldi Store Manager Trainee Pay
As a store manager trainee, you will have a starting pay of $24 an hour. You will usually work an average of 45 hours a week because you will be working alongside the store manager, who works 40 to 60 hours a week.
This will give you approximately $1,080 a week in pay, and a salary of $56,160 a year.
This position requires you to train at different locations in a general region in your state.
Aldi Store Manager Pay
The average salary for a store manager at Aldi is approximately $78,700 a year. This job comes with annual performance bonuses, so that figure can rise considerably by the end of the year.
The salaries for this position can range anywhere between $58,000 a year to $110,500 a year.
Aldi Warehouse Associate Pay
This is the most common distribution center job and the average starting pay is approximately $17.50 an hour. There are some openings that pay only $16 an hour but there are some that pay up to $19.40 an hour.
Based on the $17.50 an hour starting wage and working an average of 32 hours per week for this position, you will make approximately $560 a week. Your yearly salary will be $29,120. 
Does Aldi Pay Weekly?
Aldi pays on a biweekly basis on a Friday. If you set up a direct deposit, that is the easiest way to go. If you need to receive the first one or two checks in paper form, Aldi will issue your checks at your store.
Sometimes, paper checks can get lost in the shuffle. Make sure you communicate well with your management staff about how you are going to receive your first few paychecks.
When does Aldi give raises?
Aldi gives some employees who work hourly positions an approximate 2% to 3% pay raise after every year of employment. So, as an example, if you are a cashier making $13.50 an hour, you would get a $.40 raise after your first year if you perform well. 
This would place your hourly wage at $13.90 an hour and in the following two years can go as high as $14.70 an hour.
Break Policy
The policy for Aldi when taking breaks is that you will get two paid breaks of 15 minutes each and one unpaid 30-minute meal break for every scheduled shift of seven hours or more. 
It's important to research the laws of your state regarding breaks because you need to be clear with your management staff as to what is expected. As reported by some employees, it's sometimes difficult to take a break when you are entitled to take it.
The easiest way to solve this problem if it arises is to work hard, be dependable, and perform well so that you are never questioned about the breaks you are entitled to.
Dress Code
The one thing that stands out as part of the dress code for all the workers is that you have to wear steel-toed boots at all times. 
Aside from that, store associates wear navy blue shirts and managers wear blue shirts and gray shorts. Associates are allowed to wear jeans as long as they aren't ripped and managers wear black slacks when they're not wearing shorts.
Tattoos are allowed as long as they don't offend anyone and more than two earrings are also permissible as long as they don't call undue attention to yourself.
If your hair is dyed, this may pose a problem. Again, this all depends on your management staff but generally, colored hair other than your natural hair is not allowed.