Lowe's careers offer many diverse opportunities for talented people who have the desire to be successful in joining their team.
History of Lowe's Home Improvement Store
Lowe's has been in existence since 1921 when the first store opened in North Wilkesboro, NC.
The owner, Lucius Smith Lowe passed away in 1940 and his daughter Ruth inherited the store. She sold it within a year to Jim, her brother, and he partnered with Carl Buchan in 1943 and changed the name to Lowe's Hardware.
Buchan eventually became the sole owner and although his company experienced a few ups and downs during the beginning, it eventually grew into the powerhouse it is today.
How Many Lowe's are There in the US?
With over 2,000 stores and counting, chances are you have one of these retail stores in your neighborhood. This home improvement chain employs over 300,000 workers in the United States and Canada.
Even though Lowe's is the second-largest retail home improvement chain in the world behind Home Depot, don't let that fool you. It's still a great choice to work for and in some respects, people prefer it to work at The Home Depot.
Working at Lowe's Reviews by Employees
Before embarking on a new career, it's wise to research what employees say about how they like working at Lowe's.
The following pros and cons by former and present employees were noted after carefully researching Indeed.com's reviews:
Pros
Managers treat their employees well and offered them assistance
The benefits are great and comprehensive
The company offers bonuses
The working atmosphere is fun and fast-paced
Your days go by quickly because you're usually busy
It's a good place to learn many aspects of the retail business
The pay is good and there is room to advance within the company
Cons
Some managers are not supportive and favor certain employees
The pay is lower than expected
Not enough working hours in a pay period
Bad scheduling issues affect some employees
You have to be on your feet all day
Management sometimes overworks their employees
Getting a good work/life balance is difficult
The takeaway here is that while many employees thought their management staff treated them well, some said their managers showed a lot of favoritism to other employees and treated them unfairly. This is something seen in every company so you can take that into account and judge this for yourself.
Just about every employee review about the benefits was very positive. The working atmosphere also received great reviews as well.
While some said the pay was good, others disagreed, saying it wasn't enough for the work they had to perform.
Lowe's Careers to Choose From
The different job opportunities at Lowe's are broken down as follows:
Seasonal Jobs (these can become permanent store positions)
Store Positions
Merchandising
Supply Chain
Store Support Center and Corporate Jobs
Technology
Contact Centers
Seasonal Jobs at Lowe's
From March to October of every year, Lowe's begins looking for seasonal employees to fill their company needs. These positions can last anywhere from 2 weeks to approximately 5 months.
The best thing about a seasonal job is that it can lead to full-time Lowe's careers for workers willing to work hard and get noticed by management staff.
It is a fact that approximately 200 staff members currently working in management started out as seasonal employees!
Does Lowe's Keep Seasonal Employees?
Lowe's states that roughly 40% of their seasonal workers transition to a full-time or part-time job. So, your chances of getting hired permanently are excellent. Start out with a positive attitude and work hard and you'll have the best chance.
Please understand if you want to get hired permanently, you'll have to put forth much more effort than the next person. This means you have to do your best to never call in sick. You also always have to be more flexible about your work hours than all permanent employees.
These are the positions offered:
Lowe's Retail Associate – Aside from the obvious expectation that you will always place emphasis on providing great customer service, you will be expected to get acquainted with the store's products.
You will help maintain the store's cleanliness and make certain the shelves are stocked with products. You'll work between 10-40 hours per week and you need to be flexible with your work shifts.
You're also expected to be able to lift at least 25 lbs. and on occasion, more than 25 lbs. without the help of others.
Lowe's prefers people with a little retail experience and some computer know-how but it is not necessary. They will take the time to train you if they believe you have potential.
Stocking and Receiving – In this job, you will usually be working evening or overnight hours because you'll be unloading all the incoming merchandise from delivery trucks. Remember, you will be expected to understand your hours may change at any time, so you need to be flexible.
The physical requirements are the same as for retail associates. The added minimum qualifications are that you have to be able to read and write. additionally, you have to prove to them you can do basic math such as adding and subtracting.
Lowe's Cashier – This job like many Lowe's careers, requires you to perform other duties aside from working the cash register. At times you'll have to jump in and perform the work of a stocker and even maintain the cleanliness and safety of the store.
You must be able to lift at least 10 lbs. without help and sometimes even a little more weight without assistance.
Experience is preferred but Lowe's will train the right people. Keep in mind as a seasonal employee and beyond, you need to be flexible with your work scheduling.
If you want to eventually get hired permanently with any of these seasonal jobs, you need to prove to management you will do whatever it takes to fulfill your responsibilities as an employee.
Store Jobs at Lowe's
Lowe's careers mainly feature their store jobs. They are constantly looking for permanent full and part-time associates to join their team of employees in providing the absolute finest customer service.
There is no experience necessary for some positions while others require the necessary education and experience to be effective.
Aside from the seasonal positions which can turn into permanent store jobs described above, here are other store jobs to consider:
Lowe's Manager Jobs
Managers and Supervisors – There are many Lowe's careers in management. This job requires sharp people with the ability to keep employee morale high while adhering to the company policies.
These positions are all about helping to drive sales and making the store profitable while delivering the best customer experience possible.
You can visit the main careers website and begin seeing all the management jobs available in your area right now. Here's a sample list of some management positions they offer:
Hardware Tools Supervisor
Merchandising Service manager
Assistant Store Manager in Merchandising
Sales Floor Department Supervisor in Building Materials
Tool Rental Dept. Supervisor
Night Operations Dept. Supervisor
Back-End Supervisor
Paint Sales Supervisor
Electrical and Plumbing Supervisor
As you can see, the management positions are almost endless!
The requirements for these positions are generally at least 3 years of retail experience and a high school diploma, or just 5 years retail experience if you don't have a high school diploma.
The requirements vary with each position, so check on the main careers website while you are applying online.
Plumbing and Electrical – This is a position that requires expertise in these fields. You will be providing experienced advice while selling the appropriate products for customers to fulfill their project needs.
The job also requires you to stock the shelves, conducting inventory checks, and fulfilling customers' online orders.
Here's a sample of store opportunities in this field:
Plumbing Sales Specialist
Plumbing Pro
Lighting and Electrical Sales Associate
Electrical Pro
Electrical and Plumbing Department Supervisor
The preferred qualifications for most of these positions except the supervisory jobs are 1 year in the retail business and some type of certification in your chosen field.
Merchandising Services Team – Here, you will be entrusted to have your stores ready to open their doors while having the right products in their places. This job also requires a lot of tedious work in that you have to make sure the prices of products are correct, you have to rotate products to increase sales, and you have to be able to follow precise instructions set forth by your team.
Some of these positions available are as follows:
Merchandising Service Associate
Merchandising Assistant Store Manager
Service Manager
This position requires regular minimum qualifications plus the ability to use the computer so you can perform the required tasks.
How Much Does Lowe's Pay?
For hourly positions, you can expect to earn an average hourly wage of approximately $14.20 an hour with $11.00 per hour to start.
As an example, Indeed.com reports the average Lowe's sales associate pay is about $12.00/hr., while the average Lowe's cashier pay is approx. $13.50 an hour.
As far as management positions are concerned, a store manager can earn an average of $113,000 a year and much higher while other supervisor positions can widely range from $45,000 a year to well over $100,000 a year.
How to Get a Job at Lowe's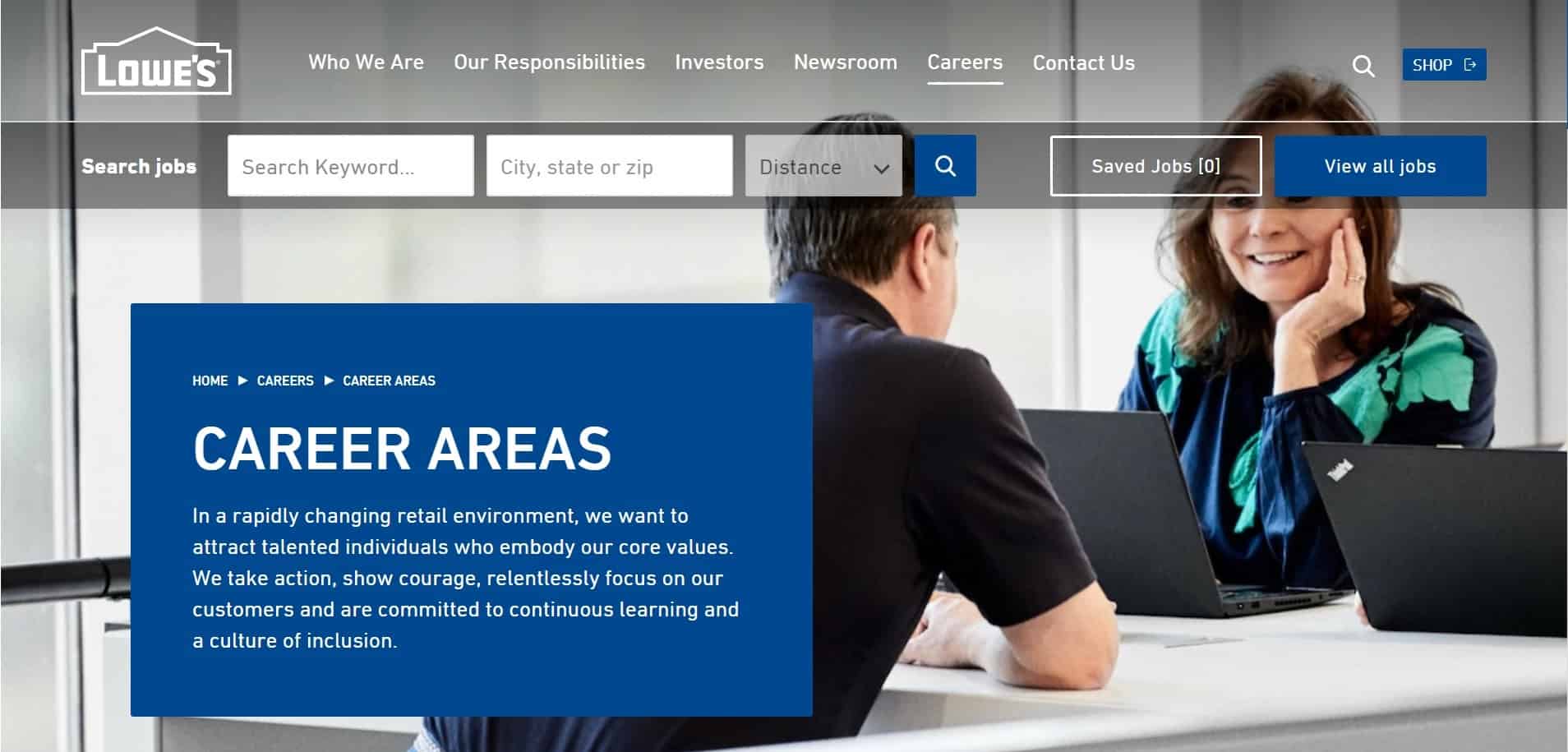 To get hired at Lowe's, you'll have to submit an online application. Go to their careers page and follow these steps:
Become acquainted with the "career areas" page by clicking and researching the different types of Lowe's careers available.
Try to narrow down your choices to maybe 2 to 3 positions you'd like to apply for.
Begin applying by clicking on the store job category links. For example, go to where it says "Store Jobs," find the "Cashiers" heading, then click where it says "Explore->."
You will be redirected to a page that says "Search & Apply."
Type your city and state in the 2nd search box on the top, then in the 3rd box, set the distance to your preference (I placed 25). Now click the blue search button.
You should see all the "cashier" jobs available in your area.
Click the one you like, go all the way down to the blue box on the lower left that reads "Apply to Job(s)" and click it.
It will redirect you to create an account and register online.
Now you can continue applying!
Lowe's Hiring Process During and After You Apply
The application online can take anywhere between 45 minutes to 1 1/2 hours because it has an aptitude test included at the end.
You simply need to have the basic information as for any other retail job application such as; your work history, personal references, your social security number, etc.
If you do well on the online test, you will get a call back for an interview within the following two weeks. Some people report that the company called back on the same day!
You may get a call for a second interview. Just relax and show up dressed in neat clothing and make sure you prepare yourself to answer interview questions using the guide below.
Lowe's hiring process can turn out to be a long one! Applicants are normally hired between 1 to 2 months due to the complete background check. However, some employees report they were hired within the first week!
Does Lowe's Drug Test For Employment?
They sure do! Lowe's has one of the most methodical hiring processes in the retail industry. There is no room in a home improvement store for people who are taking illegal drugs because of the obvious dangers of working around heavy tools and materials!
Once they interview you, it's time to get a mouth swab drug test to make sure you are not taking any illicit substances! So, prepare yourself with plenty of time beforehand.
Does Lowe's Hire Felons?
The company leans towards not hiring felons but it does not mean it's impossible to consider one fo the many Lowe's careers and get hired with a felony past.
The important thing to take into account with their strict hiring process is to be upfront with them and not lie during the application process.
If you have a felony that is not violent in nature or isn't one which they think could potentially affect the store, then you may get hired.
Lowe's Interview Questions and Answers
Of all the preparation anyone can do before trying to get hired, practicing interview questions and answers ranks right up there at the top!
Below are some sample Lowe's interview questions along with an idea of how to answer those questions.
Some of them are open-ended statements requiring a response.
Here they are:
Please tell us about who you are.
Be honest and straightforward when describing the great qualities you possess. Keep it short and try not to go into your life's story. The last thing you want to do is bore the interviewer to death!
Why is it that you want to work at Lowe's?
Tell the interviewer you've been looking at and researching Lowe's careers because it fits your personality and your career goals. Be prepared to explain how a job here fits you so unbelievably well.
Why did you leave your previous job?
Whatever you decide to say here, do not say anything negative about your former employer or anyone who worked at that company. State why you left and paint it in a positive light.
As an example, I would say, "Even though I worked so hard for them, and they appreciated it, I just felt like there was no room for advancement. I had already been researching Lowe's careers and I knew deep inside if I worked hard and put forth the maximum effort, I could have an amazing future here. They understood and wished me the best."
What is your biggest weakness? What about your greatest strength?
When you talk about your weakness, don't make it something major such as, "I don't get along well with others." That will disqualify you in a heartbeat!
Instead, talk about something that's not really all that important as it relates to the job you are applying for, such as, "I tend to overwork because I have a lot of energy and I've been told to tone it down a little, so I can at least have a life away from work." As far as your strength, talk about something without exaggerating.
In 5 years, where do you think you will be?
I would say something such as, "In 5 years, I will be serving Lowe's in a management capacity and using all my experience to help guide the employees I supervise in providing the best customer experience imaginable." I'm sure you can get an idea from that!
If a customer was upset, what would you do?
This question requires you to step up and taking personal responsibility. So, the answer would be something like, "I would immediately try to reassure the customer I would do everything possible to make things right and I would inform my supervisor. Then I would take all the necessary steps to make sure I could obtain the best possible outcome and resolve the customer's situation to their satisfaction."