As you consider submitting your Old Navy application online, it's important to check out reviews from present and past employees who know what it's like to work there.
Working at Old Navy
You can learn quite a bit from reading about others' experiences and this can help you make a more informed decision about whether you want to work in this company.
Overall, when I checked the company reviews, employees said their experience was positive for a variety of reasons. There were some complaints and these usually revolved around low pay, not enough work hours, and inconsistent work scheduling.
Keep in mind every company has its pros and cons, so I've included just a taste of what you will see if you conduct some research of your own.
Here are some pros and cons, as reported by employees. The feedback was taken from Indeed.com and Glassdoor.com:
Pros
Fun place to work
The pay was good for a first job
You can work part-time and attend school
Great pay and sometimes, you can choose your days off
Good choice for your first job
It's easy to get another worker to cover your shift
Employees get up to a 50% discount off merchandise
If you work hard and get noticed, you can get a lot of working hours
The benefits package is pretty good
Cons
Some employees complained about managers being disorganized
Low hourly pay
Not enough hours to work and make a decent paycheck
Training is inconsistent
Upper management preferred young employees
The breaks should be longer
You have to be willing to work flexible shifts
History Of Old Navy
In August 1993, Gap, Inc. opened a few discount stores across the United States and eventually decided it needed a new discount retail chain. These new stores were a great success!
The company decided to go one step further and form a new identity for these discount stores, and Old Navy was born.
When Old Navy first opened its doors in 1994 in Colma, CA, the whole concept was to bring highly fashionable clothing to everyone at a low price. Within 4 years, the company had already reached $1 billion in sales.
How many Old Navy stores are there?
Old Navy has grown to over 1,100 stores over the last 26 years. Its flagship stores are located in:
San Francisco, CA
New York City, NY
Chicago, IL
Seattle, WA
Mexico City, Mexico
Manila, Philippines
It also has many stores across the United States as well as China, Canada, and Mexico.
Submit Your Old Navy Application Online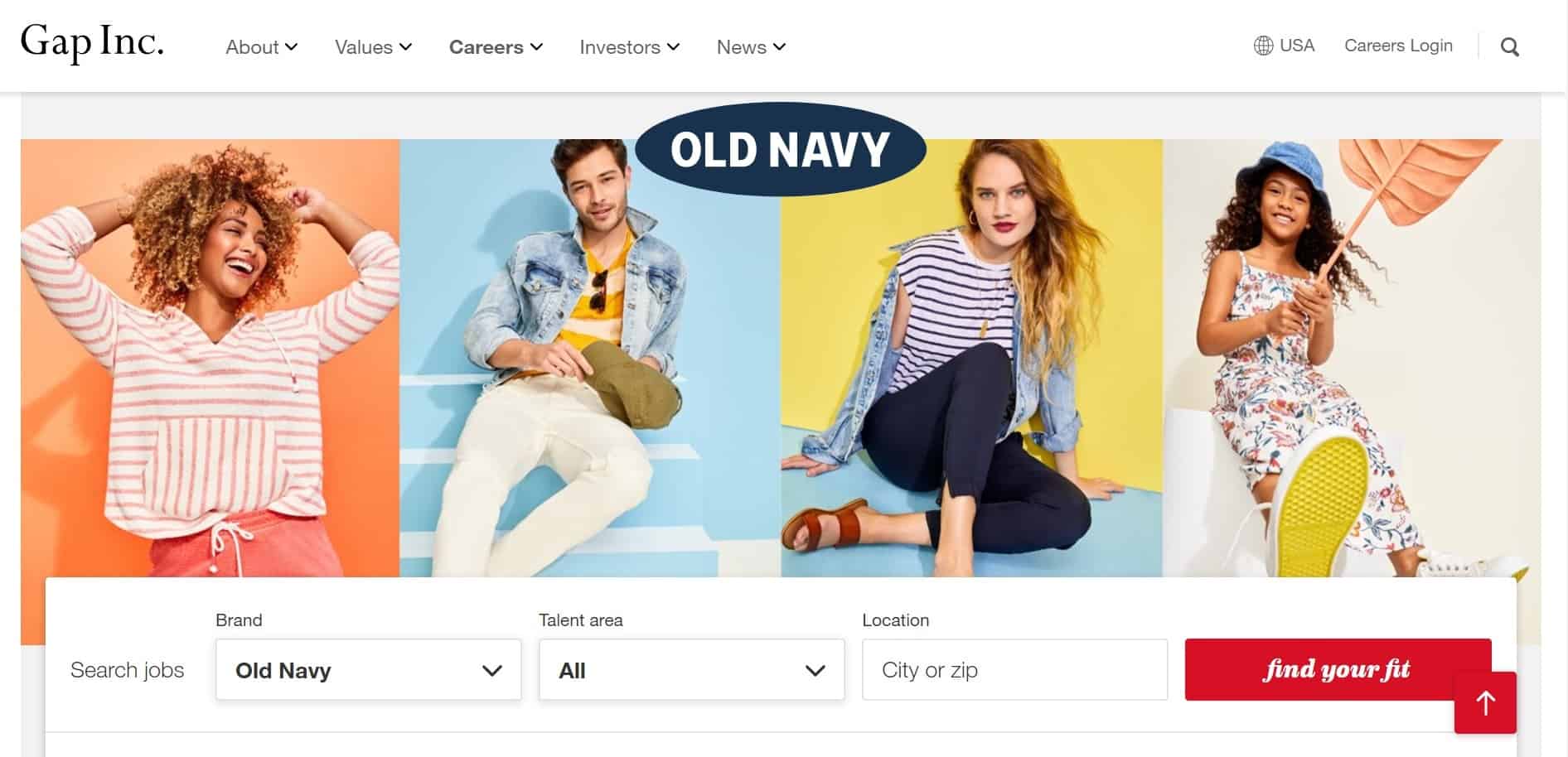 You can submit your Old Navy online application online by going here. Once on the page, you will find the job search box which includes three more boxes that say:
Brand – you can choose from the following Gap, Inc.-owned stores and divisions; Gap, Banana Republic, Old Navy, Athleta, Intermix, Janie and Jack, Hill City, and Gap Inc.
Talent Area – many positions to choose from
Location – place your city or zip code
When entering your location, I find the system works better when you enter the city and state.
Once you have entered your choices in the three boxes, press the "find your fit" submit button.
From there, you will be redirected to a "job results" page and once you select a job that interests you, it will take you to another page where you can register for an account to start the application process.
Alternatively, you can hold off applying if you don't find the job you are looking for and instead, you can sign up for "job alerts" on the bottom of the page.
Old Navy Salaries
It's important to know how much you can earn working at this retail chain before you apply. Keep in mind that although the amount of pay is oftentimes critical to anyone looking for employment, there are other things to look for, such as:
Working environment
A chance for advancement within the company
Benefits such as health, dental, and 401k
So, how much does Old Navy pay an hour? For hourly workers, you can expect to earn an average of $10.00 to $12.00 an hour. The starting pay is usually a little higher than the federal minimum wage, so you can expect at least $8.00 per hour.
For salaried employees, the range is quite broad with manager salaries averaging approximately $73,000/year with a range of $45,000 to $97,000/year. There are so many other salaried jobs available, so it's best to look at the official careers website and pick out your targeted career.
From there, you can easily perform a search on your favorite search engine such as Google using your job choice and you can find out the average salary for it.
Is it hard to get a job at Old Navy?
For hourly positions, as long as you fill out your Old Navy application online completely and follow the hiring guidelines, you should have a great chance of getting hired. Remember, Old Navy is looking for energetic people who can work hard and provide great customer service.
Also, be aware of how you look during the interview process. You don't want to show up in ripped jeans and twenty earrings across your earlobes and a nose ring to match! Of course, none of those examples may disqualify you if you are interviewed by someone who doesn't mind. But why take the chance?
Does Old Navy Drug Test?
For the most part, Old Navy does not drug test as part of the hiring process. However, I wouldn't take the chance of being disqualified for this.
Aside from that, ask yourself how any employee expected to function in a very energetic and motivated environment would be able to function properly if they were high on something?
Does Old Navy Hire Felons?
Additionally, they will hire someone with a felony past, depending on the type of felony and whether they believe it will negatively affect the company.
For example, if you have been convicted of a felony theft offense, your chances of getting hired as an associate working the cashier go down dramatically. However, it's not impossible, so be honest and upfront.
Old Navy Careers – Which One Fits You?
There are opportunities to find an Old Navy career in their retail stores, merchandising, production, and marketing, to name a few.
Store Positions
Old Navy Brand Associate – This position does not require any experience. You will be trained by the company. The expectation is for employees with this job should work well together with their team to drive excellent sales results. Other responsibilities include:
Providing friendly and energetic customer service to drive the sale
Helping to make the work environment positive for customers and fellow employees
Lifting up to 30 lbs., even if you need reasonable accommodations due to a disability
Handing the cash register and checking out customer purchases as well as handling returns
Loss Prevention Service Agent – This is a floor security position where you will be expected to blend in with customers and monitor the integrity of the store by:
Ensuring everyone in the store is safe from harm
Addressing and helping to correct any safety issues that may arise
Preventing shoplifting by working closely with other LP staff members and Supervisors
Assisting in apprehending subjects who commit alleged crimes in the store
Requirements for this position include a high school diploma or a (G.E.D.), preferably 1-2 years of experience in the retail industry, and state certification for security services where applicable.
You'll also have to be able to stand for long periods of time and you will be expected to carry up to 20 lbs.
Basically, in this position, you will be expected to begin performing your duties very well from the first day!
Assistant Manager – Customer Operations – With this highly responsible position, you are expected to drive profit to your store by ensuring all employees are working together at their maximum potential. You will be directly involved in executing the store's profit strategy and you'll do this by collaborating with the General and Assistant General managers.
Other duties include:
Recruiting and hiring employees
Developing action plans to maximize profits in the store
Making certain all employees adhere to the company's operating procedures
Ensuring the finest customer satisfaction
There are certain requirements to be able to land this job. You must have 1 to 3 years of experience in retail management. A high school or equivalent is ok but at least some college would be more impressive and attractive in order to get hired for this job.
Good communication skills are also a requirement because you will be interacting a lot with your customers and team members while meeting your store's goals. You have to show you are passionate and able to thrive in a fast-paced work environment.
Coaching and mentoring your employees also come into play and you will have to be very flexible with your work schedule. Expect to work holidays, weekends, and evening shifts, and on occasion, you will have to travel.
Old Navy Careers Website Provides the Information You Need
If you want to apply for Old Navy careers and make your application successful, it's important to get the most accurate and useful information possible. This info can come from many sources including various websites, family and friends, and by conducting your own research by visiting an actual store and inquiring within.
It's fairly easy to apply online using an Old Navy application online at the official website but it's an entirely different thing to place yourself in the best position to get hired. These days, not everyone will get a call back for an interview quickly because far too many people apply for the same jobs on a daily basis.
This basically means you are going to have to resort to more drastic measures than ever and you will have to take your job-finding game to the next level.
Minimum Age to Work at Old Navy
For those of you youngsters wondering how old you have to be considered for one of the many Old Navy careers, you should know you will have to be at least 16 years of age. However, keep this in mind; the working laws for minors will always vary state by state, so check with your state government. This is easy to do by checking on the Internet for the current state laws.
Apply at Old Navy the Smartest Way
To get your hands on a possible long-term career by starting to apply at Old Navy, here are a few pointers you should consider. The following contains some excellent information that can help you get a job at this giant retailer much quicker than the average person.
It's imperative to conduct as much research as possible on getting hired before you submit your application. When you visit the official website look for things such as:
The type of job you are interested in at the moment
Whether there is room for advancement based on your chosen position
How long it takes to start receiving full medical and dental benefits
If the company offers any internships for those of you attending or planning to attend college, and anything else you can think of that benefits you as a person and a worker
Just so you know, when you attend the interview, you will be able to impress the interviewer by knowing a lot more than the next person about the company.
When people talk about networking they get a little intimidated thinking they are going to have to put forth an incredible amount of effort in opening up a Twitter, Facebook, or LinkedIn account and post non-stop on them.
It helps to put your name out there as much as possible if you are looking for an hourly or professional position. The term 'networking' can simply mean using all of your available resources such as your family and friends to put the word out there that you are looking for a chance to apply at Old Navy and get hired.
Always bear in mind that opportunity can come out of nowhere. You never know if a friend knows another person who knows someone who is connected to someone important.
That's why networking is so important and crucial in today's job-seeking world. Don't be afraid to tell your friends in a social setting about your hope of finding a job either at Old navy or somewhere else.
Old Navy Job Application Tips Before You Apply
Networking to find a job at this retail chain can also come in the form of finding an employee at the store and introducing yourself. You can ask employees simple questions such as how they like working there, how the application process was, and how the pay and benefits are working out.
Another great idea when it comes to networking that's definitely not used enough is to visit the actual store and speak with the manager or assistant manager. This method should definitely be used before you apply at Old Navy, so they can see who you are before they receive the information you submit online.
So, don't be afraid to talk to them! Approach them during times when the store is not so busy such as in the early afternoon after lunchtime.
It's always preferable to leave them a business card with all of your information on it so you can be easily contacted once a job opening comes up. You will have an advantage over other applicants if the management team remembers you, so try to make the best impression possible when you meet them.
Once you have done all of the above and you have a good idea of the types of Old Navy careers that interest you, it's time to get busy filling out and pressing the submit button for your application.
After that, you need to make sure you get the chance to interview for the job. If you have to be somewhat aggressive after waiting two weeks or so without a call back by visiting them once again and inquiring about your application status, then so be it!
If you just sit back and let time go by without getting a chance to sit through an interview and impress them, you will lose your chance to get hired. Nowadays, you have to set yourself apart from other applicants and the best way to do this is to really show you are interested in a job without being overbearing.
To get hired anywhere in a retail position, you have to be sharper than the next person and you need to give more effort than anyone out there!
By making intelligent choices, you can place yourself in a much better position to get hired than any of your competition. It's all about effort and whether you really want the job badly enough.
Old Navy Interview Questions and Answers
What's the best way to prepare for the Old Navy interview process? You need to know the answer to this if you are serious about having the best chance to get hired by this company.
Many current sales associates who are enjoying successful careers or jobs at Old Navy report they went through two interviews to get hired. Some even had "group" interviews where job applicants had to answer questions in a group setting.
Regardless of the interview setting, you should prepare yourself to answer questions with confidence so you can stand out as the best candidate.
What questions do they ask at an Old Navy interview?
Here's a sample list of what to expect as well as tips on how to answer them:
Why do you want to work at Old Navy?  This is a great opportunity to tell the interviewer what your short and long-term goals are with the company and how you plan to move up the ladder of success. Consider saying you are always going to give 110% effort on a daily basis while you gain the necessary experience.
Tell us something interesting about yourself. Be honest and highlight all of your positive qualities without getting too personal. List them on a notepad or sheet of paper beforehand and memorize them.
Describe a difficult situation you have faced and what you did to resolve the issue.  This question is asked often and you need to have a response ready for it. Even if you have never had a job-related situation, think of something you have been involved in, where your actions helped to resolve it.
What do you have to offer as an individual to our company? This is your chance to let them know about how motivated and dedicated you are in acquiring experience and how well you will be able to interact with customers and help them fulfill their shopping needs.
How would you handle a difficult and offensive customer? Let them know you are aware of the challenges when faced with difficult customers and stress that your patience and understanding will always prevail in helping even the most difficult customers come away feeling satisfied while shopping at Old Navy.
Describe something you have done for somebody else. This one is self-explanatory but make sure you add a nice personal touch by carefully talking about the details of what you did and how the other person or people felt.
What qualifies you to work at Old Navy? If you have any retail experience, this is the moment to let them know about your talents. If you don't have any work experience, put the spotlight on how you love working with people and how you value providing the best customer service possible.
Where do you see yourself in 5 years? The worst thing you can do here is to give the impression you want to get hired just so you can have a job! This question gives you the perfect opportunity to tell them how you are willing to start at the bottom and work your way up the ladder through experience and continuing education.
What are your strengths and what are your weaknesses? Explaining your strengths is the easy part but you should be prepared to explain at least one weakness or you will risk sounding insincere. The trick is to talk about a weakness that you have a desire to easily correct such as how your computer skills can be a little better or how you can sometimes be too much of a perfectionist.
These retail jobs may also interest you: