As of January 1, 2022, Hobby Lobby will raise its minimum pay substantially for full-time employees (see the link below for hourly pay and salaries). As anyone would expect, this arts and crafts retail chain suddenly became the leader in offering a living wage to its retail workers.
Working at Hobby Lobby Reviews
Regardless, just like any retail store chain, it has its pluses and minuses. Here is some useful information to help you decide whether you would like to apply.
Pros
It's a great company led by Christian values
The work is enjoyable but very busy
Management gives you flexible hours to work with
Co-workers are very friendly and there is a sense of teamwork
The customers who visit the store are generally very pleasant
It's always closed on Sundays
If you work full-time, you get great benefits, a Christmas bonus, and paid vacations
Great starting pay
Cons
A lot of complaints referring to poor management
The dress code is very strict
Some stores are understaffed, causing you to overwork
Training for certain positions could be better
You have to work very long hours
Outdated cashier system that places cashiers in a position where they have to enter products manually
Not much room for growth as an employee
Part-time employees do not receive health benefits
History
The first Hobby Lobby store opened its doors in 1972, in Oklahoma City, OK. CEO David Green continued to expand and by 1982, this retail chain already had seven stores.
Green began adding cookware and furniture in the early 80s to his arts and craft stores but it failed to produce the sales he expected. After he scrapped that idea and focused on the type of store it is today, Hobby Lobby grew to over 50 locations in the United States.
Hobby Lobby currently has more the 900 stores in the United States and it employees over 43,000 workers.
Jobs at Hobby Lobby
The following positions are some of the available positions that make Hobby Lobby retail stores operate effectively: 
cashier
stocker
bookkeeper
department head 
custom framer 
co-manager 
store manager
The most common entry-level jobs at Hobby Lobby are cashier and stocker. They are also the most common jobs younger workers apply for.
Hobby Lobby Cashier
This position is very straightforward with one exception. Many current cashiers at Hobby Lobby complain about how the store does not use barcodes and this makes it very difficult to ring up certain products at the cashier register.
Your main focus if you take this job, is to accurately ring up purchases and help customers find whatever they need. You will be expected to know a lot about the store's inventory so you can give recommendations and assist customers at the checkout counter.
As with most cashier jobs, the one complaint that always pops up is the fact that it's hard to take a break during your shift. Additionally, you can expect this job to really pick up the pace at times and you will find yourself extremely busy.
Hobby Lobby Stocker
Aside from the obvious task of having to stock shelves accurately, there are many other responsibilities associated with this position.
You can expect to be loading and unloading trucks, as well as unboxing the packages that come in to the store. Cleaning duties are also a part of this job. You will be expected to maintain a clean front end of the store as well as the rear warehouse.
This is a job where you have to practice having great customer service skills because without a doubt, people will be asking for help in retrieving items off the shelves. They will also be asking questions about specific products and you need to be ready to provide assistance or find another employee to assist.
Hobby Lobby Bookkeeper
This job requires basic computer skills as well as having experience as an office manager.
You'll be required to record all the transactions that occur in your store. Aside from that, you'll  track the inventory, prepare the store for its quarterly audits, and you'll be in charge of preparing the registers for your cashiers, 
This is a position where you have to pay extra special attention to detail. It is a highly responsible position and crucial to the success of your store.
Hobby Lobby Department Head
In this position, you will design the displays in your particular department to give customers an interactive and engaging experience. You'll have to arrange products in your areas of the store to produce maximum sales. 
A department head is also in charge of purchasing the products, manually pricing them, and maintaining track of all the inventory. 
This job basically requires you to be responsible for the profitability as well as your efficiency in supervising your part of the store.
Hobby Lobby Custom Framer
A custom framer at Hobby Lobby is in charge of providing custom frames for pictures and art for its customers and with experience, providing creativity and skills in order to make the most of special projects.
This is a job where you will be trained at the store by watching, learning, and practicing with supervision. Ideally, a candidate for this job should be somewhat experienced but it is not necessary.
This department in every Hobby Lobby is very important as it has a large and loyal customer base.
Hobby Lobby Co-Manager
Working as a co-manager is the first step to becoming a store manager at Hobby Lobby. 
This is a position where you will become very involved in the daily operations of your store. Without a doubt, you'll place yourself in a position where you can gain much experience in order to someday be a store manager.
You'll be in charge of inspiring and motivating your subordinates. You will also be a part of the hiring process and supervise the store as if you were a manager, at times.
For this position, retail management experience is preferred. You also have to be open to relocating to a different store.
Hobby Lobby Store Manager
This is a salaried position where you can expect to work 10 to 13 hours a day, at times. You will also have to be very hands-on with the unloading of merchandise.
The one aspect of this job that people love, is how many stores offer every other weekend off as well as Sundays and some holidays.
A store manager is going to be in charge of every aspect of the store and be responsible for its success. Aside from making employee schedules, this job requires you to be very influential in hiring and firing employees as well as motivating them and keeping them happy and energized.
On a daily basis, you'll have meetings with your management team to ensure each department is running smoothly. You'll also have regular staff meetings with all your employees to gain feedback in order to help improve the efficiency of your store.
This job is also the steppingstone to being a district manager. 
Hobby Lobby Warehouse Jobs
Hobby lobby has its distribution center in Oklahoma City, Oklahoma. There are usually many jobs available and here are examples:
shipping dock 
cycle counter 
mechanic 
fabric roller 
technical writer 
order puller 
shipping dock 
receiving dock 
service assistant 
dispatch clerk 
security guard
For these positions, you can visit their hiring center which is located at 3700 S. Council Rd., Oklahoma City, OK 73179.
They accept applications Monday through Friday, from 7 AM to 7 PM.
How to Apply at Hobby Lobby
Hobby Lobby is one of the few major retail stores that only accept applications in person for hourly positions.
Additionally, you can keep an eye out open for their new store hiring events that you can access on this page.
If you are applying for an hourly position in person, make sure you dress in business casual or professional wear. The whole idea is to make the best impression possible.
Once you are at the store, find someone who works there and inquire about meeting with management so that you can apply for a position.
Oftentimes, available positions are not advertised so it's important to ask and see if there's anything available.
Once you meet with someone in management or human resources, and there is a position available for you, you will be allowed to apply in person in their office area. Make sure you bring the necessary basic information such as your Social Security number, your work and education history, and your personal references.
Be prepared to spend approximately one hour while you wait for and fill out the application. Always keep in mind that all eyes are on you as a potential employee. Therefore, try to be as friendly and courteous as possible so they can get a great impression of your character.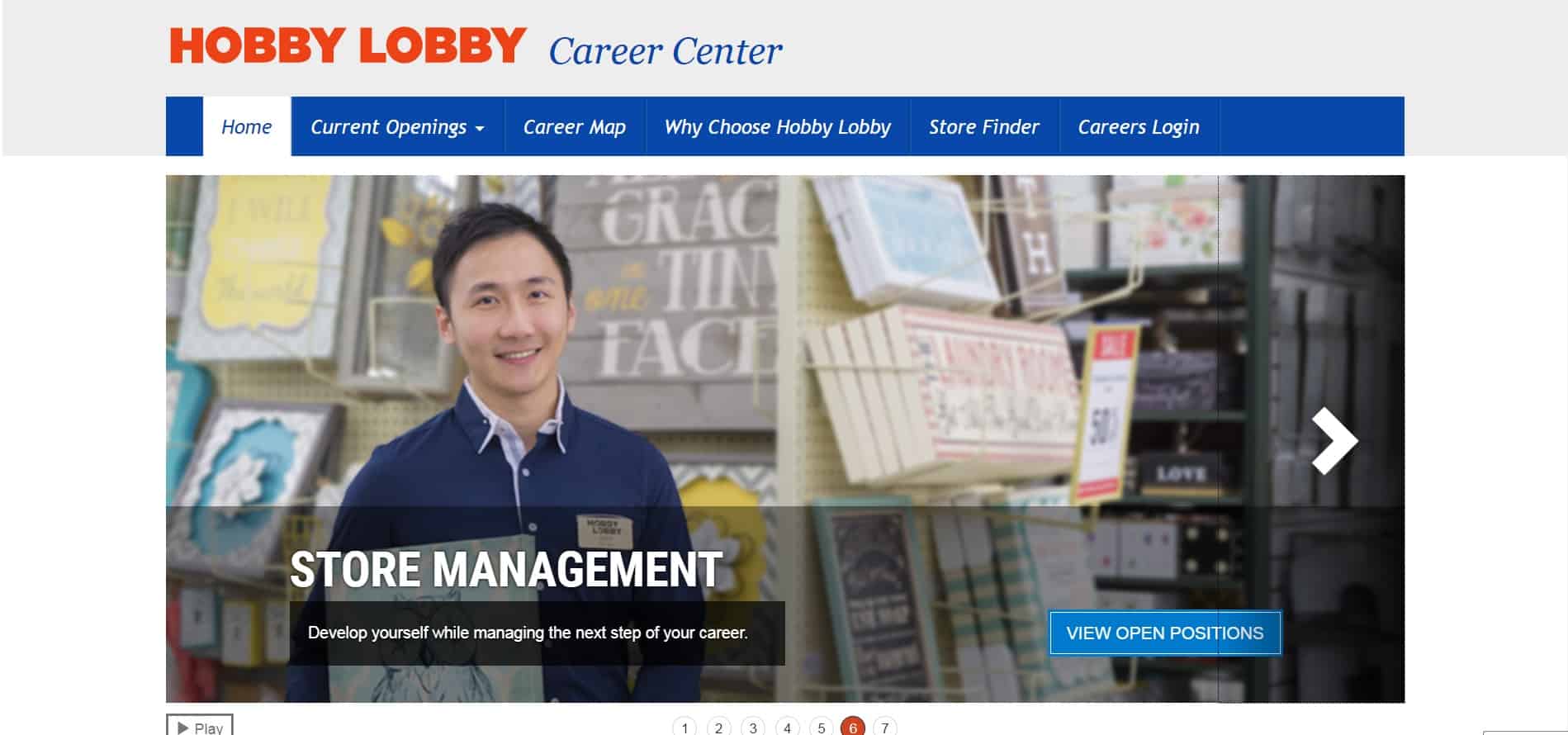 For salaried positions such as co-manager and store manager, you can use this link to apply online. Scroll through the pictures until you see "Store Management."
Once you're on that main page you can select a location (your state), and it will return the results that are available in your area. After that, simply register for an account and continue the simple application process.
Hobby Lobby Application Process
Every Hobby Lobby is unique in that store managers have different methods of accepting applications. However, your best chance is to call back within one week after applying in person if they have not called you. 
Oftentimes, you'll get set up for an interview and if you make a great impression, you may be hired on the spot pending a complete background check.
If you're trying to apply for cashier position, you'll probably be given a basic math test during the interview. 
Some applicants end up getting two interviews on separate dates. Either way, once you have passed the background check you will be hired and will attend orientation.
You will watch some training videos, then you will go straight to the floor to gain some experience while you continue your training.
Minimum Age to Work at Hobby Lobby
16 is the minimum age to get hired at Hobby Lobby. You will be given a part-time job and work approximately 10 to 20 hours per week, on average.
The two most popular jobs for 16 and 17-year-olds at Hobby Lobby are that of a cashier and stocker. Both of them require long periods of standing up and the stocker position includes a lot of physical work. 
Does Hobby Lobby Drug Test Before Hiring You?
Generally, Hobby Lobby does not drug test its hourly workers before offering them a position. However, they reserve the right to do so if something arouses their suspicion.
For warehouse and salaried workers, you will be subjected to a drug test in the form of a mouth swab. This is part of your complete background check.
Job Benefits
Full-time workers and salaried employees receive a comprehensive benefits plan. Part-time workers do not enjoy any benefits at all until they become full-time workers.
The benefits offered include health and dental, a retirement plan, employee discounts, life insurance, paid time off, and flexible schedules.
Final Thoughts
For the most part, Hobby Lobby hires new personnel only on a part-time basis. Therefore, if you're looking for a full-time job right off the bat, you may have to look elsewhere.
People who have worked there and are presently working at this retail chain say it's very difficult to gain full-time status, even if you perform your job very well.
It basically all depends on several factors, including:
your management staff's goals and objectives
if any full-time slots are available at any given time
how well you perform and how dependable you are as an employee
many other factors that are beyond your control
If you are looking for a long-term retail position, this might be the perfect job for you due to its high minimum wage for full-time workers.
Featured image courtesy of Tony Webster from Minneapolis, Minnesota, United States, CC BY 2.0, via Wikimedia Commons.