In this article, you'll see the answer to "how much does Chick-fil-A pay?", the starting and average hourly pay, salaries, and many other aspects that will help you decide whether to apply at this fast-food restaurant.
Getting hired at Chick-fil-A is very popular among teenagers looking for their first job. However, seniors, homemakers, people looking to advance into management, and just about anyone looking for a solid fast food job may want to consider checking this company out to see how it possibly fits into their future.
Here are some important things to consider:
Starting Pay at Chick-fil-A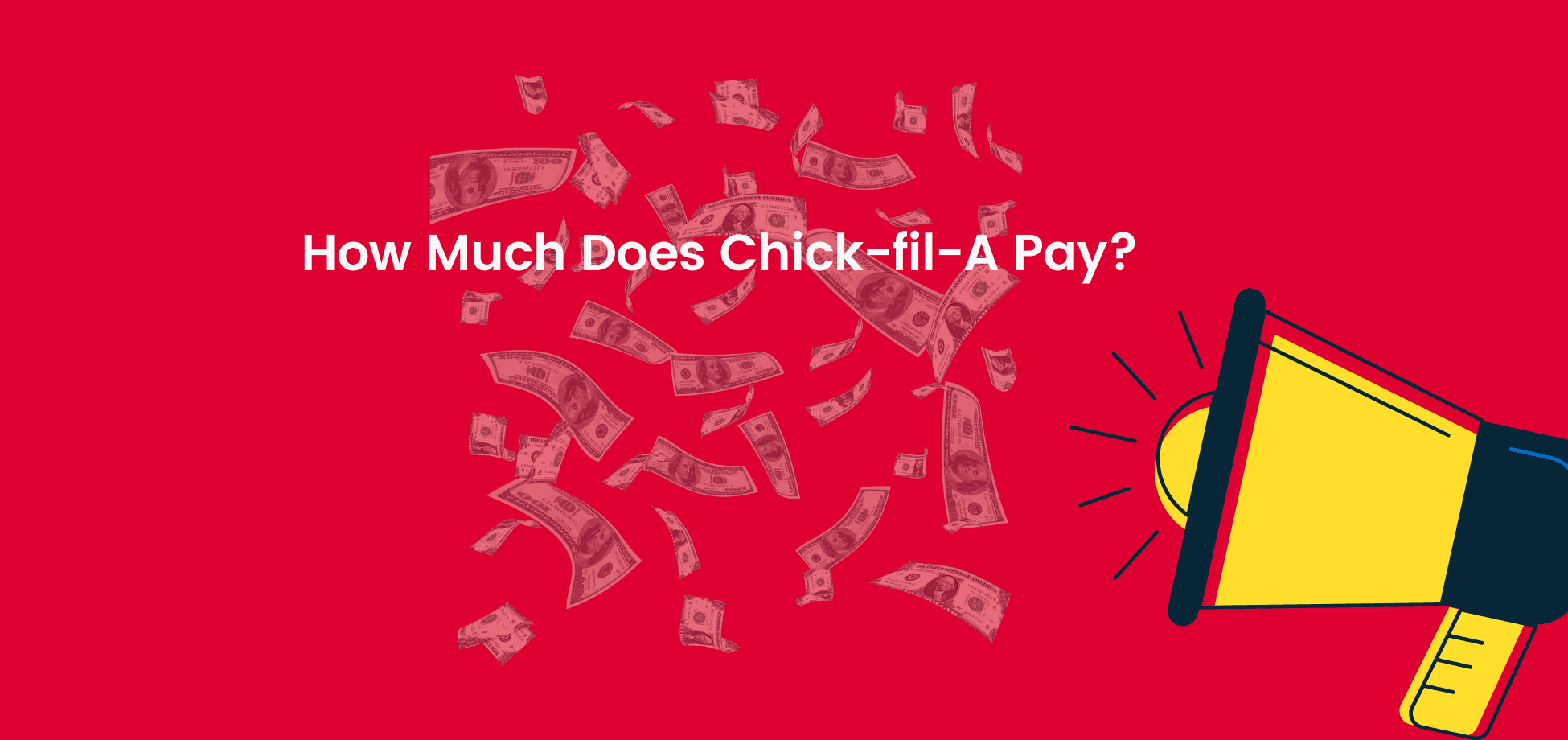 The overall general average starting pay for Chick-fil-A is approximately $10 an hour.
In the summer of June 2019, a Sacramento, California Chick-fil-A franchise owner announced he would raise the starting wage for his employees to $17 an hour. I assure you, this is not the typical starting pay for this fast-food chain.
This is merely indicative of how the starting pay is set at Chick-fil-A. Since all Chick-fil-A locations are franchises, the owners get to determine what the starting hourly wage is, so it's impossible for you to determine an exact starting wage unless you ask in person.
Related Posts
Of course, the starting pay has to be in keeping with the states' minimum wage laws. For example, in California, the minimum wage is $13 an hour if your business has at least 26 employees, and $12 per hour if your business has 25 employees or less.
Since the average number of employees at a Chick-fil-A is at least 30 per store, it is highly likely you would earn $13 an hour as a starting hourly wage in California.
On the other hand, in a state such as Michigan where the minimum hourly wage is $9.65 an hour, you would probably earn somewhere around $11 an hour to start.
On average, Chick-fil-A owners pay their employees approximately 1 to 2 dollars over the state's minimum wage unless that particular state has a very low minimum wage. In those cases, they will usually pay you at least $10-$11 an hour to start. This is much higher than in fast-food restaurants such as Burger King and McDonald's.
Chick-fil-A Working Hours
Depending on whether you are part-time or full-time, or working the night shift in a rare 24-hour Chick-fil-A, your shift hours may vary.
Here are some commonly scheduled shifts:
5 AM to 10 AM (part-time)
5 AM to 2 PM
6 AM to 1 PM
6 AM to 2 PM
12 PM to 10 PM
3 PM to 8 PM (part-time)
3 PM to 11 PM
4 PM to 12 PM
11 PM to 8 AM
Chick-fil-A Full-time Hours
For most Chick-fil-A restaurants, working at least 30 hours a week places you in full-time employee status. This doesn't mean much in the form of certain benefits such as medical, dental, and vision care. Those benefits are usually offered only to those working in a management capacity.
As in most fast-food restaurants, there are a select few employees rewarded with at least 40 hours of work every week. These are usually the workers who have proven themselves to be exceptional and dependable employees.
Think of it this way; if you are a manager of a sports team, who would you want to play in your game the longest, so you could give your team the best chance of winning? The same applies to restaurant management.
Your manager is going to pick the best employees to consistently work the most hours in order to make the store as successful as possible.
Part-time Pay at Chick-fil-A
The part-time pay for Chick-fil-A employees is generally the same as a full-time employee. The difference is you will work an average of only 10 to 25 hours per week.
The easiest and quickest way to get promoted to full-time status is to be a dependable employee and work as hard as possible while establishing some type of working relationship with your management team.
Networking is one of the most efficient ways of getting noticed as an exceptional employee. If you don't promote yourself, no one else will!
Therefore, speak with your managers. Get constant feedback on things such as your performance and how to improve your skills. You will make a favorable impression as long as you are improving and helping your store become more profitable.
Part-time Hours at Chick-fil-A
If you work an average of 29 hours or less every week, you'll be considered a part-time worker. If you're working part-time, you should expect to have a very flexible and staggered schedule at times.
For example, you may be asked to come in on a Monday from 5 AM to 10 AM, then on Tuesday from 2 PM to 7 PM.
If you want to eventually become a full-time worker, it's important to stay focused on helping your store fill in open slots at a moment's notice for people who don't come to work. Be aware that absent employees can oftentimes cause a chain reaction where it becomes difficult for other workers to keep up with customers' orders.
In other words, be ready and willing to work any shift possible whenever your management team needs you so the store can operate smoothly and provide what customers are expecting.
Chick-fil-A Team Member Pay
How much does Chick-fil-A pay an hour to team members? The average salary for this worker who either works the front of the house, back of the house or as a cashier, is approximately $11.85 per hour.
Assuming you work at least 40 hours every week, your yearly salary would be approximately $24,648.
Remember, with this job you can oftentimes be expected to shuttle back and forth between being a cashier and the front or back of the house. The kitchen staff in the rear, the cashiers ringing up orders, and the front-of-the-house workers serving food at customers' tables are the heart of this fast-food franchise.
Chick-fil-A Team Leader Pay
The average hourly wage for a team leader at Chick-fil-A is approximately $12.25 an hour. In this position, you are likely to work quite a few overtime hours to get the job done on a weekly basis.
Therefore, you will have an opportunity to potentially make at least approximately $28,500 per year. Of course, this all depends on the store owner and the type of management practice at your particular store.
For example, an assistant manager may be scheduled to overlap his or her schedule with yours. This would usually cut down on the number of overtime hours worked.
Chick-fil-A Kitchen Manager Pay
A kitchen manager at Chick-fil-A will make an average of $14.50 per hour. Without overtime, this amounts to approximately $30,160 a year in salary.
Since Chick-fil-A truly focuses on providing quality meals for its customers, you will have a lot of responsibility in making sure the back of the house is running smoothly. This means you can expect to work a few overtime hours here and there to be able to fulfill customers' expectations.
Chick-fil-A Assistant Manager Salary
An assistant manager at Chick-fil-A earns an average of approximately $15.25 an hour. The hourly wage can go as high as $18-$19 an hour, eventually.
The yearly salary is somewhere in the neighborhood of $31,616. 
This is a great position to use as a stepping stone to an assistant or general manager position at Chick-fil-A because oftentimes, you'll be left in charge of the entire restaurant for short or long periods of time.
Chick-fil-A General Manager Salary
The average salary for a general manager in this fast-food chain is approximately $56,300 per year. The yearly salary can go as high as approximately $79,500 per year.
For this position, you're usually going to have minimum qualifications in the form of a bachelor's degree and a few years of management or at least leadership experience. So, as an example, someone working at a Wendy's fast-food restaurant in an assistant manager capacity for 2 years while possessing a bachelor's degree would usually meet the minimum qualifications to be able to apply for a job as a general manager at Chick-fil-A.
How much does Chick-fil-A pay 15 and 16-year-olds?
Usually, Chick-fil-A pays much younger workers who are still attending high school an hourly rate in accordance with the federal minimum wage.
However, you would have to check with your state laws because some of them prohibit employers from paying teenagers a reduced minimum hourly pay.
On average, 15 and 16-year-olds make approximately the same starting wage as an adult when they choose Chick-fil-A as their employer.
Chick-fil-A Dress Code
Chick-fil-A has very high standards when it comes to uniforms and employees' personal appearance.
Generally, franchise owners provide full-time team members with at least two full uniforms, cost-free. For part-time workers, one free uniform is usually provided.
Here are the items you may be issued:
Black slip-resistant shoes
Pants
Shirts
1 Belt
A name tag
Visor
When it comes to grooming, you are expected to have very good personal hygiene. Additionally, you cannot have any exposed tattoos which means you can cover them either with makeup or other accessories.
Most Chick-fil-A stores also limit how much jewelry you can wear while on duty. For example, men are not allowed to wear earrings, and women are not permitted to carry more than two earrings on each ear.
Does Chick-fil-A Hire Felons?
If you have a felony record, you will be pleased to know that Chick-fil-A does hire felons on one condition; you must have a clean record, whether a felony or misdemeanor for the previous seven years.
If you have your heart set on applying at Chick-fil-A but have not yet met those qualifications, you can consider other fast-food or retail companies that will take a chance on hiring you. 
Simply conduct your own research on this website and find other companies that have less stringent minimum qualifications for people with felonies on the records.
Does Chick-fil-A Pay Weekly or Biweekly?
Most Chick-fil-A restaurants begin their pay periods on a Sunday to Saturday basis. In other words, a pay period would start on a Sunday and end two Saturdays after that date. Then you would receive a paycheck on the following Friday.
You may elect to receive either a paper check or you can fill out paperwork to have your funds directly deposited into your account.
Does Chick-fil-A Give Raises?
Raises at Chick-fil-A usually occur every 6 to 12 months, depending on factors including:
Your job performance
Work attitude
Merit
Attendance and reliability
It's very clear that you have to show your management team that you are talented at your job and provide excellent service to customers. You have to show them that you have a positive work attitude and you get along well with your coworkers.
Lastly, you need to prove that you always show up to work on time and are ready to work. Flexibility is a major plus, so if you fill in for people who call out sick and prove you are a very dependable person and loyal to your employer, you will be in the best position possible to get a raise.
The raises for hourly workers are usually somewhere in the 2 to 3% range. So, using a 3% raise as an example, a worker earning $11.50 an hour would have their hourly wage raised to $11.85 per hour.
Featured image courtesy of Ser Amantio di Nicolao, CC BY-SA 3.0, via Wikimedia Commons.