In the past few years, retail companies have begun to raise their wages in an attempt to be more competitive and attract more loyal workers. This has led to fewer employee turnover rates and has begun to tilt the retail business into an employer that can actually give employees a living wage.
Starting Pay at Hobby Lobby 
On January 1, 2022, Hobby Lobby will raise its minimum pay for full-time workers to $18.50 an hour. This and the last pay raise of $17 an hour has caused quite a stir in the retail business because this retail chain had now set the bar very high for other companies to fairly compensate their hourly employees.
However, depending on your point of view, it may not be what it seems. Only full-time workers will reportedly receive this pay, and Hobby Lobby generally hires all new hourly workers as part-time employees.
In this Hobby Lobby hourly pay and salary article, you'll see:
How many hours it takes to be considered a full-time employee
Number of full-time hours given to workers
How much Hobby Lobby pays part-time
The number of hours you will be given if you work part-time
Which jobs are available
The average pay for the hourly positions and salaries for management careers
Warehouse worker pay
Whether Hobby Lobby hires felons
Background checks for this company
The dress code
Whether it pays weekly or biweekly
The answer to, "Does Hobby Lobby gives raises?"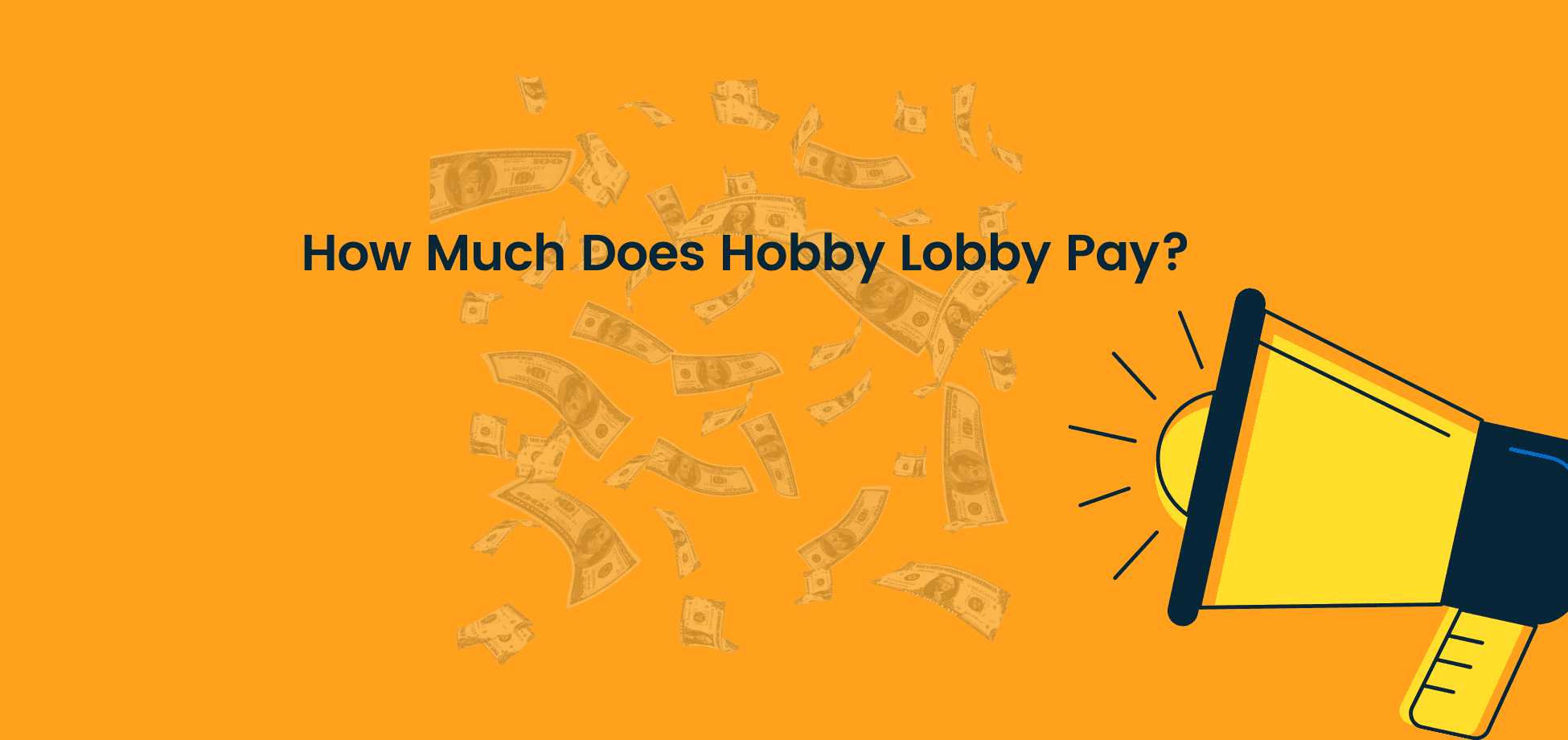 Full-time Hours at Hobby Lobby
A full-time worker at Hobby Lobby is supposed to be given at least 36 hours of work every week. Depending on store management, sometimes this amount is a little lower or higher.
Here are some examples of shift hours:
9 AM to 4 PM 
10 AM to 5 PM
11 AM to 6 PM 
2 PM to 10 PM
Some workers have reported that even though they are full-time status, they have received approximately 28 to 32 hours a week for extended periods.
Part-time Hobby Lobby Pay
The part-time entry-level pay for Hobby Lobby workers is $11 an hour. This is a little above average for a retail part-time worker.
Your best bet to eventually get hired as a full-time employee is to be a dependable employee, network with your management staff, and occasionally express your desire to become a full-time employee, and by simply being the best worker in your department.
You'll have to have patience because this company chooses its full-time workers very carefully. Basically, you have to prove that you are the best employee to represent the company and that you will be with them for a long time.
Part-time Hours at Hobby Lobby
The most common hours to work as a part-time employee are the morning or evening hours. 
A part-time employee usually gets 35 hours or less of work hours every week. The average is between 20 to 28 hours.
Examples of shift hours are as follows:
8 AM to 12 PM
9 AM to 1 PM 
10 AM to 2 PM 
2 PM to 6 PM 
5 PM to 10 PM
Hobby Lobby Jobs
There are always many Hobby Lobby jobs available in most areas. The entry-level jobs are that of a cashier, stocker, and custom framer.
Other jobs to consider are bookkeeper, department head, and salaried positions such as co-manager and manager.
Keep in mind that for hourly positions, you have to apply in person at the store. For salaried positions, you can apply online because these are jobs where people are hired through the corporate office.
Hobby Lobby Cashier Pay
A full-time cashier at Hobby Lobby now makes an average of $17 per hour, which equals approximately $35,360 a year. However, there are more part-time workers than full-time workers at this and just about every other hourly position at the store.
The average part-time cashier makes approximately $11.20 an hour. Assuming a cashier works approximately 30 hours a week, the yearly salary would be approximately $17,462.
Hobby Lobby Stocker Pay
Full-time stockers at Hobby Lobby now make $17 an hour and part-time employees who work this position make approximately $11.45 an hour.
So, a part-time worker in this position will probably earn somewhere in the neighborhood of $18,500 a year.
Hobby Lobby Bookkeeper Pay
The average Hobby Lobby bookkeeper earns approximately $18.90 an hour. This amounts to approximately $39,500 a year.
Seldom does the store hire anyone for this job on a part-time basis. The only time they would do this is if they were interested in someone to transition into the position of somebody who was retiring or leaving to another job.
Hobby Lobby Department Head Salary
The current average pay for a department head at Hobby Lobby is approximately $19.45 an hour. This amounts to a little over $40,000 per year.
The pay for this position is well above the national average. It is a job that requires a lot of work and constant supervision but as you can see, it is very financially rewarding.
Hobby Lobby Custom Framer Pay
As a custom framer, you can expect to make an average of about $17.90 an hour. This equals approximately $37,232 a year.
Part-time workers at this position who are generally being trained on the job can expect to make somewhere in the neighborhood of about $11.75 an hour. These workers will end up with an approximate figure of $18,330 a year.
Hobby Lobby Co-Manager Salary
A co-manager at Hobby Lobby makes an average of approximately $58,200 a year. The salaries can range anywhere from $47,200 and $83,900 a year.
This is a job where you will work many hours every week and many employees say this is the hardest job of all at this retail store. You will oftentimes help associates unload trucks and you'll be running around the store quite a bit.
The reward can come on the day when you are promoted to store manager.
Hobby Lobby Store Manager Salary
The store manager's salary averages around $72,600 a year. The salary range is approximately $57,300-$97,600 per year.
Like the co-manager, you will be expected to work long hours just about every day. Even though you will not work as hard as a co-manager in assisting other employees at the store, you will definitely provide assistance.
With this position, you can also expect to work very long hours during the holiday season.
Hobby Lobby Warehouse Worker Pay
The typical Hobby Lobby pay for a warehouse worker is approximately $18.50 an hour. This amounts to approximately $38,400 a year. 
Keep in mind that there are many warehouse jobs available, and entry-level warehouse workers with full-time status do earn $17 an hour to start.
Does Hobby Lobby Hire Felons
Although Hobby Lobby hires people for hourly positions with felony records, there are certain felonies that would disqualify an applicant. For example, if a person has a violent past or a felony theft conviction in the last seven years, they would not be able to get hired.
Also, bear in mind that if you are seeking a salaried position, the application process would be more strict. 
Hobby Lobby Background Check
Certain hourly positions such as stocker and custom framer don't usually require a background check. However, if you are applying as a cashier, a bookkeeper, or any other job with a huge amount of responsibility, you can expect to have a full background search conducted on you.
Hobby Lobby Dress Code
In accordance with Hobby Lobby's Christian conservative beliefs, they have a very strict dress code. 
Here is the rundown for males and females:
Black or khaki dress slacks
White or blue shirt with or without a collar, and a vest provided by Hobby lobby
A store issued polo shirt
White or blue sweater under your vest
Black, non-skid, close-toed shoes
No piercings that are visible
Tattoos must be fully covered
Only natural, uncolored hair is allowed
Does Hobby Lobby Pay Weekly?
Hobby Lobby workers receive their check or direct deposit on a biweekly basis. The pay period starts on a Sunday and ends on two Saturdays after that.
Then, you will either get paid on the following Thursday if you have a direct deposit into certain banks or a credit union or on Friday if you are picking up a printed check.
Does Hobby Lobby Give Yearly Raises? 
According to many employees who have worked there, raises are very hard to come by at Hobby Lobby. When they do, it's a result of your excellent job performance and the fact that you have either been noticed by management or you brought up that subject to management.
The typical raise for an hourly worker is between 2% and 3%. This means if you're making $17 an hour and get a 3% raise, your salary jumps to $17.51 an hour.
Featured image courtesy of DangApricot, CC BY-SA 3.0, via Wikimedia Commons.