If you're looking for the answer to, "How much does Barnes & Noble pay its employees," the following is a great place to begin a search for your desired position. It's always important to find a job that matches your skills or your desire to learn about the job if you lack experience.  
It is also crucial for you to choose a job that pays a good enough salary to provide for yourself or your family. 
Below, you'll find:
Barnes & Noble Starting Pay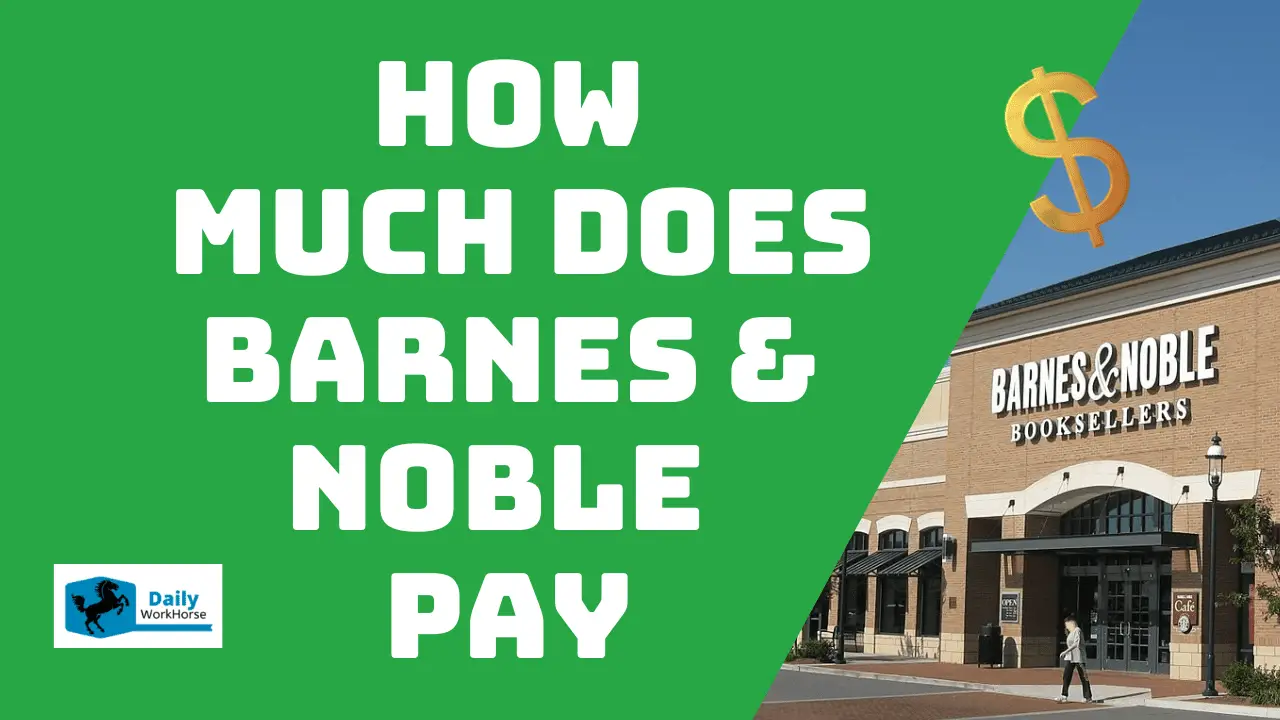 What is the starting pay at Barnes & Noble? The most common entry-level job as a bookseller starts out between $9 to $11 an hour. This amount can be lower or higher, depending on the minimum wage of the state where you live in the United States.
In some states, the hourly pay is barely above minimum wage. Therefore, if you are someone looking for an entry-level position to support yourself or your family, you may have to consider a different position at this store.
As far as distribution center jobs, an entry-level material handler will start out at $16 an hour. The drawback to this is that you work in a fast-paced and much noisier environment than working in the retail bookstore. Additionally, the job is far more physical.
Barnes & Noble Bookseller Pay
The average bookseller at Barnes & Noble works part-time and makes about $11.90 an hour, and this is a little below average for this industry. Booksellers are extremely important for this company, and management is in the habit of largely employing younger workers for this position because the starting pay is so low.
High school students are very attracted to the bookseller job because the majority of these positions are only offered part-time. However, for the average adult who works full-time as a bookseller, $11.90 an hour after a couple of years of hard work is not enough to be considered a living wage. It amounts to approximately $24,752 a year.
If you're only working part-time at this job, you can expect to make approximately $12,376 a year.
Barnes & Noble Cashier Pay
On average, a cashier at this retail bookstore earns about $12.17 an hour. That amounts to about $486 a week if you work full-time, and this equals $25,313 in yearly salary.
Many employees work as part-time cashiers and double up as booksellers, depending on the needs of the store.
Barnes & Noble Barista Pay
The average pay for a Barnes & Noble barista is outrageously low, at approximately $9.85 an hour, or barely above your state's minimum wage. It wouldn't be so bad if you could at least work this job and receive tips.
However, company policy does not allow customers to give tips and a full-time employee at this position can only potentially make about $394 a week and a yearly salary of $20,488.
Barnes & Noble Café Server Pay
A café server at the store makes more than a barista, on average, at $11.32 an hour. This equals $226 a week if you work part-time and $452 per week if you're a full-time server.
The yearly salary for a part-timer at this job would be about $11,772 and for full-time, $23,545. It's a good first job for anyone wanting to become a server because the work is easy, even though your duties include cleaning and restocking.
Barnes & Noble Café Manager Pay
The average hourly pay rate for a café manager at Barnes & Noble is approximately $15.27 an hour. This equals $610 a week and $31,761 yearly. Many employees who've held this position talk about how busy you will be, performing the work of two people!
The good news is this job is a stepping stone to a higher management position in the future. Additionally, you can get up to a $2,800 yearly bonus at this position.
Barnes & Noble Assistant Manager Salary
The assistant store manager gets paid in salary and the average is $48,230 a year. This amount is slightly higher than average for this position in a bookstore.
An interesting thing to point out with this position is how many assistant managers give great reviews about the company, especially how well they were treated by the store manager. One negative observation to point out is how these employees mention that sometimes, district managers are out of touch with how things are supposed to operate at the store to maximize profits and keep employee morale high.
Assistant managers at Barnes & Noble are eligible for up to a $3,000 bonus every year.
Barnes & Noble Manager Salary
At an average of $68,650 a year in salary, this position is the highest-paid in the store. It comes with up to a $6,000 yearly bonus and an excellent benefits package. On the downside, you can expect to face a challenge in your work/life balance because you'll be very busy every day.
Many store managers rave about how great the company used to be, and some say the employee morale at their particular store has been suffering due to company operational changes on a regular basis.
Does Barnes & Noble pay weekly?
Barnes & Noble pays both weekly and biweekly, depending on your location. If you have direct deposit, the check goes in on a Thursday after the pay period begins on a Saturday and ends on the previous Friday.
If you elect to receive a paper check, you'll get paid on a Friday.
Do they hold your first paycheck?
Does Barnes & Noble hold your first paycheck? No, they do not. What happens is you will receive your first paycheck about one week after the previous pay period from Saturday to Friday ends. This can cause confusion and make it seem like you're getting paid on a delayed basis.
If you worked a full schedule during that previous Saturday to Friday period (7 to 14 days), you will earn a full paycheck on the following Thursday or Friday. If not, you'll receive what seems like partial payment for the actual hours you worked during that time period.
How often do they give raises?
Every year, employees usually get a $.25 to $.50 raise after their performance review. This means, theoretically, that you can start out at $10.00 an hour and after 4 years of hard work, can end up making only $11.00 to possibly $11.50 an hour.
This is not enough to keep up with the cost of living.
Full-time Hours
Full-time hours at Barnes & Noble are anywhere between 28 and 40 hours of work each week. Many stores allow employees to have input as to how many hours they would like to work, and managers are flexible.
Part-time Hours
Usually, part-time workers at Barnes & Noble work anywhere between 12 and 27 hours a week, with 20 being the average. Of course, this varies with each location.
If you need more hours of work, perform your job well and communicate with your management staff. They won't know how many hours you want to work unless you let them know!
Shift Hours
Here are some examples of work shifts you may be assigned at this retail store:
7 AM to 11 AM
7 AM to 3:30 PM
8 AM to 12 PM
9 AM to 1 PM
12 AM to 8 PM
1 PM to 5 PM
2 PM to 10:30 PM
4 PM to 8 PM
4 PM to 12 AM
Barnes & Noble Employee Leave Policy
Full and part-time employees enjoy a one-week paid vacation after six months of service to this company. After one year of working at Barnes & Noble, it changes to at least two weeks of paid vacation. This is a great benefit!
When it comes to personal days, you'll be able to take one paid personal day during your first year. After that, you can expect two paid personal days for every year of work.
Full-time workers and managers also take advantage of 6 paid holidays a year. If you are an hourly employee and work any of these paid holidays, you earn time and a half for those days.
Break Policy
Some employees complain they are sometimes late in getting their two paid 15-minute breaks during an 8-hour shift, but at least they get their breaks! These full-time staff members also get an unpaid 30-minute meal break. Managers are entitled to two 15-minute paid breaks and a paid 45-minute meal break during their workday.
Barnes & Noble Dress Code
Barnes & Noble has a very liberal dress code. There is no uniform.
Most locations will tell their hourly employees to show up in business casual wear. This means they prefer for them not to wear any jeans or sneakers. Instead, they want employees to show up in khakis or slacks and a nice top to go along with them.
Some women say their managers allow them to wear leggings instead of slacks.
With that said, some locations do allow jeans and sneakers as long as you look presentable. Many locations allow their employees to wear tattoos and piercings as long as they are not offensive to customers. 
Unnaturally colored hair is also acceptable in most locations. Consult with your management team if you have any doubts. 
Featured image provided courtesy of Todd Van Hoosear, CC BY-SA 2.0, via Wikimedia Commons.