With the following information, you will see how Bath and Body Works pays its employees for the different jobs available. This is obviously important information for you if you're considering a job or career with this retail chain.
Bath and Body Works is an American retail store chain that specializes in selling soaps, lotions, candles, and fragrances. It was founded in 1990 and is headquartered in New Albany, Ohio.
Below, you'll see:
Bath and Body Works Starting Pay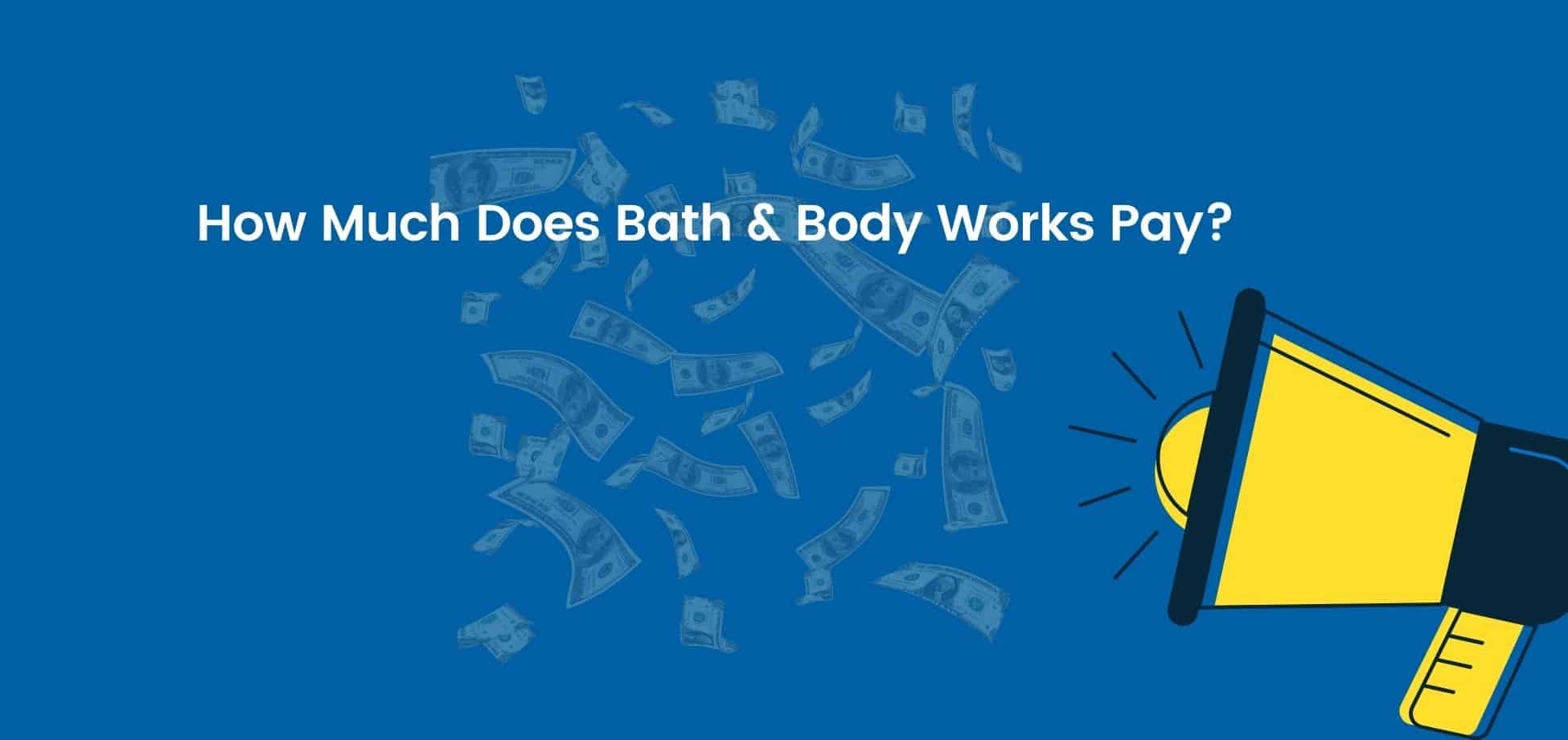 The Bath and Body Works starting hourly pay is the minimum wage in your state, or .25 to .35 cents higher than the minimum wage in your state. As an example, if you live in California, you may start out at $14 to $15 an hour because the minimum wage there is currently $14 an hour, while in Florida, you may start out at $10 to $11 per hour.
The average overall starting hourly wage for this company in the U.S. is $10.55 an hour.
The starting wages for associates at Bath and Body Works also depend on your experience and whether you are a part-time or full-time employee. Some stores will negotiate your starting hourly rate if you are experienced or if you can prove you are highly talented in a certain position.
Related Posts
Bath and Body Works Sales Associate Pay
A Bath and Body Works sales associate earns an average hourly wage of $12.95. This means a full-time employee with this job can earn about $518 a week, and it equates to a salary of $26,936 a year.
The roles of these associates are to support the company's mission and values by delivering a personalized, highly engaging customer experience. They do this by building emotional connections with customers through products and services that enhance their lives.
Sales associates are also responsible for merchandising products on shelves, operating cash registers, bagging merchandise, processing payments. Additionally, they provide leadership, motivation, and training for other associates.
Bath and Body Works Cashier Pay
The average hourly pay for a cashier at Bath and Body Works is $12.15 per hour. This equals $486 a week and the potential to earn a yearly salary of $25,272.
A cashier at this retail chain has very significant roles and that's the reason they are paid fairly well. They are responsible for keeping track of the money that comes into the store, as well as allocating the funds where they are needed.
Another thing these cashiers do is handle returns on items that customers have purchased from them. This might include returning money or exchanging items that the customer has purchased.
This job requires a lot of patience because customers might give the cashier back items that aren't in good condition, which means they will have to go through more work and seek manager approval for the transaction.
Cashiers are expected to greet customers when they enter the store, offer assistance if necessary, and ring up their items once they are ready to purchase them.
Bath and Body Works Key Holder Pay
On average, a keyholder at Bath and Body Works receives an hourly pay rate that ranges between $12.15 to $14.05 respectively. Assuming an average somewhere in the middle at $13.10 an hour, you can earn roughly $524 every week and earn a yearly salary of $27,248.
The keyholder fulfills significant roles within the workplace, such as training new store associates and acting as a liaison between upper management and other employees. The keyholder must maintain knowledge of company products and adhere to strict security guidelines to limit theft and protect the Bath and Body Works assets.
Additionally, keyholders may be required to drive a forklift when retrieving merchandise from storage. They are responsible for opening and closing stores, as well as managing cash drawers.
Bath and Body Works Supervisor Salary
A supervisor at Bath and Body Works receives an average salary of $16.90 per hour. This amounts to a weekly rate of $676, and a bi-weekly check for $1,352 before taxes and other deductions. The yearly salary would be about $35,152.
The supervisor's salary can vary by company, experience level, location, and benefits offered. Experience Level has the biggest effect on pay rates for Bath and Body Works employees. These supervisors may also receive bonuses based on performance.
The roles of the supervisor include capturing, interviewing, and retaining top talent, encouraging and recognizing the performance of others, and staying up to date on current trends.
Warehouse Associate Pay
A warehouse associate at Bath and Body Works receives a starting hourly pay rate of $17.75. This equals approximately $710 a week and $36,920 in yearly salary.
A warehouse associate at this company maintains and verifies information and documentation to facilitate the flow of merchandise. This company stores a huge amount of inventory to meet customer demand.
This can sometimes lead to long hours, but the company strives to maintain a reasonable work/life balance. The business is always looking for experienced workers to fill open warehouse associate positions.
Minimum Age for Warehouse Associates
Applicants for the warehouse associate position must be at least 18 years old, with a high school diploma or equivalent. They also need to pass basic math and reading comprehension tests.
Three years of experience in warehousing is preferred, but not required. Applicants should have a clean criminal record and a valid driver's license.
Most locations require warehouse associates to be comfortable lifting a 50-pound load. Bath and Body Works warehouse associates receive good benefits for healthcare, paid vacation, sick days, and holidays.
Bath and Body Works Assistant Manager Salary
Typically, an assistant manager at Bath and Body Works receives an hourly pay rate of $21.10. However, the rate can range from $16 to $31 an hour depending on the location, experience, and performance of the individual.
If you use the $21.10 an hour as an example, you can make about $844 a week and expect the yearly salary to be approximately $43,888. If you take the top-end figure of $31 an hour, you would make $1,240 a week and $64,480 yearly.
The salary for this position is consistent with the amount of responsibility for this position. An assistant manager at this company is responsible for ensuring that the lead selling efforts meet the sales goals.
Bath and Body Works Manager Salary
A manager at Bath and Body Works receives a salary of $58,330 per year, which is above average for this type of position in the U.S. The salary can go as high as $90,000 to over $100,000 a year in certain locations.
This is well deserved because they fulfill quite essential roles within the company, including overseeing team members and enforcing company policies.
Managers are usually required to have at least a bachelor's degree or an equivalent combination of education and experience. These managers can advance their careers through promotions and additional education.
Does Bath and Body Works pay weekly?
The company pays bi-weekly. For direct deposits, payment is received on Thursdays and Fridays. On the other hand, those with prepaid cards agree on the payment period when getting hired.
Keep in mind when you start, you will get paid for the days you work during the pay period and receive your check about 1 week after the pay period ends.
How often do Bath and Body Works give raises?
Raises are not guaranteed, but it's possible to get a pay raise on a yearly basis if you are a dependable employee. Pay raises depend on the manager assessing your performance, typically once a year.
However, raises tend to be small and sometimes do not reflect how well an associate performs. Employees must wait for reviews before getting a raise, no matter how long they've worked for Bath and Body Works.
Tagging and scanning items correctly are vital for pay raises. Store managers may give yearly 1-4% increases, depending on the location and number of years worked.
General Managers Are Involved in Pay Raises
Managers give pay raises based on the general manager's orders and what he or she believes is fair. Employees who are not happy with their pay rate should request a raise by initiating a discussion with their manager and pointing out ways they meet company expectations, such as constant punctuality and enthusiasm.
It can take time to get a raise because Bath and Body Works must review employee records before deciding whether to increase pay. Managers must consider sales numbers, time in position, and work quality when giving raises.
What are considered full-time hours at Bath and Body Works?
If you work 30 to 40 hours in a week, the average would be 6 to 8 hours a day, and you are considered a full-time employee.
Even if you only get 30 hours a week assigned, you can let your management team know you are always available to fill in for anyone who calls out. Be being dependable, you can put yourself in a position to get at least 40 hours a week in the future.
Part-time Hours Assigned
The number of part-time hours you can get assigned at Bath and Body Works ranges between 4 and 6 hours a day.
However, if you perform well and make yourself available to management as a substitute for people calling out sick or for personal reasons, you can place yourself in the driver's seat of your career very quickly and eventually earn a promotion to full-time.
Bath and Body Works Shift Hours
Bath and Body Work shift hours are different for each store location. The shift hours vary depending on the availability of work in a particular area.
Here are some examples of shifts you may work:
9:00 AM to 5:00 PM
9:00 AM to 1:00 PM
10:00 AM to 2:00 PM
2:00 PM to 11:00 PM
5:00 PM to 11:00 PM
Bath and Body Works Call Out Sick Policy
You can call out sick as long as you do it well ahead of time, so someone can cover your shift. Depending on your job status and the time you've been with the company, you may have paid time off for those days. This varies and is unique to every employee.
Consult with your management staff after you are hired so that you don't break the sick leave policy and so that you can have a complete understanding of how your management handles these matters.
Bath and Body Works Break Policy
Workers are allowed a fifteen-minute paid break for every four hours of continuous work. Employees get a half-hour unpaid break to take their meals during a shift lasting 6 hours or more.
Some locations get so busy during peak times that it makes it difficult for management to effectively coordinate breaks for employees. If you feel you are not being treated fairly in this respect, calmly ask to speak to your manager about it and try your best to resolve the issue amicably and professionally.
Don't Neglect This
There are far too many companies that drop the ball on this, leaving workers without breaks during their shifts from time to time. Don't accept this if it's happening to you. Be as courteous and straightforward as possible in handling these matters, and do your best to come to an understanding with management.
Featured image courtesy of Raysonho @ Open Grid Scheduler / Grid Engine, CC0, via Wikimedia Commons.