What is it like to be a Dollar tree employee? In a moment, I'll lay out all the information you need to help you decide if this retail chain is for you.
In this article, you'll find the answer to that question as well as:
The minimum pay at Dollar tree
How many hours is considered part-time work at this store
How much they pay part-time
The call-out sick policy
Average salaries for specific positions
What the average warehouse worker makes per hour
When and how they give raises, and how much
The Dollar Tree pay period schedule and when you get paid
Their break policy
What is the Dollar Tree Minimum Wage?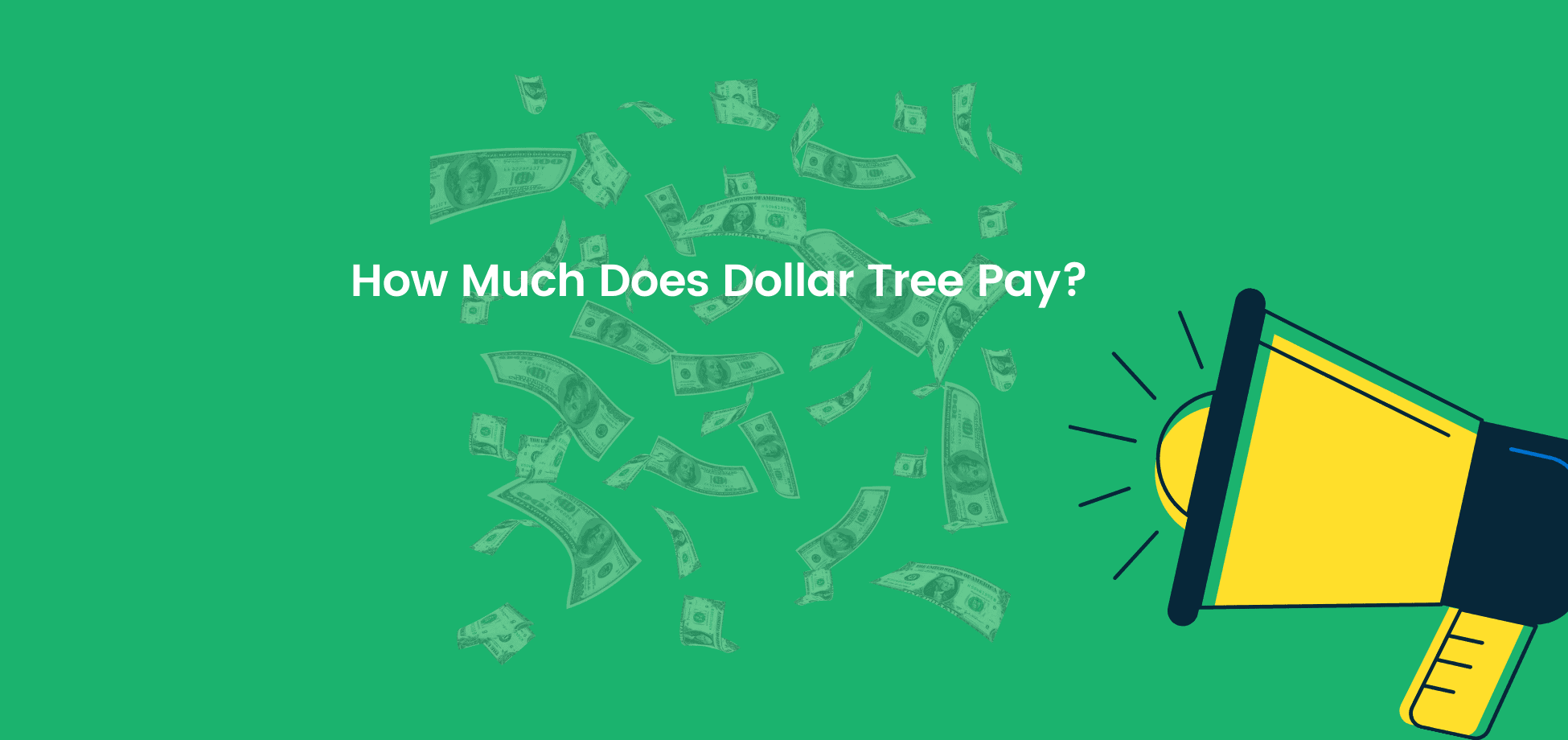 Dollar tree pays its retail hourly workers just barely above the state or federal minimum wage. To figure out how much you can earn, take a look at the minimum wage in your state and compare it to the federal minimum wage of $7.25 an hour.
Companies are required to pay you the highest of those two figures. For example, the minimum wage in Florida is $8.46 and the federal minimum wage is $7.25. This means a Dollar Tree in Florida has to pay you at least $8.46 an hour.
Therefore, the minimum pay at Dollar tree varies from state to state and by region. It all depends on several factors including the minimum wage. Dollar General may or may not offer a higher starting salary, depending on where you live.
However, generally, you can expect to earn approximately $.20 cents to $.50 cents above the state or federal minimum wage as your starting pay.
Dollar Tree Part-Time Pay
The part-time pay for its workers is exactly like the full-time pay. The only difference is you do not get any benefits if you are working part-time.
Currently, approximately 41% of dollar store employees are part-time workers. This basically means that out of approximately every three employees, 1.5 workers are employed full-time.
Dollar Tree Working Hours for Part-time and Full-time Workers
Any hours worked less than 30 hours a week is considered part-time at Dollar Tree. The average part-timer at this company will work 4 to 5 hour shifts, 5 days a week. There are going to be weeks where you can go over the 30-hour limit as a part-time worker. 
However, since this is only temporary and you have to work for an extended period of time for 30 hours or more to be considered full-time, you remain a part-time worker just making extra money with those extra hours.
Call out sick policy
Unless you are a full-time worker, you don't get any paid sick time. If you work full-time, you will accrue approximately four hours of paid sick time every month, assuming you work an average of 30 hours per week.
If you're going to call out sick in an hourly position, make certain that you call your manager well ahead of time. 
Even though there are going to be days when a worker is ill and cannot come to work, management staff would have to scramble to find a replacement for your shift. At times, managers have to take over the reins as a cashier and stocker when someone misses work.
Dollar Tree Salaries
To make the most sense of what to expect as a salary, you can divide the four most common areas in Dollar Tree, which are:
Hourly retail positions
Salaried store jobs
Distribution center warehouse jobs
Corporate careers
While hourly positions start out somewhere along the minimum state or federal hourly rates, warehouse hourly positions pay a little higher on average. Then, moving up the ladder in pay, salaried store positions are generally higher than a warehouse worker's salary, After that, corporate positions generally top out as the highest-paid within the company. 
Here are the store jobs and what you'll earn:
Dollar Tree cashier pay
A cashier at this retail chain earns approximately $9.60, on average. If you are a part-time employee at this position, you're only going to make $13,977 a year. A full-time worker putting in approximately 40 hours a week can earn somewhere in the neighborhood of $19,968 per year.
Dollar Tree sales associate salary
A sales associate earns roughly the same as a cashier. The pay structure is similar and periodic raises put a worker in this position at an hourly rate of approximately $9.40.
So, a part-time employee here would earn roughly $13,686 a year. Working a job here full-time nets you about $19,552 a year.
Dollar Tree assistant manager pay
An assistant manager at the store makes a very low salary compared to other retail chains. The average salary per year is approximately $29,500, which is well below the national average. 
Many people say this is a great job to use as a stepping stone into better management positions. This is because the job is very fast-paced and very stressful at times. The theory is if you can thrive in this stressful position, you would be virtually ready to advance to a better management position in any different retail store chain.
Dollar Tree store manager salary
In keeping with the low salary for the assistant manager, the store manager does not fare much better. In an industry where a retail manager can earn upwards of a six-figure salary for larger chains such as Target and Walmart, a Dollar Tree manager only earns approximately $40,000 a year, on average.
You have to understand this position comes with a lot of responsibility when it comes to the profitability of the store. This is a job where among so many other things to consider, you will answer to your district manager and make periodic plans to increase the profitability of your particular store.
Some employees say that due to this highly responsible position, they work approximately 60 to 70 hours and get paid very little for it. 
District manager pay
A Dollar Tree district manager makes roughly $75,000 per year. This is well below the retail industry standard for this type of position. 
A district manager is basically on the chopping block when things don't go well for the dozens of stores they oversee. There is so much stress associated with this position and there is no time to take a break!
Dollar Tree Distribution Center Pay
The average warehouse worker in this retail chain earns roughly 3 to 4 dollars more an hour than someone working in the stores.
For example, a forklift operator makes somewhere in the neighborhood of $15.60 an hour and a shipping and receiving clerk can make somewhere along the lines of $14.00 an hour. These examples are average hourly wages and based on a few years of experience.
There are many salaried positions in the distribution centers, as well. These positions are also generally higher-paying than the store management positions.
Dollar Tree pay raise schedule
Many store workers say Dollar Tree is very stingy when it comes to pay raises. As an example, quite a few people say they only get a $.10 cents raise every year, no matter how hard they work.
This indicates that this retail chain expects employees to have a high turnover rate. A retail chain such as Target takes much more pride in retaining its workers and places far more emphasis on reducing the turnover rate of its employees.
This also says a lot about the company and how they would prefer for someone to move up the ladder and eventually apply for a management position within the company.
When it comes to management positions, it's a different story. Managers are given better raises on a yearly basis and this is based on their performance.
Distribution center workers also get higher raises than store employees and corporate employees generally negotiate pay raises.
What are shift hours like?
Here are some of the typical hours you can expect to work at the store:
8:00 AM to 12:30 PM
12:00 PM to 5:00 PM
1:30 PM to 7:30 PM
5:00 PM to 11:00 PM
Employee Dress Code
Dollar tree does not provide a uniform for its employees. However, they expect you to wear a white or green collared shirt along with black or khaki pants. You don't have to worry too much about the color of your shoes, either. 
Some managers are very lax when it comes to what their employees wear. Your best bet is to wear the expected clothing when you get hired. Later, you can make adjustments relative to the other employees and what they wear at the store.
Does Dollar Tree pay weekly or biweekly?
The pay period begins on a Saturday and ends on the second Sunday after that day. Then, you would get paid on the following Friday after the pay period ends.
You receive your paycheck in the form of direct deposit or an actual paper check.
Break Policy
You are entitled to two 10-minute paid breaks when you work over eight hours on any given day. If you work six hours or more in one day, you will get a paid 10 minute break and an unpaid meal break of 30 minutes.
Featured image courtesy of Michael Rivera, CC BY-SA 4.0, via Wikimedia Commons.
Next: Dollar Tree Careers and Application Online Employment Guide >>>