Chick-fil-A is regarded very highly among its present and past workers, on review websites Indeed.com and Glassdoor.com. The high ratings are a result of the company's hard-working and friendly culture.
Working at Chick-fil-A Reviews
The following are some of the pros and cons of working at Chick-fil-A:
Pros
Coworkers are nice and pleasant
Management treats employees well
Great place to learn how to multitask and provide good customer service
Working hours are very flexible
Your shift hours are oftentimes very consistently scheduled
Many Chick-fil-A's offer their employees free food for meal breaks, while others offer great discounts
Cons
Generally, there are no health benefits or paid time off for hourly workers
If you are a teenager, the pay is very low
Not enough hours to work every week
Sometimes you have to go outside in the hot sun for many hours to take drive-through orders
Breaks are very hard to come by
You have to stay on your feet for long periods of time
History of Chick-fil-A
This is a brief overview of this company's history so you can have an idea of where and how it started, and where it is today. This can help you make a decision to apply and knowing the information will definitely give you an advantage during the interview process.
In 1946, Chick-fil-A started out as what was then called the Dwarf Grill. In 1967, it was rebranded as Chick-fil-A, and it now has more than 2,600 restaurants, which are located primarily in the US. It also employs over 5,000 workers.
Related Posts
S. Truett Cathy, the late founder of this company, influenced this restaurant chain greatly with his religious beliefs. As a result, all of the restaurants are closed on Sundays, Thanksgiving, and Christmas every year.
This fast-food chicken hotspot focuses on trying to have the best chicken sandwiches available. While this company owns all of its restaurants, each store has its own franchise owner.
Working for a franchise owner can have its drawbacks such as a lack of health, dental, and vision insurance, and a lower starting pay. However, Chick-fil-A appears to have a higher standard than most fast-food places, so chances are, you will possibly have an opportunity to eventually enjoy a comprehensive benefits plan and your salary will be competitive.
Jobs at Chick-Fil-A
The jobs available at any store are as follows:
Team member either at the front of the house, back of the house, or as a cashier
Team leader
Kitchen manager
Assistant manager
General manager
These are the positions that make this fast-food chicken place such a success. Basically, the team leader guides the team members during their day-to-day functions and motivates and guides the employees to help the store be as profitable as possible.
The assistant manager and general manager usually supervise the team leaders and lend their support as much as possible while also running the technical aspects of the store's profits. 
All employees are expected to provide the utmost in courteous, friendly, and efficient customer service. The whole concept is to make every customer's experience at the restaurant an important and memorable one, so they can become repeat customers.
Chick-fil-A Team Member
This is a great entry-level position for workers of all ages. You don't have to have any experience and you don't even have to have a high school diploma.
In return, you'll receive on-the-job as well as virtual training, so you can learn about your job and feel comfortable within a short period of time. 
There are different types of responsibilities for this position and you will either specialize in one or possibly all of them.
Front of House
If you are assigned to the front of the house, this means you are going to operate the cash register and take orders. You will be entrusted to give customers the best dining experience possible.
The next time you visit a Chick-fil-A, notice how courteous and friendly the team members that work the front of the house are to you. This is a result of the friendly family-oriented culture from within as well as the excellent training you will receive.
This is a job where you need to be very friendly and outgoing and have the ability to multitask. You also have to work well under pressure and be able to work long hours on your feet.
Back of House
If you're working at the back of the house, you will be cooking and preparing the best foods possible according to what's expected of this fast-food chain. This restaurant has very high standards, so you will be well-taught on how to prepare food and maintain a clean kitchen area according to safety standards.
You'll play a very important role in the success of your store. Additionally, you may sometimes be asked to fill in as a cashier or other duty in the front of the house.
Chick-fil-A Cashier
The biggest requirement to be a cashier as a front-of-the-house team member is a great and warm personality. You will usually be the first person the customer sees and it is your job to greet the guests, take their orders, and explain or suggest items on the menu when they need help.
Your duties will also include discarding the trash, cleaning the restrooms, and making sure the dining room is nice and tidy. This job also requires you to be on your feet for long periods of time while taking minimal breaks.
If you have your sights set on being a team leader and eventually getting into management at some point, this is the perfect position for you to grow within the company.
Chick-fil-A Team Leader/Shift Manager
As a team leader, sometimes referred to as a shift manager, you will be expected to coach your team members to fulfill expectations of excellence in customer service. 
You will sometimes have to offer one on one coaching for any particular team member who is deficient in any area. It is your job to notice the weaknesses and correct them as quickly and as efficiently as possible.
The ideal candidate for this position already has a bit of experience as a team member and has excelled in every aspect of that position.
Chick-fil-A Kitchen Manager
Due to the high standards set forth by this company, each Chick-fil-A considers hiring a kitchen manager. This person directs the back of the house to be able to provide excellent food in an accurate and quick manner.
Also, a kitchen manager has to make sure all standards are met in all the areas of the kitchen operations.
If this position is not filled at your store, an assistant manager will usually assume the responsibilities of this position.
Chick-fil-A Assistant Manager
An assistant manager in this fast-food chain is expected to be able to recruit talented team members in order to ensure excellence in customer service and maximize profitability.
In this position, you'll also manage the budget and analyze the finances for your particular restaurant. You will be in charge of making sure the kitchen is fully stocked and ready to handle the number of customers who walk in and order food daily.
You are also in charge of controlling the food costs as well as the labor for your store. You have to be able to train team members and help develop them to become leaders in the future.
Chick-fil-A General Manager
As a general manager, you will oversee all aspects of your store and take responsibility for its profitability. You will be required to supervise the training process, marketing, customer relations, and employee effectiveness.
You will also delegate much of the store's responsibilities to the assistant manager and guide him or her to help achieve all the goals set forth for your particular store.
The requirements vary but generally, you need to have a bachelor's degree as well as some management experience.
How to Apply at Chick-fil-A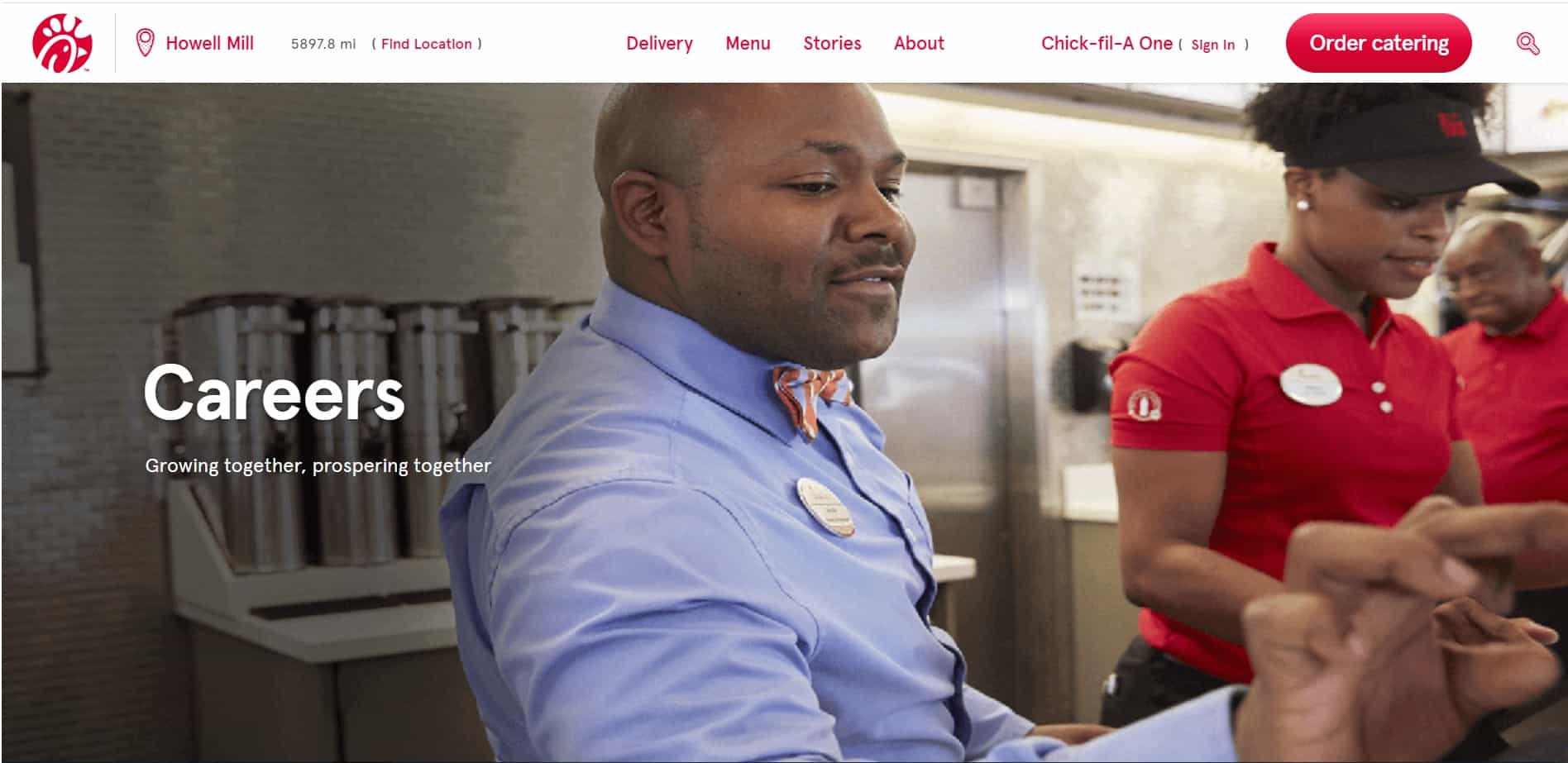 Applying at Chick-fil-A is very easy and painless. You simply visit the careers website and follow the easy instructions. After approximately 8 or 9 clicks, you will arrive at a job application where you can fill out your information easily and quickly submit your application.
Alternatively, you can walk into any Chick-fil-A and inquire about applying in person. This may be a better choice in some cases. This is because management can see who you are and what you are about, and if you can impress them with your excellent personality, you may have an advantage. Download the Chick-Fil-A PDF application here.
If you are going to apply online, follow the steps:
Visit the Chick-fil-A careers site.
Under the "Restaurants" heading, click the "learn more" button.
Click the "Find a restaurant to work at" button on the next page.
In the "start your search" search box, enter your city and state. Then, click the "show jobs" button.
You will then see the restaurants listed and some of them will have a "view jobs" button. Find a store you would like to consider working at and press the "view jobs" button.
You will be redirected to a pop-up that says "See you Soon!" Click the "Continue" button.
On the next page, you can either click the "available positions" or "apply now" button. Click the "available positions" button.
Click any of the "search careers" buttons on the following page and you will be taken to another page that allows you to start the application process.
Once you are on the Chick-fil-A application online page, all you have to do is fill out your first and last name, your email address and phone number, your contact preference whether through email or SMS and a few other details before you submit your application.
Chick-fil-A Application Process
After you apply either online or in person, it usually takes 1 to 3 weeks for Chick-fil-A to call you back. This depends on how quickly they need to fill their vacant positions.
Once you do get called back for your first interview, it will oftentimes take place over the phone. If you pass that interview and get a second interview in person, make sure you dress in nice business attire. 
Try to be as conservative as possible, in keeping with the company's style. This means you should try your best to not look flashy and hard-edged such as by wearing excessive earrings or exposing many tattoos.
If you are applying for a managerial position or another salaried job, you may have anywhere between 2 and 4 interviews before you are hired.
Sometimes, after you apply online or through a paper application at the store, you can find yourself employed at Chick-fil-A within three days to one week. This all depends on the store's necessity to fill their vacant slots.
Minimum Age to Work at Chick-fil-A
Chick-fil-A is well-known for hiring younger workers. In keeping with tradition, the minimum age to apply is 15 years old.
Many Chick-fil-A's forbid anyone under the age of 16 to work the back of the house in the kitchen area.
Anyone 15 to 17 years of age can expect to work as a team member, usually in the front of the house.
Does Chick-fil-A Drug Test Before Hiring You?
For hourly restaurant positions, Chick-fil-A usually does not do a drug test. This is consistent with most fast-food restaurants, which do not see drug testing as being cost-effective due to the vast number of applications submitted on a daily basis.
However, for those of you who are trying to get a salaried position such as general manager, you will most likely have to take a drug test before getting hired. This will be a small part of the extensive background check you will have to undergo.
Chick-fil-A Job Benefits
Although many hourly employees report they don't get any medical benefits while working at Chick-fil-A, a few say that you can qualify for medical benefits after working full-time for one year.
Of course, Chick-fil-A restaurants are franchise-owned even though the parent company retains primary ownership. This means the benefits will vary from store to store, so it's best to check with your particular store to see if they offer any types of benefits in the future.
When it comes to salaried employees such as general managers, a comprehensive benefits plan is usually offered. This includes a plan with medical, dental, and vision care, as well as a 401(k) with a matching contribution of up to 5% and many other perks.
Final Thoughts
In summary, a job at Chick-fil-A appears to be perfect for a teenager or young adult trying to get their first job. If you don't mind being on your feet all day and adhering to the minimum qualifications of being friendly and able to lift approximately 50 pounds, this may be the job for you. 
Don't expect any benefits plan as an hourly employee in the first few years if you try to make this your career.
The way to turn a Chick-fil-A job into a career is to consider eventually trying to land a general manager position in the future, after learning the ins and outs of the company. 
Don't forget there are also corporate jobs available in Atlanta, GA worth considering, once you get to that level.
At the very least, if you do want to turn your first job at Chick-fil-A into a career, you can gain all the experience you need in the fast-food industry to help you land a management job in this restaurant chain or any other type of fast food or retail company in the future.
Featured image courtesy of Saalebaer, CC0, via Wikimedia Commons.