You may be happy to know that Gap has created a culture that values and rewards employees for their work. As such, associates are not only expected to work hard, but also to be creative and innovative in order to earn the respect of their peers.
So, how much does Gap pay an hour and in salary to its workers, and what can job applicants expect if they get hired at this retail company?
Gap Starting Pay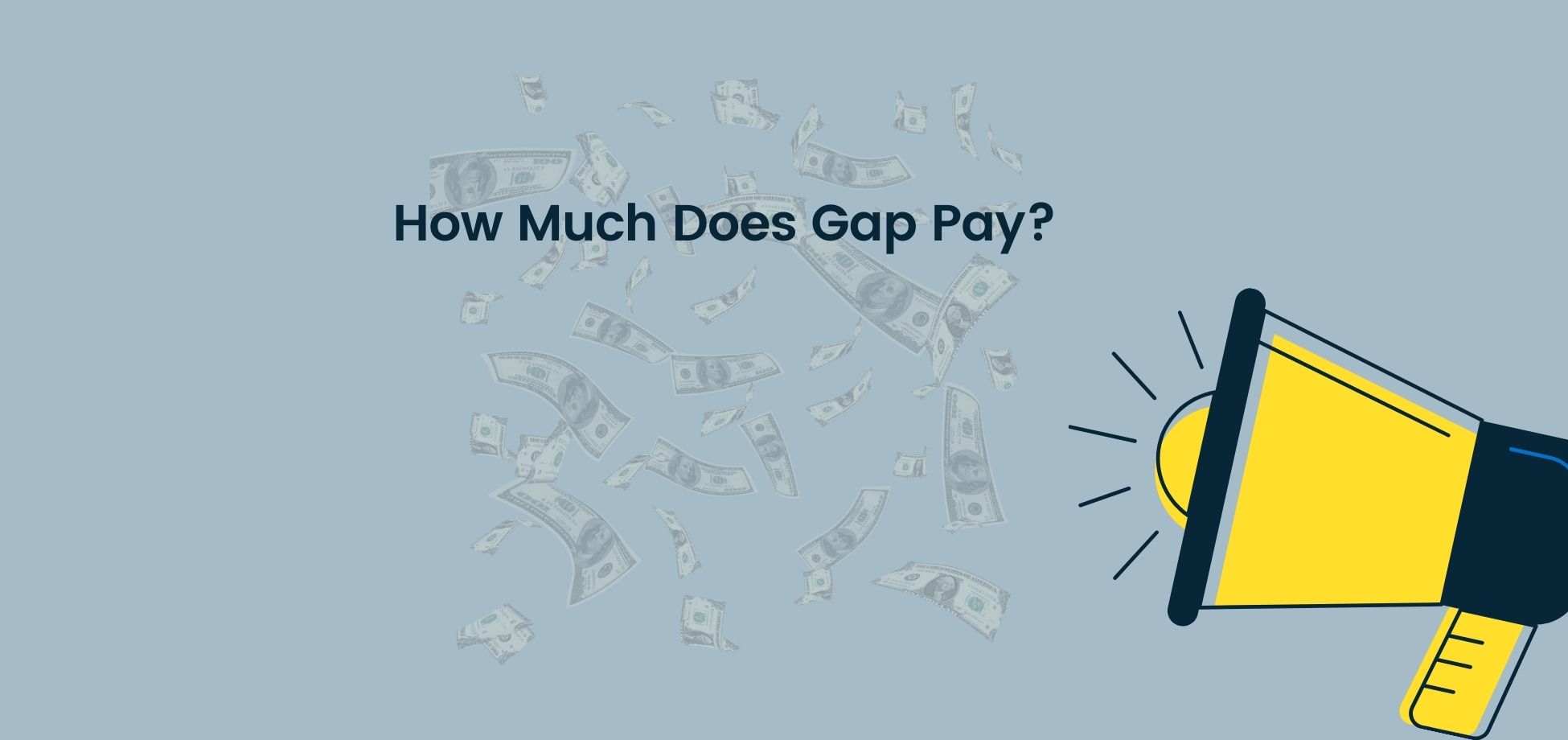 The starting pay at Gap is between $9.50 and $10.50 an hour, depending on your store's location. If you live in a state or area with a higher minimum wage, you can expect to start out at that minimum pay.
The Gap pay per hour for entry-level workers is fairly low for a retail job, but if you work hard and prove yourself to the company, the pay can vastly improve.
Gap Sales Associate Pay
A sales associate at Gap makes, on average, $13.56 an hour. This would be about $542 a week and a yearly salary of $28,204.
A Gap sales associate works in the retail store and helps customers find what they are looking for. They are typically tasked with creating displays, organizing merchandise, and assisting customers.
These associates must:
Have excellent customer service skills
Be able to handle multiple tasks at once
Work as part of a team
Gap Cashier Pay
If $11.17 an hour is adequate for your needs, you may want to check out the cashier position at Gap. You can earn an average of $446 a week if you work full-time and $23,233 a year.
The Gap cashier requires knowledge of cash handling procedures and familiarity with retail operations. They also need to be able to work as part of a team and communicate effectively with co-workers.
Additionally, they are expected to provide excellent customer service, maintain cleanliness in the store, and ensure that all merchandise is priced correctly. This can be an entry-level position and you can learn to be very effective at it while on the job.
Gap Stocker Pay
The Gap hourly pay for a stocker is about $11.36 an hour and this translates into $454 a week and a yearly salary of $23,628.
A Gap stocker is responsible for carrying out a variety of tasks in the store, such as:
Checking product quality and shelf placement
Helping customers find what they are looking for
Replenishing merchandise that has been used by customers
Answering questions from customers about products or services
Making sure that the store is clean and orderly at all times
Other duties as assigned by management
Gap Assistant Manager Salary
The Gap assistant manager is a position where you will help the general manager with all store operations. These workers are oftentimes the first point of contact for customers, and they provide them with assistance in finding their size, style, and color.
This role can be filled by anyone who has good customer service skills and a great understanding of the product spectrum that The Gap offers.
The average salary for this position is $43,792 yearly plus an opportunity to earn up to $1,500 in bonuses. The Gap base pay for this position is approximately $36,500 a year.
Gap General Manager Salary
The Gap general manager is responsible for the day-to-day operations of the store. These employees are responsible for overseeing all aspects of the business, from inventory to merchandising to marketing.
The manager also has to make sure that the store is meeting targets and that employees are happy and productive.
For their great efforts, the salary averages around $79,365 a year and a chance to earn up to $6,500 in bonuses every year.
Does Gap pay weekly?
Gap pays its employees mostly biweekly, but you may be paid on a weekly basis in some locations. Check with your hiring manager during the hiring process, so you are clear on this important part of your job.
Employees are usually paid on a Friday, but if they have a direct deposit, it goes in on a Wednesday.
Gap Pay Raises
Gap typically gives its employees raises twice a year, based on their performance review. Some retail companies are highly unorganized when it comes to pay raises. This company is very organized when it comes to bumping up pay and makes sure workers are fairly compensated based on performance.
Therefore, it's a lot easier to get a raise because all you need to do is focus on performing well and being dependable.
Gap Full-time Hours
A Gap full-time employee works an average of 35 and 40 hours per week.
If you're looking for more hours, it can be difficult to gauge how much your management team values your time and contribution. However, there are some simple ways to ask for more work hours at Gap.
You can:
Periodically remind your manager that you are available to fill in for another worker if they call out sick
Work hard and be a dependable employee, so management can reward you
Put the word out with fellow employees that you are available to substitute for them if an emergency arises, and they can't come to work on a specific day
Gap Part-time Hours
Part-time employees at Gap work an average of 16 to 25 hours a week. This is something you can change if you want more work hours.
You can begin the process of trying to become full-time by simply asking your manager about the opportunity. If you don't say anything, how is your supervisor going to know?
Therefore, put the word out that you're interested, then perform your work beyond expectations, so you can put yourself in a position where the company will need to hire you full-time!
Gap Shifts
There are many shifts to consider working at Gap stores.
Here are some examples:
8 AM to 4 PM
9 AM to 5 PM
12 PM to 5 PM
2 PM to 8 PM
3 PM to 11 PM
4 PM to 10 PM
5 PM to 10 PM
Gap Sick Leave Policy
Gap is one of those retail stores that frown upon people taking time off without a valid excuse.
If you are going to be calling out sick, make sure you give your manager plenty of advance notice, so you don't face discipline later.
Additionally, if you are someone who routinely calls out sick, you may face termination from your employment at Gap.
Gap Benefits
Gap offers its employees a comprehensive healthcare plan. They also offer up 30% to 50% off merchandise at all Gap, Inc. stores, including Old Navy and Banana Republic. 
They have a generous 401(k) plan that matches up to 4% of your base pay, and you can also invest in the employee stock purchase plan.
This company also offers paid time off, and it's even available for some part-time employees.
For full-time hourly workers, you also get seven paid holidays every year. There is also tuition reimbursement for those who want to continue their higher education.
There are many other perks at this company, and you can access them here.
Featured image courtesy of Raysonho @ Open Grid Scheduler / Scalable Grid Engine, CC0, via Wikimedia Commons.