If you've been wondering about the question "how much does IHOP pay its employees?", here's a chance to see all the current information answering that question, and more. It's important to know the type of pay to expect before you apply to any company.
IHOP, owned by Dine Brands Global, has well over 1,800 locations across the globe and employs over 32,000 people.
The guide below will reveal:
IHOP Starting Pay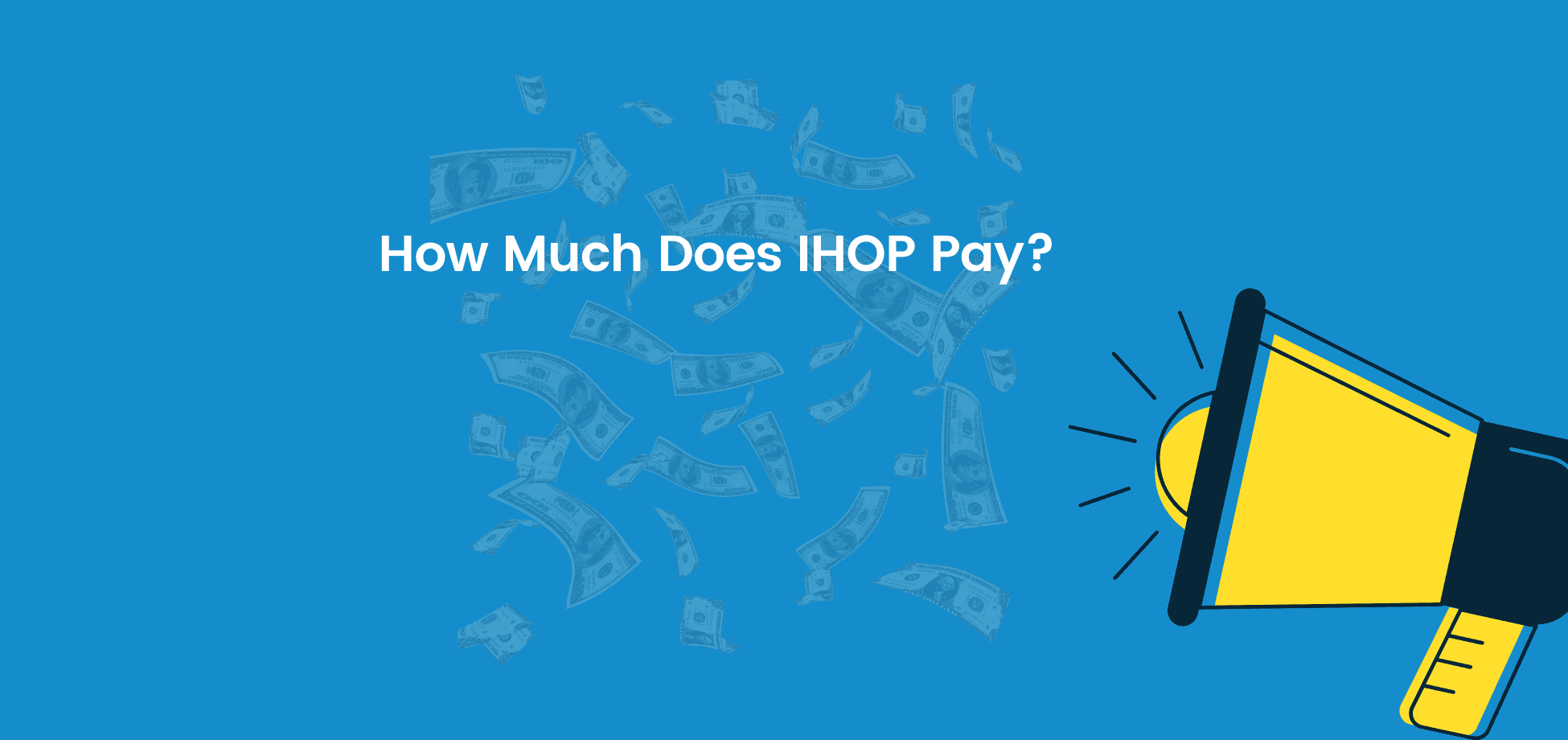 The starting IHOP pay in most locations averages between $10 and $12 an hour, unless your area has a higher minimum wage.
Servers are paid at minimum tipped wage or slightly above the minimum, but they make up for that low wage in tips that can sometimes be very high.
IHOP Host Pay
A host/hostess at IHOP gets average pay of $10.55 an hour. This would be about $422 a week for full-time workers and a yearly salary of $21,944.
The IHOP Host is a part-time or full-time, entry-level position that provides an opportunity for individuals to eventually work as a cashier and make an immediate impact on the company's bottom line.
Other duties include:
Maintaining restaurant cleanliness and presentable appearance
Finding seating for guests
Using POS system to accurately process transactions
Working as part of a team to provide efficient service
IHOP Server Pay
A server at IHOP will usually make the minimum tipped wage in their state or area, plus tip money on a daily basis. The average server makes about $13.74 an hour with tips included, and this translates into $549 a week for those lucky enough to get 40 hours of work assigned every week. The yearly salary for this example would be $28,579.
Some servers say they make substantially more, between $15 to $24 an hour, but that depends on how busy your location is during peak hours.
The IHOP Server is responsible for providing exemplary customer service to our guests by providing hot, delicious food and drinks in a timely manner.
Other duties include:
Providing excellent customer service to all guests, including greeting, seating, and taking orders
Ensuring that the restaurant is neat and clean at all times with an emphasis on presentation of food and beverages
Making sure that IHOP standards are met at all times
Ensuring that the restaurant is stocked with proper supplies of all items needed to provide excellent customer service
IHOP Dishwasher Pay
The IHOP pay rate for a dishwasher is approximately $10.64 an hour. This makes the weekly salary $425 and, potentially, $22,131 in yearly pay.
The IHOP dishwasher job is a good opportunity for someone who wants to work in food service but does not have experience in the field. Job responsibilities are to wash dishes, clean the dishwasher, and keep the restaurant clean.
IHOP Food Runner Pay
The IHOP pay rate for food runner is an average of $12.55 an hour assisting servers and performing a variety of other tasks. The weekly pay amounts to $502 and $26,104 yearly.
The Food Runner is responsible for delivering food to IHOP guests in a timely manner and ensuring that guest satisfaction is met. This includes delivering food, refilling condiments, and cleaning tables as needed.
Other duties include delivering food on time and with excellent service to guests every time, monitoring the restaurant for cleanliness and orderliness at all times, and cleaning tables as needed.
IHOP Food Service Pay
IHOP food service workers make a respectable average of $14.95 an hour. This means you can potentially earn $598 a week and a yearly salary of 31,096.
The IHOP Food Service Worker provides excellent customer service to guests in a friendly, helpful, and professional manner.
Responsibilities include:
Greeting guests and providing them with menus and information about the restaurant
Serving food and beverages to guests in a timely manner
Cleaning tables, booths, and floors
Maintaining cleanliness of the restaurant, including bathrooms
Provide feedback to managers on ways to improve the guest experience
IHOP Line Cook Pay
The line cook earns $14.37 an hour, on average. This amounts to $574 weekly and a yearly salary of $29,889.
Line cooks ensure that everything is fresh and cooked to order, and assist the cook in preparing dishes.
Other duties include:
Serving food quickly and efficiently without compromising quality or presentation
Ensuring that all food production is done properly in accordance to IHOP standards
Maintaining a clean work area and kitchen
Ensure food safety standards are met
IHOP Cook Pay
An experienced cook at IHOP earns about 15.10 an hour, and this equals approximately $604 a week and 431,408 in yearly salary.
The IHOP cook is responsible for preparing, cooking, and serving food to guests, such as pancakes, eggs, burgers, and omelets. The experience of IHOP customers mostly depends on the quality of the food cooks prepare for them.
Other duties include:
Preparing large orders of food efficiently
Cleaning work areas, including kitchen, dining area and lobby
Following safety guidelines as outlined by IHOP
Storing ingredients and equipment properly in designated areas
Meeting guest needs with a smile
IHOP Shift Manager Pay
The shift manager at IHOP earns a fairly low average amount of $13.28 an hour. This is about $531 a week and $27,622 yearly.
The IHOP shift manager will be the leader of his or her team of employees during a particular shift. This position carries the responsibility of managing the day-to-day operations of the restaurant, including management of staff, inventory, and food.
The shift manager will also manage all other store functions, including cash handling and ordering supplies.
IHOP Assistant Manager Salary
An assistant manager at IHOP makes an average of $42,735 a year. These employees also have a chance to earn up to $4,000 a year in bonuses.
This employee is responsible for managing the front of the house and overseeing IHOP's extensive menu. This includes managing the restaurant's inventory, managing staff, creating and maintaining company standards and procedures, and performing other related duties as needed.
IHOP Manager Salary
General managers at IHOP earn $58,345 a year, plus an opportunity to earn up to $5,000 in bonuses throughout the year.
The manager is responsible for managing the franchise or corporate-owned location. This includes developing, implementing, and executing marketing strategies, overseeing product development, and driving customer satisfaction.
It also includes making sure that the franchise is profitable and that all franchisee operations are in compliance with corporate standards.
Does IHOP pay weekly?
Depending on your location, you can get paid weekly or biweekly. If you get paid biweekly, the IHOP pay period usually starts on a Monday and ends two Sundays later. Then, you get paid on the following Thursday or Friday.
Employees who get paid weekly say they typically receive their check either on a Sunday or Monday after working the previous pay period.
IHOP Pay Raises
Employees say it's very difficult to get any type of pay raise at an IHOP. Specifically, one person even commented on Indeed.com that their location did not offer any server a raise at all, at any time, no matter how long they worked at the location.
Therefore, it becomes ever so important for you to communicate with your manager when you get hired and perform well for a period of time. By doing your job well, you can put yourself in the driver's seat to get a raise at any company.
IHOP Full-time Hours
IHOP full-time employees usually get between 30 and 40 hours of work every week. In some locations, you will rarely see a server or other workers scheduled for more than 30 hours a week.
IHOP Part-time Hours
Part-time employees will typically get between 15 and 25 hours scheduled every week if they so desire.
The way you can acquire more hours is to stay in communication with your management staff and let them know you are available to cover anyone else's shift if they call out.
IHOP Shift Hours
There are a variety of shifts to choose from at any particular IHOP.
Here are examples of shifts:
6 AM to 3 PM
6:30 AM to 2 PM
9 AM to 5 PM
2 PM to 10 PM
3 PM to 11 PM
4 PM to 10 PM
10 PM to 6 AM
IHOP Sick Leave
IHOP does not appear to have a uniform company policy that's enforced when it comes to sick leave, especially when it comes to franchisee-owned restaurants. Many hourly employees say there are no sick days/paid leave at all.
In other words, if you're sick, you simply have to give a good reason and call your management ahead of time, so they can find a replacement, but you won't get paid if you don't work.
IHOP Break Policy
Many employees say they have a hard time getting any breaks at all during their shifts because the restaurants are usually so busy and understaffed. There are reports of even cooks eating food as they continue to cook food for guests.
Therefore, make sure you stay in contact with your management, so you can at least count on getting an occasional break when you need it. On a positive note, some employees say management gives them free meals every day, but they need to scarf down their food as quickly as possible and go back to attending customers.
Featured image courtesy of Mike Mozart from Funny YouTube, USA, CC BY 2.0, via Wikimedia Commons.