There is good news if you're asking "how much does IKEA pay an hour?" because, on January 1, 2022, the company raises its starting hourly wage.
The raise in pay indicates the company appreciates its workers and counts on them for the company's success.
Below, you'll be able to see:
IKEA Starting Pay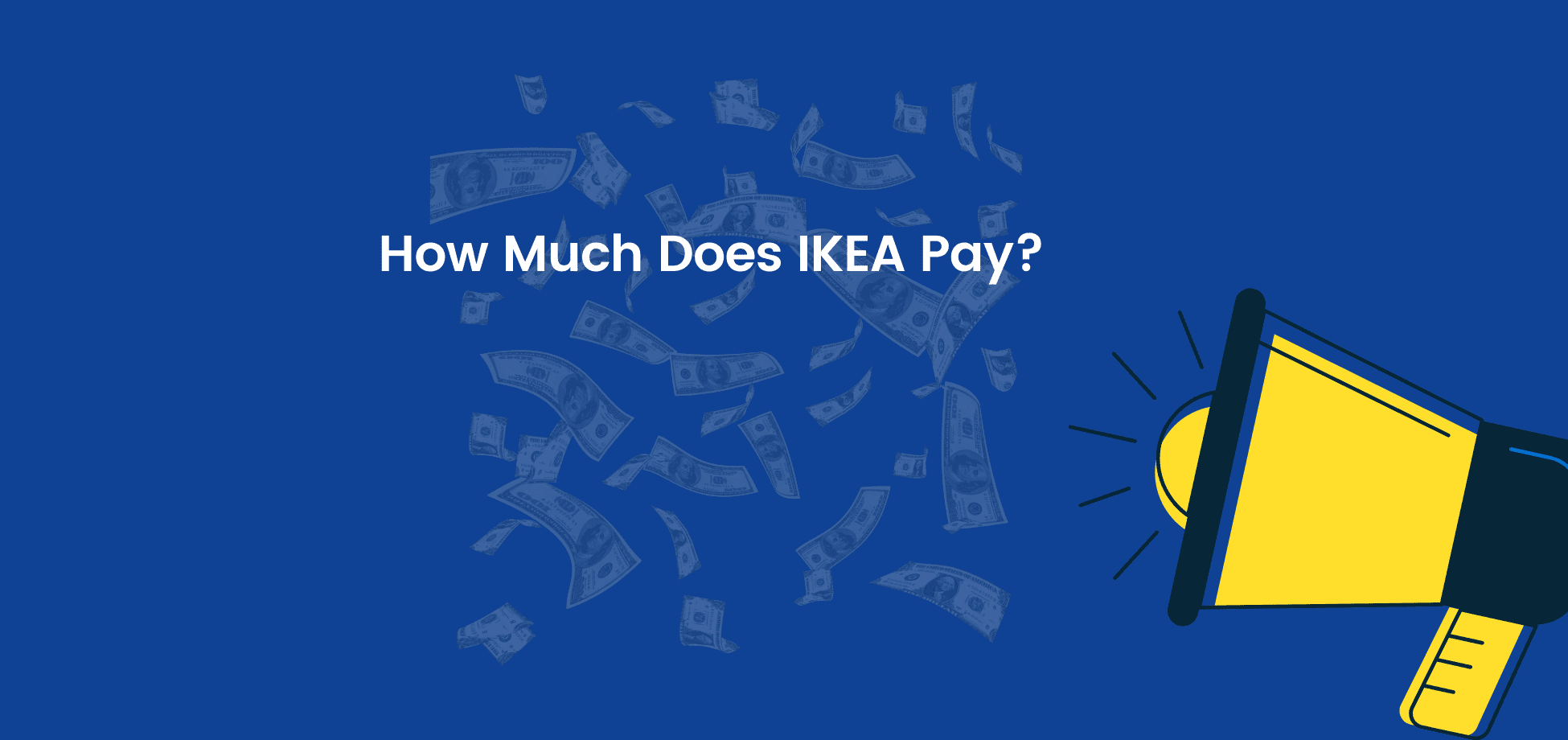 The new starting IKEA Hourly pay is $16 to $18 an hour, depending on the location of the store. At $17 an hour, you can make a living wage by earning $680 a week and a yearly salary of $35,360.
The average hourly employee with a few years under their belt will make an average close to $20 an hour with this recent "across-the-board" company pay raise.
IKEA Cashier Pay
The IKEA pay per hour for cashiers after the recent raise is $16.58 an hour. This equals $663 a week and $34,486 in yearly wages.
The IKEA Cashier is responsible for the smooth and efficient operation of the stores.
They also:
Provide excellent customer service by greeting customers and answering questions with a smile—keeping a positive attitude in an always-busy environment
Focus on efficiency and accuracy in order to meet the company's high standards of service
Ensure that the store is clean and well-ordered at all times
Manage the flow of product through the store, including checking stock, pricing, and assisting customers as needed
Perform basic merchandising tasks such as arranging products on shelves, rearranging displays, and organizing promotional offers
IKEA Sales Associate Pay
The average sales associate makes about $18.75 an hour. This is an above-average hourly rate for an associate in retail, and it means you can make approximately $750 a week and a yearly salary of $39,000.
The Ikea Sales Associate will be responsible for providing the best shopping experience possible to our customers. This includes customer service, sales, and product knowledge.
Duties include:
Providing professional customer service to all customers
Providing accurate information about all products, services, and policies
Ensuring that customer needs are met with clear instructions and adequate time for questions
Delivering a positive shopping experience for all customers
Communicating effectively with co-workers, management, and customers
IKEA Inventory Specialist Pay
This is a highly responsible position and it comes with a handsome hourly rate. These workers make approximately $19.05 an hour, which equals $762 a week and $39,624 yearly.
The IKEA Inventory Specialist is responsible for the entire inventory process for the store. These employees are responsible for coordinating with suppliers, receiving deliveries, and shipping goods out to customers. They also manage the in-store inventory, including planning, scheduling, and forecasting.
IKEA Sales Manager Salary
A sales manager at IKEA can earn an average of $58,350 a year.
The IKEA sales manager is responsible for building and driving sales in the store. This person is responsible for the success of the store and its customers. He or she will work with the store manager, assistant store managers, and other team members to complete their day-to-day tasks.
IKEA Assistant Manager Salary
IKEA offers its assistant managers a solid yearly salary averaging $71,050. It comes with an opportunity to earn up to $11,000 a year in bonuses.
The IKEA assistant manager is responsible for leading and inspiring a team of individuals who help to build the company's continued success. These managers will provide leadership and support to the team, so that they are able to deliver a high-quality customer experience.
IKEA General Manager Salary
The average pay for a general manager at IKEA is approximately $82,980 a year, with a chance to earn hefty bonuses totaling up to $13,000 yearly.
The general manager will be responsible for the overall management and leadership of the IKEA store. Within that role, these professionals will have a significant impact on all store operations, including product development, store operations, marketing, and sales.
IKEA Warehouse Pay
A typical average salary for a warehouse worker at IKEA is $18.35 an hour. This amounts to $734 a week and $38,168 yearly.
IKEA warehouse workers are responsible for packing and unpacking products, as well as loading and unloading trucks. They must have strong physical abilities, be able to lift 50lbs, have excellent eye-hand coordination, be able to climb ladders or step stools and possess the ability to work in a team environment.
Does IKEA pay weekly?
IKEA pays its employees biweekly, on a Thursday or a Friday after the previous pay period ends the week before.
IKEA Pay Raises
At IKEA, you can expect a pay raise for good work performance and other factors every year in the amount of 2 to 3%.
As an example, if you start out at $17 an hour and get a 2% raise after one year, you can expect a .34 cent raise and your new hourly wage will be $17.34. If you perform exceptionally well and receive a 3% raise, it would be a .51 cent bump, and your hourly rate would be $17.51.
IKEA Full-time Hours
Full-time workers at IKEA are assigned at least 40 hours every week. If you are full-time and would like to work overtime, you can inform your managers, but they will have to approve any overtime hours before you attempt to work them.
IKEA Part-time Hours
Part-time hourly employees can expect to work between 20 and 25 hours a week at IKEA, on average. If you'd like to work more hours, you need to work hard toward becoming a full-time employee.
You can do this by performing your job very well and being a dependable worker.
IKEA Shift Hours
IKEA's shifts may vary according to your location, but here are some examples of shifts you may work at your store:
5 AM to 10 AM
6 AM to 2:30 PM
7 AM to 3:30 PM
10 AM to 2 PM
1 PM to 5 PM
2 PM to 10:30 PM
3 PM to 11:30 PM
4 PM to 12 midnight
IKEA Sick Leave
Full-time workers can accumulate up to 5 paid sick days a year. It's important to try never to take a sick day if possible, so you can impress your management team and appear as dependable as possible.
If you're going to call out sick or take a day off for any valid reason, be sure to call your management team as soon as possible so they can fill in your slot with a replacement.
IKEA Break Policy
IKEA employees are allowed ample breaks during their shifts. It's important to communicate your needs to your management team.
For example, if you are someone with a weak bladder and know you'll have to take a bathroom break every two hours or so, you can speak with your management, and they will be glad to accommodate you.
Featured image courtesy of High Contrast, CC BY 3.0 DE, via Wikimedia Commons.