If you like the atmosphere of working in an American office product retail company, the question "how much does Staples pay an hour?" has probably come up.
To answer this question, I've compiled current and accurate information with details about each position and what the average pay is.
You will see:
Staples Starting Pay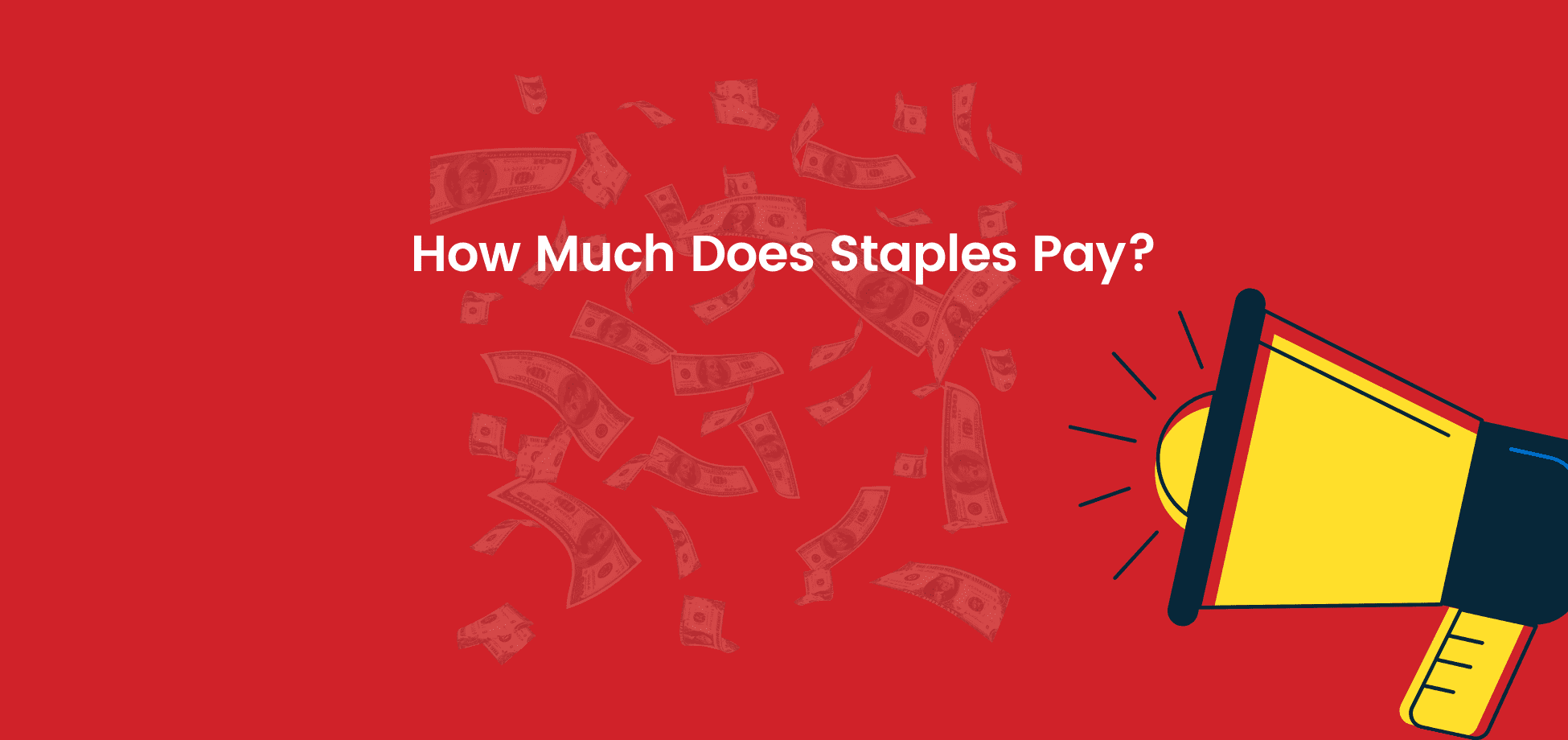 Staples starting pay varies by location and depends on the minimum wage in your state or area. However, the average starting pay is between $10 and $11 an hour.
Even though the starting hourly rate is fairly low, there are plenty of opportunities to advance within this company. If you set your mind to it, you can see yourself enjoying a comprehensive health benefits plan while working full-time and moving up the ladder of success.
Staples Cashier Pay
The staples pay rate for cashiers is $15.07 an hour, on average. This would be about $602 a week and $31,345 in yearly salary.
The Staples Cashier is responsible for providing a high level of customer service. This role is a key part of the Staples team and is responsible for providing excellent customer service by providing an accurate and friendly experience.
These employees will process the checkout for customers in-store, process returns and exchanges, and provide friendly, accurate responses to customer questions.
Staples Sales Associate Pay
A sales associate at Staples makes about $11.12 an hour, and oftentimes, this job is offered only part-time. Therefore, an employee working 25 part-time hours a week at this position will earn approximately $278 a week and $14,456 yearly.
The sales associate is usually hired part-time and is responsible for providing excellent customer service to the customers in the store. They are also responsible for acquiring new customers, maintaining relationships with existing customers, and driving sales of Staples products.
Staples Inventory Specialist Pay
The Staples pay per hour for inventory specialists is about $13.76. At this rate, you would make about $550 a week and $28,620 a year.
Inventory specialists are responsible for the daily management of the inventory and sales floor of the store. This includes managing the store supply, shelf space, and managing the store's inventory. These employees also work closely with store managers to maintain a clean, attractive, and well-stocked retail environment, and they monitor stock levels on a daily basis and adjust the stock as needed.
Staples Sales Manager Salary
The sales manager at Staples will earn an average of $15.68, which equals about $627 a week, and a yearly salary of $32,640.
The sales manager is responsible for the success of the sales team. This includes managing and developing the sales pipeline, coordinating with marketing and customer service to ensure maximum customer satisfaction, developing new business opportunities, and providing support to employees.
Staples Assistant Manager Salary
Staples assistant manager earns approximately $48,755 a year. This does not include up to $6,000 in bonuses these employees may be eligible for in any given year.
The assistant manager is responsible for managing the day-to-day operations of a Staples store. This includes planning, organizing, staffing, and directing the store's activities to ensure store performance meets customer expectations and that the sales team is properly trained.
Staples General Manager Salary
General managers at this company earn an average of $76,543 yearly and up to $11,000 a year in bonuses.
The Staples General Manager is responsible for the day-to-day operation of a Staples store, including merchandising, inventory control, customer service, and store maintenance. This includes directing the activities of a team of employees in order to achieve company objectives.
Staples District Manager Salary
A district manager at Staples can earn approximately $116,540 yearly. Additionally, these highly responsible positions can net someone up to $17,000 a year in bonuses.
The district manager is responsible for the overall management of a store and a given geographic area (typically 2-6 stores).
Duties include:
Working with the store manager to ensure all operations are going smoothly
Making sure the store is profitable and has a positive cash flow
Delivering product orders in a timely manner and coordinate deliveries with warehouse operations
Staples Warehouse Pay
Warehouse workers have a physically demanding position, and they are compensated well for it. The average hourly pay for this position is around $17.86 an hour. Weekly, you can expect to make about $714 at this job and a yearly salary of $37,148.
The warehouse associate is responsible for the successful operation of the warehouse and receiving process. He or she ensures that all products are received and stored correctly. This individual is responsible for following company procedures, maintaining inventory accuracy, and ensuring that the warehouse operates smoothly.
Does Staples pay weekly?
Most Staples locations pay their employees on a weekly basis, on a Friday after the pay period ends the week before.
Therefore, consult with your HR staff or management to find out the exact dates of the pay periods as well as paydays.
Staples Pay Raises
Staples gives pay raises based on job performance, and the timetable to receive one varies with each store/location.
Some employees say this company is very stingy when it comes to raises in pay, and that someone can typically get a .10 to .20 cent raise after busting their tail a whole year.
Others say they didn't get a raise for up to two years, even after doing everything asked of them, being loyal, and performing their job beyond expectations. It sounds like this company needs a complete overhaul in this department!
Staples Full-time Hours
Full-time employees receive between 34-40 hours of work every week at Staples. This depends on the store's necessity and your job performance. Some employees say only management, inventory specialists, and tech positions are given 40 hours of work every week.
For example, if you are a problematic employee in the eyes of management who regularly calls out sick or has to switch their shifts, you will probably suffer in terms of hours assigned weekly.
Staples Part-time Hours
Working up to 32 hours a week at Staples is considered part-time. On average, many part-timers get about 20 to 25 hours of work a week.
If you want more hours, approach your management staff and politely tell them you are available to work should another employee call out sick.
Staples Shift Hours
Shift hours vary with each location. However, there are certain shifts you can use to guide how you will likely be scheduled:
8 AM to 2 PM
8 AM to 5:30 PM
9 AM to 2 PM
12 PM to 5 PM
1 PM to 9:30 PM
2 PM to 9 PM
3 PM to 8 PM
3 PM to 11:30 PM
Staples Sick Leave
You can accumulate up to 5 paid days off a year. Therefore, your sick days will be covered and paid as long as you have enough hours accumulated.
If you're going to call out sick, call a supervisor well ahead of time. Make sure you have a valid excuse and if you have another employee you can suggest to fill in for you, by all means, let them know. If not, by calling and giving ample time, someone will be able to serve as a substitute for your shift.
Staples Break Policy
The Staples break policy is a little inconsistent at times, according to employees who work there. You'll have to communicate well with your management staff to be able to consistently get the breaks you need, in accordance with company policy, and state law if it applies. 
Featured image courtesy of Anthony92931, CC BY-SA 3.0, via Wikimedia Commons.