JCPenney is a company that provides both in-store and online shopping at affordable prices. It is one of the largest American department stores, with over 625 locations in all 50 states and Puerto Rico, and over 60,000 employees.
This seems like a great retail opportunity for most people. So, how much does JCPenney pay its employees, either hourly or in salary?
Below, you'll find:
JCPenney Starting Pay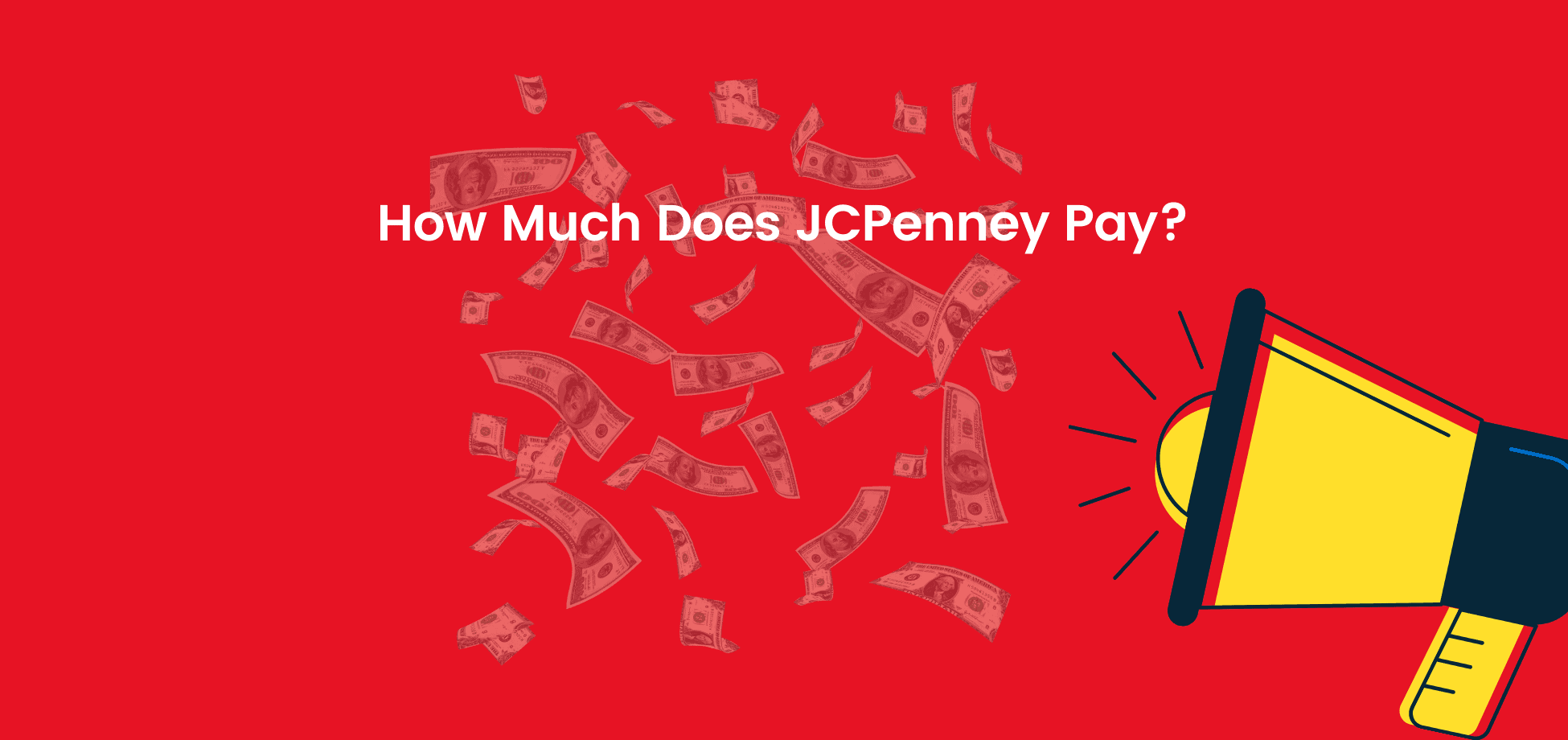 The JCPenney pay rate for entry-level is a very low $9.50 an hour. This would give you only $380 a week and a salary of $19,760. If you are in an area with a higher minimum wage, then you can expect to get paid the minimum wage in that area.
JCPenney Sales Associate Pay
The average pay for JCPenney retail sales associates is $11.85 an hour. With that hourly amount, you can make approximately $474 a week and a yearly salary of $24,648.
An associate has many responsibilities, and these include:
Assist customers with finding what they are looking for in the store
Provide assistance and assistance to customers with finding items in the store after receiving their request
Respond to customer complaints and inquiries
Maintain a clean and tidy work area at all times
Keep up with any relevant changes in company policies, procedures, or regulations by contacting appropriate management personnel
Answer questions from co-workers or customers as needed
JCPenney Cashier Pay
The JCPenney cashier is the face of the store, and it is essential to be an expert in customer service. For their service, these employees make an average of $11.55 hourly, which means you can earn about $462 weekly and a yearly salary of $24,042.
Cashiers collect money, ring up purchases, and assist customers with finding what they are looking for. They are also responsible for making sure that their store is clean and well-organized. This helps to make sure that customers can find what they need without any confusion or frustration.
JCPenney Asset Protection Pay
This is one of the highest-paying associate positions at an average of $14.65 an hour. Weekly, you can earn $586, and yearly, $30,472.
The JCPenney asset protection job responsibilities include counterfeit operations, security and loss prevention, and retail operations.
The role requires a deep understanding of the company's business operations and many other skill sets. The key responsibilities are to protect and identify the company's assets with respect to fraud, theft, or other losses.
JCPenney Salon Receptionist Pay
The average pay for a salon receptionist at this company is $11.90 an hour. This gives you a weekly paycheck, before taxes, of $476 and a salary of $24,753 yearly.
The job of a JCPenney Salon Receptionist is to greet and show customers around the salon. The receptionists help the stylists by answering customer questions and providing services like blow-outs, styling, and up-dos.
The duties include:
Greeting new customers
Showing customers around the salon
Providing customer service
Helping stylists with new client questions or needs
Handling cash register duties
JCPenney Beauty Consultant Pay
A beauty consultant at JCPenney makes about $12.78 an hour, or $511 weekly, and a yearly salary of $26,582.
The JCPenney Beauty Consultant provides personal assistance, educating and guiding customers on the latest beauty trends through all of their cosmetic needs: skincare, makeup, or fragrance.
This position is about delivering exceptional customer service, empowering customers to make smart, informed purchases, and building customer loyalty. It is primarily focused on helping customers learn how to care for their personal appearance by providing expert recommendations, advice, and customer service.
JCPenney Asset Protection Manager Salary
The JCPenney asset protection manager receives an average salary of $57,980 a year. This worker is responsible for making sure that the company's inventory, intellectual property, and operations are secure.
This is done by monitoring the company's implementation of IT security solutions, and then implementing any required changes. These managers also supervise and train asset protection associates in order to ensure the efficacy of his or her department.
JCPenney Assistant Manager Salary
Typically, an assistant manager at this company's stores is paid $67,560 a year with an opportunity to earn yearly bonuses totaling up to $6,000.
The JCPenney assistant manager is responsible for the overall store operations and customer service.
Assistant managers also work with the general manager on area-specific decisions. The assistant manager will be in charge of hiring, training, and scheduling employees and working directly with the store's human resource department. They will also supervise holiday hours, overtime, and time off for employees.
JCPenney General Manager Salary
The JCPenney general manager job responsibilities are vast and for this, they command a $103,090 a year salary plus a chance to earn another $20,000 in bonuses. They are responsible for creating strategies and strategies for their retail stores, creating promotional campaigns, and overseeing the store's inventory.
The general manager is also responsible for managing all aspects of the store including customer service, pricing, promotions, human resources functions, and ensuring that the store is compliant with the company's policies.
Does JCPenney pay weekly or biweekly?
JCPenney pays its employees biweekly on a Thursday or Friday. If you have a direct deposit, you'll get paid on a Thursday, otherwise, you'll receive a paper check on Friday.
The JCPenney pay period starts on a Monday and ends on a Sunday, 14 days later. Then, you get paid on the following Friday after that pay period ends.
Pay Raises
JCPenney is pretty stingy when it comes to raises, according to past and present employees. Many say getting a raise all depends on whether your manager likes you.
This is indicative of either a company not caring enough about its employees to have a system set in place and a thorough understanding of its importance, or it simply means there is miscommunication between management and its employees.
Either way, there's simply no excuse to not have periodic raises in place for good performance, even if it's once a year and amounts to only a 1 to 3% raise.
JCPenney Full-Time Hours
Full-time workers at JCPenney are assigned 40+ hours, just about every week. Generally, anything over 36 hours a week is considered full-time status.
Part-time Hours
Part-timers at this company are usually given anywhere between 15 and 33 hours of work every week. You can increase this amount by making your management team aware you are ready and willing to work for anyone who calls out sick or takes some other type of leave.
JCPenney Shift Hours
There are many shifts available in JCPenney stores for full-time and part-time employees. Here are some examples:
5 AM to 1 PM
6 AM to 11 AM
6 AM to 2 PM
7 AM to 3 PM
8 AM to 1 PM
8 AM to 5 PM
9 AM to 5 PM
2 PM to 10 PM
3 PM to 8 PM
4 PM to Midnight
JCPenney Call Out Sick Policy
You can accumulate up to 4 -7 sick days a year as a full-time employee.
No one wants to feel like a burden by calling out sick and then finding out they're not being considered for any form of compensation. This will happen if you don't have any days accumulated.
If you're going to call out sick, make sure you call your supervisor well ahead of time if possible, so that your management team can find a replacement for your shift.
Break Policy
You are allowed to have two paid 10-minute breaks at JCPenney during an eight-hour shift. Additionally, you can expect to take a 30-minute meal break during your shift. Make sure you stay in communication with your supervisors, so there is no miscommunication.
Oftentimes, employees who don't speak up and say they need breaks are the ones who are overlooked.