With more than 900 locations worldwide, including in Brazil, Mexico, and even Slovakia, Olive Garden offers excellent restaurant job opportunities. This casual dining restaurant featuring Italian-American food has become one of the most beloved restaurant chains in the United States.
Below, you'll see:
Olive Garden Starting Pay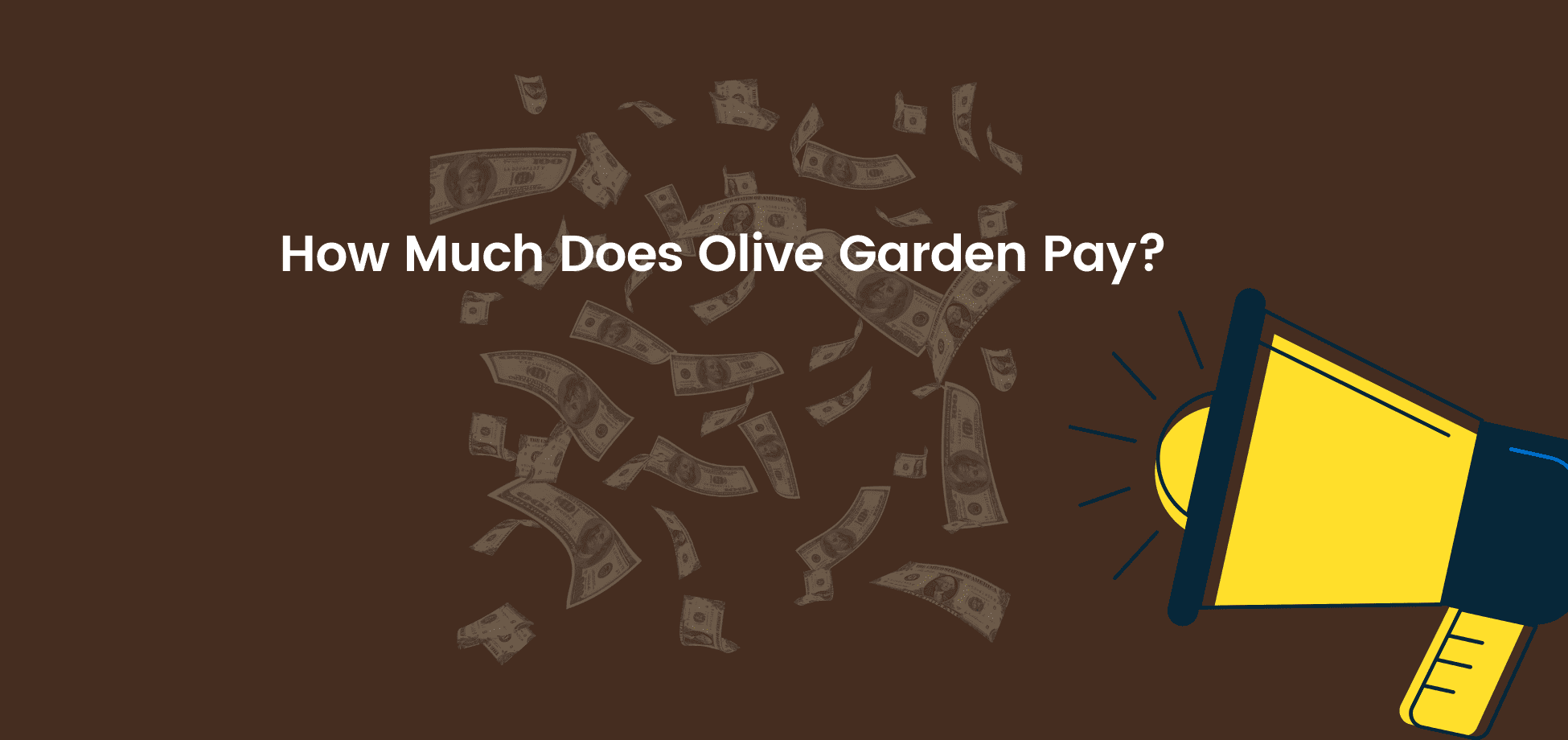 In 2021, Olive Garden raised its minimum wage for any worker, so they can earn at least $10 an hour, including tips.
In 2022, it will be raised to $11 an hour, and in 2023, the minimum hourly wage for all workers will be $12 per hour. In states where the minimum wage is higher, the starting pay will usually be above the minimum wage.
Olive Garden Host Pay
The first person Olive Garden customers see is usually the host, and this employee makes an average of $11.85 an hour. Many host jobs are part-time and if you work 25 hours a week at this rate, you can make approximately $296.25 a week.
If you work part-time as a host and average 25 hours a week, you would make approximately $15,405 a year.
Olive Garden Server Pay
The average hourly wage, including tips for servers, is $14.70 an hour. Working 30 hours a week at this rate would give you approximately $441 a week, and that would equal approximately $22,932 a year.
You may be able to work in a high-volume restaurant and earn much more than the above amount due to more customers and better tips.
Olive Garden Bartender Pay
The average salary for a bartender at Olive Garden comes in at approximately $15.35 an hour. A full-time bartender would make approximately $614 a week and, on a yearly basis, about $31,928.
Just like a server, your total wages depend largely on how well your restaurant draws customers and whether they give good tips.
Olive Garden Line Cook Pay
A typical hourly wage for a line cook is approximately $14.85 an hour. A line cook, working approximately 35 hours on average, would make about $519 a week and a yearly salary of $27,027.
Some people who have worked as a line cook at this restaurant talk about how hectic and fast-paced the job can be.
Olive Garden Dishwasher Pay
Surprisingly, a dishwasher at this restaurant chain makes a higher than average hourly wage, and approximately $14.43 an hour.
A dishwasher who works 35 hours a week, on average, can make approximately $505 a week and $26,262 yearly.
Olive Garden Prep Cook Pay
Prep cooks at Olive Garden make an average of $14.45 an hour.
A prep cook working an average of 35 hours a week can make about $506 Weekly and a yearly salary of approximately $26,299.
Olive Garden To Go Specialist Pay
The average pay for a "to go" specialist is approximately $12.15 an hour.
If you work 40 hours a week at this job, you can make approximately $486 a week and a yearly salary of $25,272.
Olive Garden Busser Pay
A Busser at Olive Garden makes one of the lowest hourly wages at $11.40 an hour.
A Busser will typically work 30 hours a week and make $342 every week. This equals approximately $17,784 a year. If you start out this job, you may be pleased to know there are even a few Olive Garden managers who started out years ago working in this same position!
Olive Garden Restaurant Manager Salary
The average salary for a restaurant manager at Olive Garden is approximately $53,527 a year. On top of that, these salaried employees receive anywhere between a $3,000 to $5,000 bonus every year.
This salary is about average compared to other casual dining establishments for this position. Keep in mind this is a salaried position and if you work long hours exceeding 40 hours a week, you will not receive extra compensation for it.
Does Olive Garden pay weekly?
Most Olive Garden locations pay their employees on a weekly basis. There are some locations that will pay you biweekly unless you are a server or bartender.
The pay period starts on a Monday and ends on the following Sunday, then you get paid on the following Friday.
How often does Olive Garden give raises?
Every year, the typical worker at Olive Garden receives a 1% to 3% raise. So, for example, if you are earning $14.45 an hour, and you get a 2% raise, this would equal a raise of $.29 an hour, increasing your total hourly wage to $14.74 an hour.
Full-Time Hours
Full-time hourly employees at Olive Garden usually work anywhere between 35 and 40 hours a week. Working anything beyond that requires management approval.
Part-Time Hours
Part-time workers at Olive Garden usually work anywhere between 15 and 25 hours a week. If you are someone who has proven yourself to management as being an exceptional worker, you may either be given more part-time hours or you may be promoted to full-time.
Shift Hours
The shift hours vary for each location, but here are some general shift hours you can expect:
9 AM to 2 PM
9 AM to 5 PM
1 PM to 5 PM
2 PM to 8 PM
4 PM to 10 PM
4 PM to 12 PM
Your shift hours are scheduled every week, and they can be flexible, depending on how you work it out with your managers.
Employee Call Out Policy
For every 30 hours you work, you can accumulate 1 hour of sick leave. Therefore, if you are someone who works 30 hours weekly, you would earn approximately 6 sick days every year.
If you're going to call out sick, make sure you give your management plenty of time to find a replacement before your scheduled shift. Try your very best to give them time to find someone to cover for you so you can stay in the good graces of your management team.
As with any company, if you make it a habit of calling out, you may be subjecting yourself to being terminated. However, it's understandable that there are many situations we can't control and accidents or emergencies do occur.
Does Olive Garden hire felons?
Yes, Olive Garden will hire you even if you have a felony past. Be straight up with your interviewer and let him or her know how you have rehabilitated yourself from your past mistakes. 
The interviewer will be more concerned with your personality and ability to be a positive reflection on the company more than anything else. So, impress the hiring manager with your positivity and show them how you can benefit their company by becoming an employee.
Break Policy
While some locations offer 10-minute paid breaks for every 4 hours worked, others do not. This all may depend on your state laws, which mandate that companies give their employees a paid break after a certain number of hours.
Usually, you will also get a 30-minute unpaid lunch during an 8-hour shift at Olive garden.
Olive Garden Dress Code
Full uniforms are not provided at Olive Garden for employees. Some locations will provide you with an apron and shirt, and all you need to do is purchase nonslip shoes and pants.
Men wear black slacks and women wear black dress pants. Everyone has to wear a black belt, as well. 
Olive Garden usually issues a black polo shirt to each employee. If you're in a location that does not, you'll have to purchase the polo shirt on your own.
Yoga pants are not permitted and headbands are sometimes allowed.
In most locations, unnaturally colored hair is not allowed. Additionally, you can't wear visible body piercing or tattoos, and jewelry must be kept to a minimum.
Featured image courtesy of Anthony92931, CC BY-SA 3.0, via Wikimedia Commons.