You may be wondering about the entry-level Speedway pay, average pay, and salaries for its employees as well as what it is like working there. Of course, these are all so highly important so that you can make the right choice.
Of all the convenience stores in the United States, Speedway definitely ranks somewhere at the top when it comes to successful companies. However, does that mean this company would be a good choice for you if you wanted a retail career at one of these stores?
In this article, I'll show you:
The starting hourly pay for entry-level workers
What experienced workers earn on average, for each job
The number of hours needed to be considered full-time
Examples of Speedway shift hours
Part-time hours usually assigned
Whether the paycheck is weekly
If Speedway gives pay raises
The break policy
Dress code
How much does Speedway pay an hour?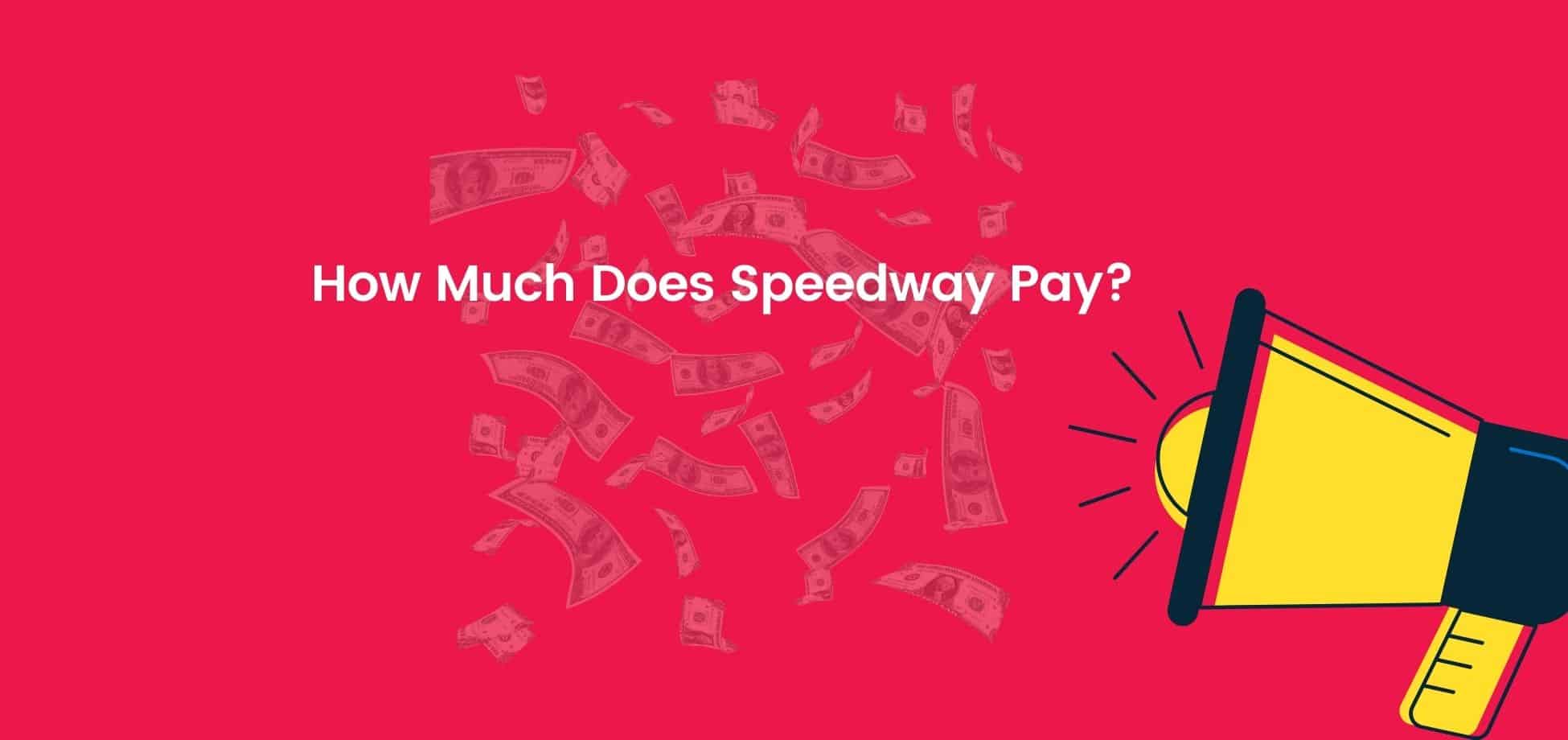 Speedway entry-level hourly wages are surprisingly very low, at approximately $8.50 to $9 an hour. There are other things to consider if you're looking at this company seriously.
For example, the company has a 401(k) that pays its workers $1.17 for every dollar up to 6% of their weekly salary. Additionally, there are many chances for advancement within this company. 
So, there are other things you need to think about aside from the starting pay if you want to be in it for the long run.
Speedway Full-Time Hours
You are considered a full-time worker if you are hired full-time and you are working an average of at least 35 hours every week. there are many full-time employees who work over 40 hours a week when their stores are slightly understaffed.
Speedway Shift Hours
Each store has a management team that works out shifts and they are generally scheduled in this manner:
6 AM to 2 PM
6 AM to 3 PM
7 AM to 2 PM
7 AM to 3 PM
2 PM to 10 PM
2 PM to 11 PM
10 PM to 6 AM
11 AM to 7 AM
Part-time shifts generally have the same starting times, so just add 4 to 5 hours to the starting time to get an idea of how long the shifts last. For example, you might work from 6 AM to 11 AM, 2 PM to 7 PM, and 10 PM to 3 AM.
How many hours is part-time at Speedway?
Part-time employees are usually issued 15 to 30 hours a week, depending on how flexible they are with their schedules. Anything 34 hours and under per week is considered part-time.
Speedway Pay for Entry-Level and Experienced Employees
The following information will provide you the average pay for each position. This figure is computed by taking into account a few years of experience for each position.
This will give you a great idea of what to expect in the future should you choose to apply at Speedway.
Speedway Customer Service Pay
On average, a customer service rep at Speedway earns approximately $9.85 an hour. This amount indicates that this company has a hard time retaining its entry-level workers for more than 2 years.
Using the hourly figure, you would make approximately $394 a week and a yearly salary of $20,488.
Speedway Assistant Manager Salary
The average salary for a Speedway assistant manager is approximately $13.65 an hour. This means you would earn about $546 a week and $28,392 in yearly salary.
Assistant managers regularly work overtime and they are paid hourly. Therefore, it's fairly safe to say you would probably add another $5,000 to that yearly salary figure and tack on an extra $500-$600 as a performance bonus.
Speedway Manager Salary
A Speedway manager earns approximately $48,290 a year. This does not include an annual bonus of approximately $5,000.
When you add this to the salary, we are talking about a $53,000 a year salary.
Speedway District Manager Salary
A district manager at this retail chain earns approximately $59,600 a year. Trainees for this position earn somewhere around $52,500 a year.
Yearly salaries for this position can go up as high as $85,000.
Does Speedway pay weekly?
At this store, you get paid on a weekly basis. You have three ways of possibly getting paid and they are; a prepaid card, a bank account with direct deposit, and a paper check.
Paydays are different from store to store. Some employees say you get paid on Wednesday, and others say you get paid on a Thursday or a Friday.
Pay periods also differ from store to store. Usually, the pay period starts on Thursday and ends the following Wednesday. Then, you get paid at the end of the following week for work performed during that pay period. 
This means there will always be a 1-week delay from the moment you perform your work to the moment you get paid for it.
How often does Speedway give raises?
Speedway gives its employees two pay raises a year for exceptional performance. Every 6 months, your managers review your performance and reward you with a raise in pay.
The raise usually comes in the form of anywhere between $.20-$.30 an hour. 
For people who never get a raise and complain about it, it's usually because one of two reasons:
They are not communicating effectively with the management team or inquiring about a possible raise and they are getting overlooked
They are simply not performing their job very well and management decides not to give those workers a raise
Break Policy
Breaks at Speedway are a very difficult subject because each store has different management teams with different policies. You may be lucky enough to be working at a store that has enough employees to cover the store while you take a 15-minute paid break.
However, due to the high volume of customers who walk through the doors of Speedway, it's difficult to get a scheduled break. Therefore, it becomes very important to work this out with your management team so that you are on the same page and you can get adequate breaks during your shifts.
Keep in mind that sometimes, during very busy shifts, it may be next to impossible to get the break you desire.
Dress Code
Speedway provides employees with company shirts, name tags, and caps. The employee is expected to purchase their own black or khaki pants, or jeans.
You'll also be wearing a belt with your shirt tucked in during your shift. You're only allowed to have one ring on each of your hands, a neat appearance, and nothing that looks extreme in terms of tattoos, nails, or makeup.
Additionally, you have to wear close-toed shoes and on hot days, you are allowed to wear shorts in some stores as long as they are not cargo shorts. Familiarize yourself with this company before you apply by visiting the official careers website.