The following information will provide the answer to "how much does White Castle pay an hour?" and help you decide if this fast-food company is the right fit for you.
You should know how much White Castle pays an hour if you are looking for a new job with this company. This way, you can compare other fast-food chains and get a sense of the job market and what kind of jobs are available to you.
See the following:
White Castle Starting Pay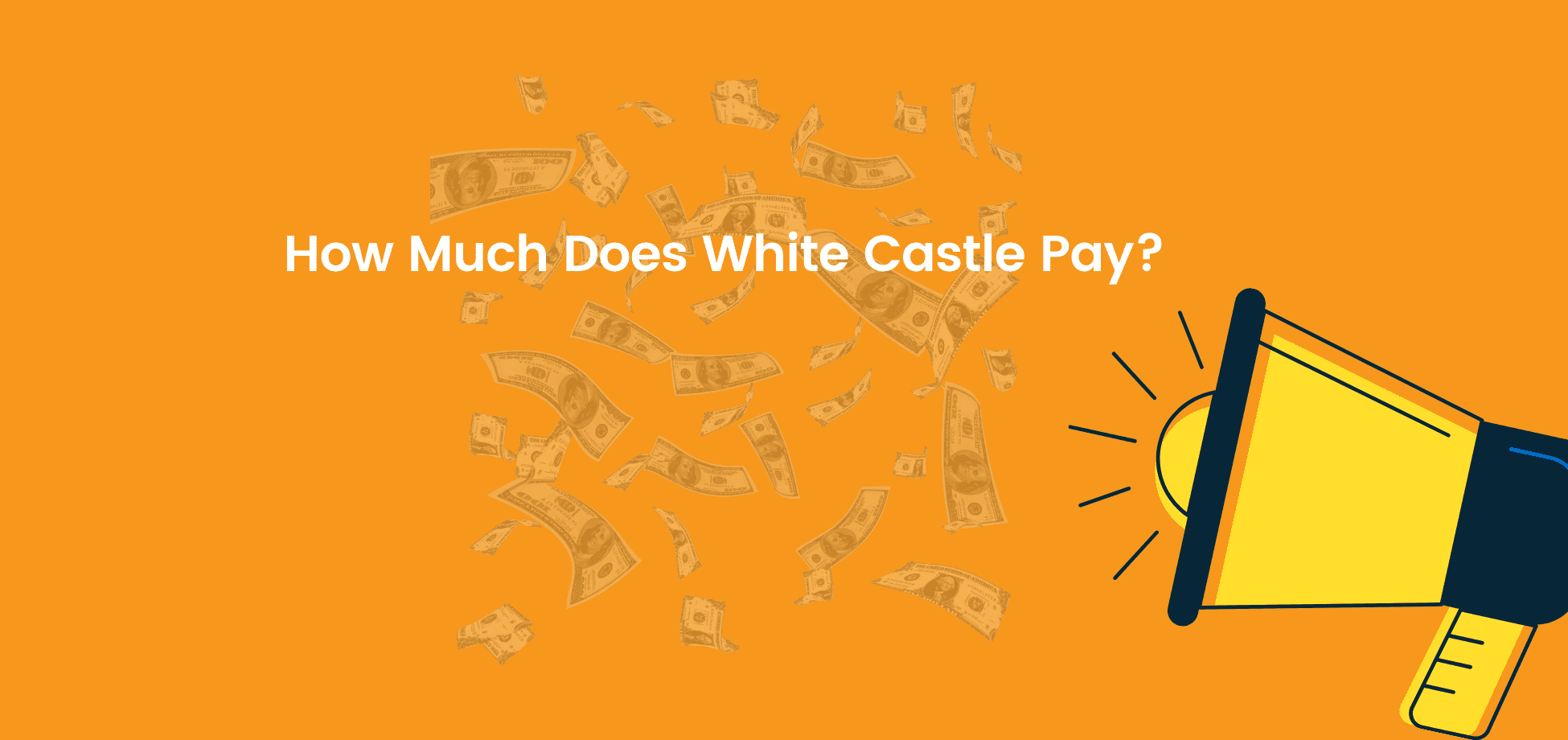 The White Castle base pay is, on average, $11.00 an hour. However, this depends on the state or area of your store's location.
For example, in the state of New York, you will start out at a minimum pay of $15 an hour as opposed to some parts of Illinois, where you may begin working as a team member making $9.50 per hour.
There are plenty of locations that start out at $12 an hour, as well.
White Castle Pay for Restaurant Jobs
White Castle simplifies its process by calling entry-level workers their team members. These employees typically learn many aspects of the business and can learn how to work the front and back end of the store, take orders at the cash registers, and take care of cooking and food preparation.
The pay at White Castle for entry-level is slightly above average, while the salaried position salaries are considered average for the fast-food industry.
These are the positions you will find at the restaurant:
Team Member
Crew Manager
Assistant Manager
General Manager
White Castle Team Member Pay
The average team member at White Castle makes $12.32 an hour, unless you're in a location with a higher minimum wage. This amounts to $492 a week if you work a full-time schedule of 40 hours, and it comes out to approximately $25,625 yearly.
A team member at White Castle greets customers with a smile and offers them assistance when needed. This worker also prepares foods according to customer orders and specifications and assists customers with their orders by taking payments or exchanging money for products or coupons as applicable.
White Castle Crew Manager Pay
Crew managers at White Castle earn, on average, $15.46 an hour. That's $618 a week and a yearly salary of $32,156. This would be considered a living wage in many parts of the United States.
The crew manager is responsible for the daily operations of the restaurant, including crew management and customer service. This lower-level but very important management position will have you ensuring that all customers are served in a timely and friendly manner and that all food safety and sanitation requirements are followed.
You'll also make sure all crew members are working to their full potential, as well as following company policies. A good crew manager is typically promoted to assistant manager when a position becomes available.
White Castle Assistant Manager Pay
The assistant manager at White Castle earns approximately $45,875 a year.
This manager is responsible for assisting the store manager in all aspects of the operation of the restaurant. Primary responsibilities include supervision of employees, inventory management, supervising customer service representatives, and managing hourly employees.
White Castle General Manager job responsibilities
A White Castle general manager is in charge of overseeing the operations of the restaurant. This includes making sure that everything is running smoothly, from food production to customer service.
He or she also oversees the hiring process for new staff members and manages their performance, and is responsible for retaining staff members who are performing well and terminating those who are not.
For this position, you can expect to earn an average of $59,345 yearly.
Does White Castle pay employees weekly?
White Castle employees are usually paid weekly either on a Wednesday, Thursday, or Friday. The pay period starts on a Sunday and ends on the following Saturday, then you get paid a few days later for all the work performed during that specific pay period.
Are pay raises offered?
The pay raises this company offers hourly employees are competitive with other fast-food chains. Workers are typically given raises based on merit every 3 months to a year, and the raises can come in increments of 1% to 3%.
White Castle Full-time hours
A full-time White Castle employee typically works 40 hours a week. As long as you average 32 hours every week, you are still considered a full-time worker.
Overtime hours can be essential for some employees who need the extra cash or just want to work more hours for fun. The best way to get more of these overtime hours is by talking to your manager about it. They will then talk with their boss about getting you on more shifts or covering for other workers who call out sick.
Part-time Hours
Part-time hours offered at a typical White Castle average approximately 17 to 25 hours a week. This all depends on your location, your relationship with your managers, how well you perform, and a variety of other reasons. If you want more work hours, you need to prove to management they can count on you.
Managers want to know that you are reliable in the long term. If you come in to work on time, do your job, and never call in sick, it's easy for them to see that you are reliable. But if they don't see this behavior for a while, they may start to question your reliability.
Work Shifts
There are a variety of shifts available at different White Castle locations. Here are some of the popular ones you can expect:
7 AM to 3 PM
7 AM to 5 PM
11 AM to 7 PM
11 AM to 9 PM
4 PM to 12 Midnight
7 PM to 3:30 AM
White Castle Sick Leave
While managers are immediately entitled to a few paid time off days a year, hourly employees report they are not given any paid days off until they reach their one-year anniversary of working for the company.
Employees should call their managers at least a few hours before their scheduled shift if they know that they will not be coming in for work. If the employee doesn't give enough notice before their scheduled shift, it can cause disciplinary problems.
Employees should also call in with a heads-up if they're going to be late or if there is an unforeseen change in their schedule.
Benefits You Can Expect
White Castle offers health benefits such as your typical health insurance, dental, and vision plan. There are different types of coverage options too, for life insurance.
Other benefits include:
Profit sharing
Tuition reimbursement
Scholarship eligibility
Employee assistance program
Free meals during every shift
Featured image courtesy of Dwstultz, CC BY-SA 3.0, via Wikimedia Commons.