Before making a decision on whether to apply, take a look at how much American Eagle pays its employees with the information contained in this article. Although the salary is important, keep in mind there are other factors to consider, such as the company culture and work environment.
American Eagle is a retailer that specializes in casual clothing and accessories for men and women. The company was founded in 1977, and today operates more than 1,000 stores across the United States.
It offers a wide range of clothes, including jeans, T-shirts, sweaters, and other items for both adults and children. In addition to its brick-and-mortar stores, the company also sells its products online.
This company has been recognized for its high quality and fashionable clothing. It has received numerous awards over the years. It is headquartered in Pittsburgh, Pennsylvania, and employs more than 37,000 people.
Here's what you'll find below:
American Eagle Starting Pay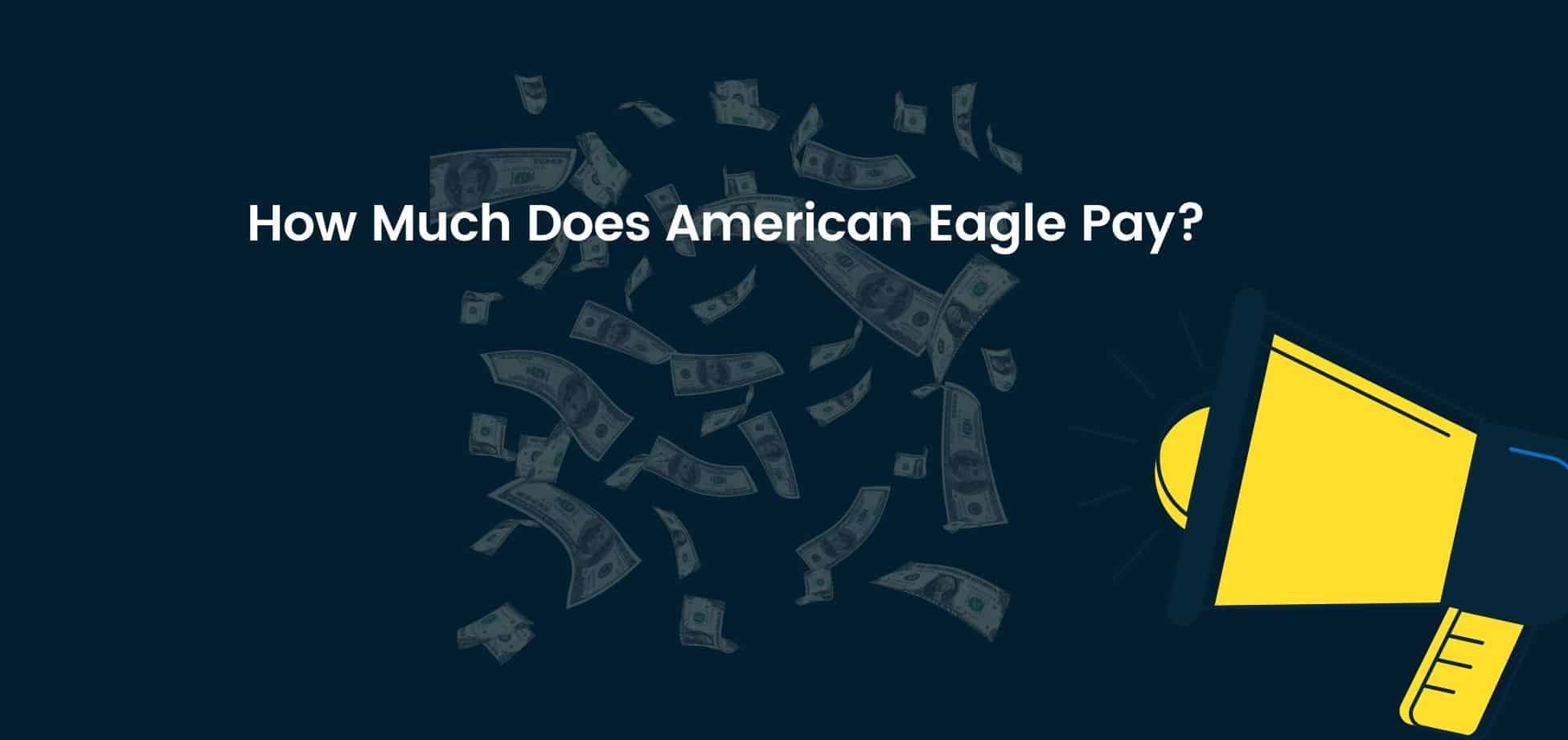 The starting pay for most jobs at American Eagle is usually minimum wage in your state, or up to .50 higher. However, it can go up to $12.50 to $13.00 an hour for individuals who have experience in entry-level positions.
In addition to a competitive starting wage, its employees also enjoy several benefits. These benefits may vary depending on the location of the store, but typically include medical, dental, and vision insurance, a 401(k) retirement plan with company match flexible spending accounts, life insurance, and paid time off.
Related Posts
American Eagle Sales Associate Pay
The pay rate for a sales associate at American Eagle depends on their level of experience, with the average wage being around $10.65 per hour. This amounts to $426 a week and a yearly salary of $22,152.
Sales associates may also be eligible for additional bonuses, such as a clothing allowance, during specific times of the year.
American Eagle Overnight Merchandiser Pay
An overnight merchandiser at American Eagle receives an hourly pay of $14.26. This means you can earn about $570 a week and $29,660 in your yearly salary.
This worker is responsible for the organization and presentation of all merchandise within the overnight area. The responsibilities include maintaining stock levels, facing and replenishing products, and merchandising special events. The position requires working overnight shifts, typically from 11 pm to 7 am.
American Eagle Brand Ambassador Pay
A brand ambassador at American Eagle is a special associate position, and this employee receives an average hourly pay of $11.55. The key responsibilities of a brand ambassador are to be able to have a strong sense of direction in career path, fast-paced environment with quick decision-making capabilities.
These employees are the face of the company when interacting with clients and customers, which means they must be outgoing, enthusiastic, personable, and passionate about fashion. They are responsible for helping customers navigate through the store, advising on styles, and providing excellent customer service.
This position is a great opportunity for those who are looking to start their career in the fashion industry. The program offers paid training, the opportunity for advancement, and a team-oriented work environment.
American Eagle Material Handler Pay
A material handler at American Eagle receives an hourly pay of $17.55, but it can go as high as $27.98. They receive good pay because of the duties and responsibilities they fulfill. These workers are responsible for the movement of goods and materials within the company. This includes organizing and loading stock into vehicles, as well as unloading and sporting goods.
The material handler is also responsible for maintaining a safe and clean workplace, as well as complying with health and safety regulations. This important role ensures that the company can operate effectively and efficiently.
American Eagle Stock Associate Pay
American Eagle stock associates are paid an hourly wage, which typically averages around $23.45 per hour. Associates also receive a 20% discount on all AE merchandise, as well as other benefits, such as 401k matching and paid time off.
The company offers competitive pay and benefits, making it an attractive place to work for current and prospective employees. The key responsibility of a stock associate is to ensure the store is fully stocked at all times and that the presentation of products is attractive.
The company also requires associates to make customers feel welcome by offering assistance with their shopping needs. Associates must be able to work a flexible schedule, which may include nights and weekends.
American Eagle Assistant Manager Salary
An assistant manager at American Eagle receives an annual pay of $39,902. To add to that, they also receive a cash bonus plus commission sharing that totals up to $1,455 a year.
This amount may change depending upon the location of the store, as well as the experience and education.
Assistant managers at this company have a wide range of responsibilities. They are responsible for leading and coaching their team, assisting with hiring, firing, performance management, scheduling, and training.
Sometimes these managers are also responsible for inventory, loss prevention, and customer service.
American Eagle Store Manager Salary
The average salary for a store manager at American Eagle is $60,460 per year. However, the salary of a store manager at this company may range from $50,000 to 105,500 a year.
In addition to that, they also receive added cash bonuses plus commission sharing that totals up to $3,450 per year.
Store managers are responsible for the overall operation of their store, including sales and profits, staff management, and customer service. They must maintain a high level of customer service, stock the store with quality merchandise, and constantly plan for future business.
The qualifications for a store manager at American Eagle include a high school degree or equivalent, experience in retail, and strong leadership abilities, organizational skills, and communication skills.
This position is a challenging but rewarding job. The salary is competitive, and the store manager has the opportunity to advance within the company. With hard work and dedication, they can eventually seek a district manager position.
American Eagle District Manager Salary
A district manager for American Eagle oversees all aspects of a specific region for the company. Duties may include sales, merchandising, operations, and human resources.
The average salary for this position is $112,123 per year. However, salaries can vary depending on experience, education, and other factors.
Working as a district manager for American Eagle can be a very rewarding career. The company offers competitive salaries and excellent benefits, including 401(k) plans and medical insurance. District managers also have the opportunity to advance their careers within the company.
If you are interested in this career, the best way to start is by gaining experience in the retail industry, and it can start with an entry-level job.
Does American Eagle pay weekly?
American Eagle pays bi-weekly specifically on Thursdays and Fridays. Your paystub will reflect your earnings from the previous two weeks of the pay period.
Will this company give pay raises?
American Eagle does give raises to its employees, but those raises are not guaranteed. They are based on several factors, including job performance and the overall financial health of the company. This means that there is no set schedule or formula for how raises are determined.
If you want to ensure that you receive a raise, it is important to be a high performer and to stay informed about the company's financial situation. Keep an eye on the news and pay attention to any announcements about layoffs or other cost-saving measures. If the company is doing well, you're more likely to receive a raise.
If you're not sure how you're performing or whether you're eligible for a raise, speak to your supervisor. They can give you feedback on your job performance and help you understand the company's policies related to raises.
What is considered full-time hours at this company?
A typical week at American Eagle is 40 hours, and that is what is considered full-time hours. You can typically expect to work Monday through Friday, and then each weekend you might get a Saturday and Sunday off rotation. Most part-time employees start their schedules on Sunday, but the exact schedule depends on the store.
How many part-time hours are assigned?
Typically, part-time employees work between 20 and 29 hours per week. This allows the company to maintain a healthy work-life balance for its employees while still meeting the needs of its customers.
American Eagle offers a variety of shifts, so employees can find one that fits their schedule. If you're looking for a part-time job with a reliable company, this company is a great option.
American Eagle Shift Hours
The shift hours at American eagle are as follows:
Monday-Friday: 10 AM to 9 PM
Saturday-Sunday: 11 AM to 7 PM
The shifts are subdivided into morning, afternoon, and evening shifts. Morning shifts are from 10 am – 3 pm, afternoon shifts are from 3 pm -7 pm, and evening shifts are from 7 pm -11 pm. The store is open every day except for Thanksgiving Day and Christmas Day.
Sick Leave Policy
American Eagle employees are eligible for paid sick leave. Employees accrue one hour of sick leave for every 30 hours worked, up to a maximum of eight hours per year.
Sick leave may be used for the employee's illness or injury, or for that of a family member. It may also be used to care for a child who is ill or has been injured.
American Eagle Break Policy
The company has a break policy where employees take a paid break after six hours of work. The breaks last for ten minutes. In addition to that, they get a half an hour unpaid lunch break.
Some managers in this company allow their employees to take a few 10-minute paid breaks here and there to keep employee morale up and to make sure employees stay motivated. Additionally, some locations allow for a 45-minute lunch break.
Featured image courtesy of Raysonho @ Open Grid Scheduler / Grid Engine, CC0, via Wikimedia Commons.