Have you been thinking about the question, "How Much Does Burlington Pay?" Perhaps you've noticed there are job openings for a location in your area, or you are just interested in a solid retail job. Stick with me because I'm going to provide some great information for you regarding how this company pays its employees.
To start with, Burlington is an American national off-price department store retailer. It operates over 740 stores in 40 states and Puerto Rico and is owned by Bain Capital.
Below, you will see:
Burlington Starting Pay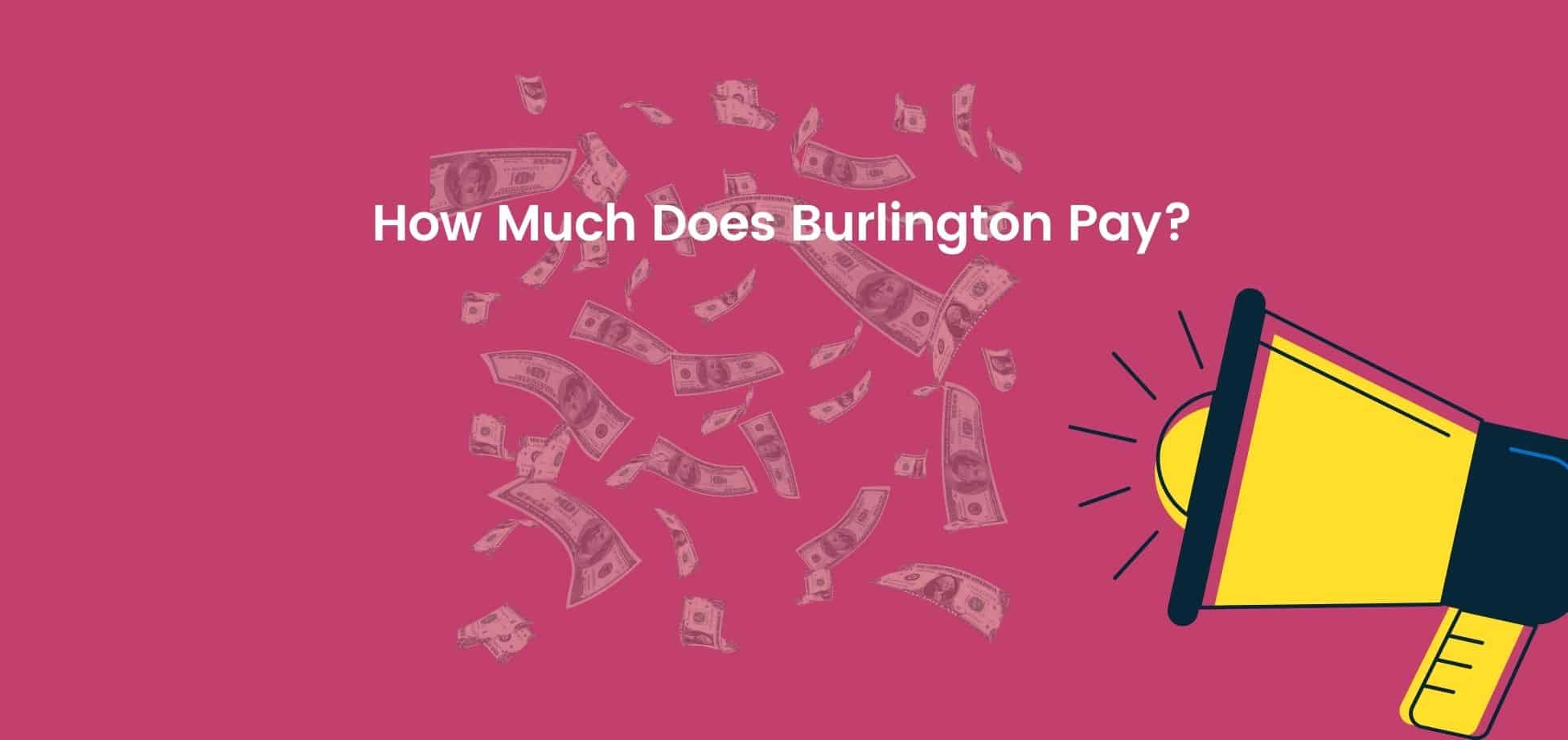 The Burlington hourly pay starts out at around $10.05 an hour. This pay may be considered fair because it is slightly more than minimum wage, which is what many retail stores pay. The working environment is a clean and healthy one, allowing for a job that's less stressful than the average retail chain.
There are benefits of working at Burlington such as paid time off, discounts on products, and plenty of opportunities to make friends with fellow employees. This makes the company an attractive place to work. For someone looking for a job in their early twenties, this company would be a good place to start.
Burlington offers work opportunities for those with little or no experience in the workplace. Additionally, they have an excellent benefits package that is inclusive of part-time employees. This is especially great for someone just graduating from school or looking to earn some extra money.
Related Posts
Burlington Retail Sales Associate Pay
A retail sales associate at Burlington receives an average pay of $10.70 an hour. This amounts to about $428 a week before taxes and a salary of $22,256 yearly.
This is a below-average rate for a retail worker, and it is difficult to support oneself on this type of pay. Even so, Burlington offers many benefits to employees, including health insurance coverage and stock options.
With these additions, the pay rate becomes somewhat bearable. Some workers say they can get by on this pay, but it is far from a living wage.
Burlington Cashier Pay
The Burlington pay rate for the cashier position averages about $10.30 an hour. This means you can earn approximately $412 a week in this position and a yearly salary of $21,424.
Cashiers spend their time running transactions and handling customer requests. They also need to adhere to company policies and handle any problems that arise.
To become a cashier at Burlington, one preferably needs a high school diploma and prior experience in retail or other customer service jobs. The job is suitable for people with strong math skills who love working with people. They must be able to work well under pressure, as busy shifts can see them doing everything from accepting payment to cleaning the store.
The job provides good opportunities for advancement into management roles, but these are merit-based and require being proactive about taking on additional responsibilities. Most associates who eventually become managers have at least a high school diploma, with many holding a university degree.
Burlington Warehouse Pay
Burlington employee pay for warehouse workers starts out at $17 an hour. This is a good rate that matches the work involved. It amounts to a weekly paycheck totaling $680 and a yearly salary of $35,360.
Aside from the good pay, there are several benefits to working at the warehouse. Employees can quickly become eligible for health care benefits, which many workers find essential.
Burlington Assistant Manager Salary
An assistant manager at Burlington receives a salary of $50,290 per year. However, the salary can range from $42,560 to $93,235 a year. This is a good amount of money to make as an assistant manager.
The roles of an assistant manager at Burlington include the following:
Greet customers and interact with them
Assist the store manager with planning daily activities
Train employees and motivate them
Ensure customer satisfaction by taking an interest in their needs and resolving issues that may arise
The qualifications needed to become an assistant manager at Burlington include a high school diploma, associate's degree, or equivalent. Previous retail experience is also needed.
The hours of an assistant manager vary by location, but most employees work 40 hours or slightly more per week. An assistant manager has the opportunity to be promoted at a higher salary in a short amount of time.
Burlington Store Manager Salary
A manager at Burlington gets an annual salary of $72,940. However, the amount can vary based on many variables and range between $63,670 to $110,450 a year respectively.
If you become a manager at this retail chain, you would be entitled to an annual bonus of up to $3,900 and other benefits such as stock options. You get all these because of the significant roles you play in the company.
You must also ensure that the store meets its daily objectives, and you are accountable for your personnel's productivity. In addition to that, you are also responsible for training, hiring, and leading your team.
As a manager at Burlington, you would need to oversee the entire store operations. This includes but is not limited to managing inventory levels, executing merchandising strategy effectively, and delivering reports that help in understanding business issues.
Burlington District Manager Salary
A district manager at Burlington receives an average salary of 85,870 a year. That rate may fluctuate and ranges from $63,670 to $110,450 a year as well.
District Managers are in charge of stores in a given area. Employees in this position need to be detail-oriented and have exceptional people skills. They must be able to motivate staff and give clear direction on leading others.
These managers must also attend community events, support company campaigns, and open new stores when needed. A four-year college degree is often preferred for this job. Experience in retail is required as well.
Does Burlington pay weekly?
Burlington pays its employees every week. Employees receive their paychecks through direct deposit to their bank accounts or through a pay card.
The pay period begins on a Sunday and ends the following Saturday, Then, on the following Friday, you get paid for the period of hours you worked between that previous Sunday and Saturday.
Does Burlington give raises?
Burlington does give raises and promotions. One of the biggest complaints from its workers is that although they may receive a yearly raise, it's only an increase of between 1% to 3%.
To get a raise, you have to work hard and put forth 100% effort. They also look at how long you have been with the company when deciding the percentage of your yearly raise.
What are full-time hours at Burlington?
If you work for 35 to 40 hours a week, you are considered a full-time employee.
There are many positions at Burlington that require an employee to work more than 40 hours a week. These positions include retail sales associates, cashiers, and customer service associates.
If you are looking for a full-time position, make sure it is clear that you will work at least 35 hours per week. That way, you know you will become eligible to earn full-time benefits such as health insurance and paid vacation.
How many Burlington part-time hours are assigned to employees?
Part-time employees work in four-hour shifts and cover 15 to 34 hours a week. The average part-timer states management gives you around 20 to 30 hours of work every week.
However, there are some disgruntled part-time employees who say they are barely given 5-10 hours a week and this causes them to look for another job.
The way you can possibly get around this is to communicate with your managers. Let them know you are available to work on any day at any time and that if given the chance, you will become their best employee!
Burlington Shift Hours
Each store has varying shifts, depending on the needs of the store which are determined by management.
Here are examples of shifts you may be able to work at Burlington:
6:00 AM to 3:00 PM
6:00 AM to 1:30 PM
7:00 AM to 4:00 PM

1:30 PM to 9:30

PM
2:00 PM to 11:00 PM
2:30 PM to 6:30 PM
5:00 PM to 11:00 PM
9:45 PM to 2:30 AM
Burlington Sick Leave Policy
The sick policy at this company allows employees to accumulate 5 sick days during their first year of full-time work. After the second year and every year thereafter, you can accumulate 10 sick days per year.
If you are going to be calling out sick, make sure you give management plenty of time to find a replacement for your shift. This means you can generally give them advance notice of between 3-4 hours.
Burlington Break Policy
If you are scheduled for an 8-hour shift, you are entitled to an unpaid 30-minute break. Additionally, for every 4 hours worked, you are entitled to a paid 15-minute break.
Featured image courtesy of Jay1095, CC BY-SA 4.0, via Wikimedia Commons.