You are probably interested or at least curious in knowing how much Popeyes pays its employees. When it comes to reviews from past and present employees, one of the biggest complaints is the low starting and average pay.
However, low hourly wages are not something unique to fast-food restaurants. Currently, these companies are finding out the world is changing their perception about this and quitting their jobs, and they need to start paying their employees at least somewhere close to a living wage or risk losing their businesses.
Here's what we'll cover:
Popeyes Starting Pay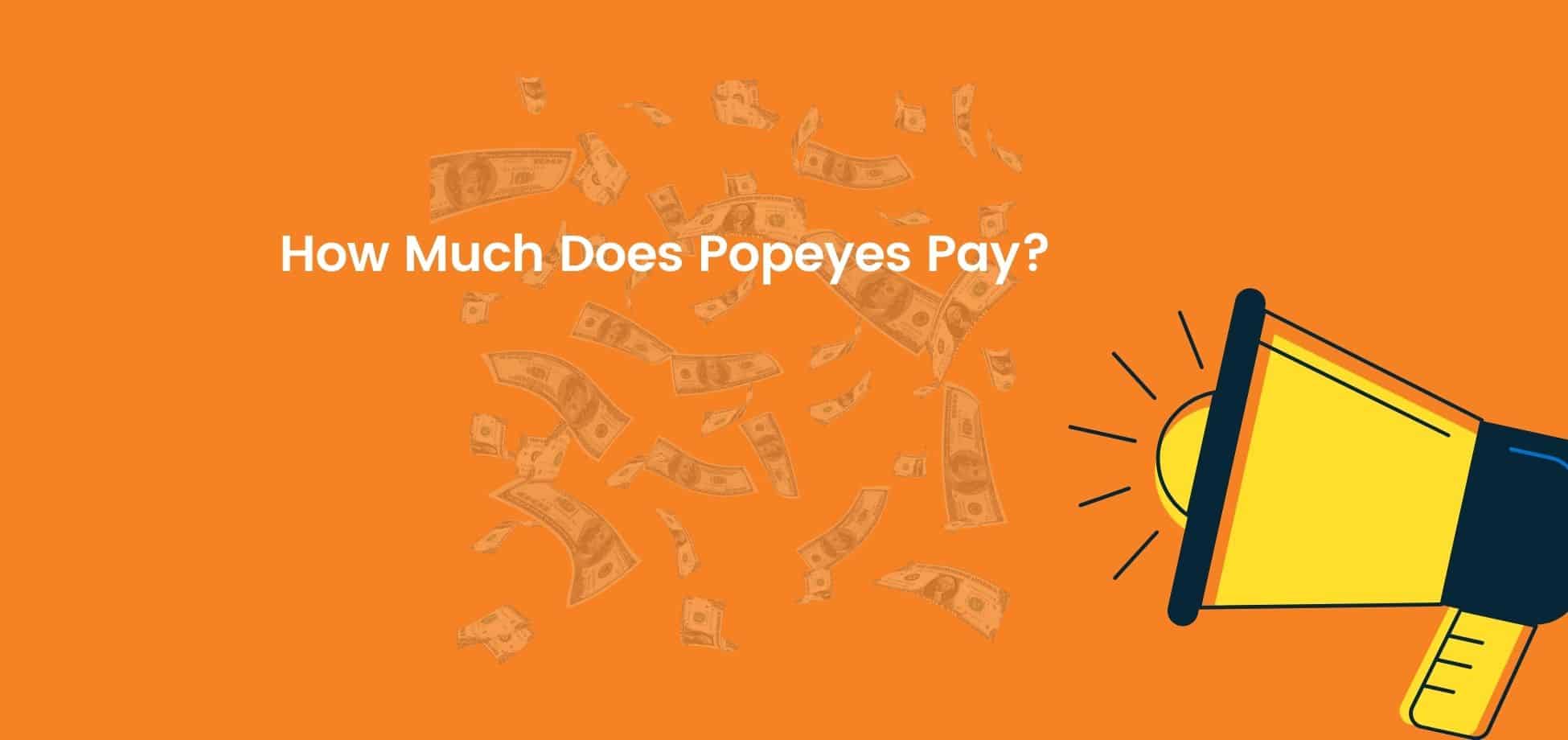 The starting pay ranges from .25 to .50 cents above the minimum wage in each state in the U.S. The starting hourly rates average from $8.65 to $9.10 per hour, unless you're in a state with a higher minimum wage.
Many employees say they receive periodic raises, based on how well they perform their work. This shows some Popeyes locations are willing to pay an incentive for good workers, making it a plus for the employees.
Related Posts
Popeyes Team Member Pay
The company values every single Popeyes team member. It believes in teamwork and stresses to all employees how they need to work together to be successful.
The pay for this position depends on the location of the store, and the shift you're assigned. There is a wide range, but it can go from minimum wage to $11.05 per hour. This amounts to approximately $442 a week and a yearly salary of $22,984.
The main factors that affect the Popeyes team member pay are:
Shifts: Some shifts, such as late afternoon and evening, pay a little higher
Education level and previous experience: Those who have an associates or college degree may be able to ask for a higher starting wage and better raises
Popeyes Cashier Pay
Popeyes cashier pay varies depending on the number of hours you work and your position at Popeyes. The average pay for this position is around $11.25 an hour. This would be about $450 a week if you're working full-time and $23,400 a year.
This is a fairly good rate for experienced fast-food employees. The cashier is responsible for taking customer orders and handling money and must have skills such as good customer service, basic math skills, and the ability to stand for long periods.
The benefits for this job include a flexible schedule and room for advancement after gaining experience.
Popeyes Cook Pay
The position of a cook at Popeyes is very critical. A cook is responsible for prepping foods to be used in meals. He or she must also pay close attention to the quality of food since it could affect the overall impression of the meal or may even lead to complaints by customers.
The starting pay for cooks at Popeyes is $11.65 an hour. This would equal approximately $466 an hour and a $24,232 yearly salary.
This job carries plenty of pressure, and poor work can result in consequences that arise from not having a high-quality meal or customer complaints. This can lead to negative feedback from customers but may also affect the store's revenue.
Furthermore, if the wrong ingredients are used it could harm those who consume these meals, leading to serious health concerns. The job of cooking at Popeyes requires both creativity and care so as not to put people in danger. Employees in this position can use all the above information to their advantage when they are bargaining for a raise in pay!
Popeyes Shift Coordinator Pay
Popeyes shift coordinators receive a starting hourly pay of $11.80 per hour. At that rate, they can earn about $472 a week and a yearly salary of $24,544. They can also earn overtime compensation like all hourly employees, and they enjoy an above-average benefits package that includes health insurance and paid time off.
Popeyes shift coordinators play a vital role in the success and day-to-day operations of a Popeyes restaurant. They direct and supervise employees during each shift, ensuring that customers receive exceptional service from everyone on staff.
Although they are at the "bottom" of the chain of command at Popeyes, they can earn more money if they rise through the ranks to become an assistant manager.
Popeyes Assistant Manager Pay
Assistant managers are paid $12.80 per hour on average. This is fairly low pay for a job with so much responsibility, and it amounts to $512 a week and a yearly salary of $26,624. The hourly wages for this position can go as high as $21.75 per hour.
The role of an assistant manager at Popeyes is to supervise restaurant operations. This includes managing employees, resolving customer complaints, and overseeing daily tasks to keep the restaurant running smoothly.
Popeyes offers assistant managers an excellent benefits package that offers them opportunities to grow in their careers. Their health plans offer several choices to choose from.
These employees are also offered a 401(k) plan, tuition reimbursement, and sick days. An assistant manager should have certain skills including excellent customer service, communication, team leadership, and organization.
Popeyes Manager Pay
A Popeyes assistant manager earns a yearly salary of around $32,345. The salary can go up as high as approximately 62,545 a year.
Some of the benefits of working as a manager at Popeyes include paid time off for vacation or personal days, health benefits, and discounted meals.
Popeyes is a Louisiana-style fast food restaurant that serves popular dishes such as loaded chicken platters, seafood platters, and fried shrimp. A typical day for a manager at this fast-food chain begins by welcoming the employees to arrive for their shift on time.
After greeting each employee, he or she preps the kitchen for opening and makes sure the area is clean, stocked, and in working condition.
Throughout the shift, the manager ensures that all food is prepared promptly to meet customer demand. He or she also ensures that each team member performs his/her duties efficiently by communicating tasks with employees.
For example, he or she may ask an employee to bag orders when there is a long line of customers. At the end of each shift, managers submit their employee's timesheets and fill out any necessary paperwork, such as customer satisfaction surveys.
Popeyes Manager-in-Training Pay
A Popeyes Manager-in-Training, or MIT, is a position that can help set up a career in the restaurant business. The job begins with an orientation and training period, during which time you'll learn all about preparation, customer service, restaurant management, and food safety.
During training, your pay will average approximately $14.55 per hour. Although entry-level managers usually don't have a set schedule, their hours can vary based on locations and company needs.
An MIT who performs well and gets promoted to manager can immediately begin earning a salary in the $30,000 to $35,000 a year range, depending on the location.
Does Popeyes pay weekly?
In most cases, Popeyes pays employees every week. The pay frequency may vary from state to state. The company's franchise-owned locations usually operate on a weekly cycle, but there are many locations that pay biweekly. Regardless, the pay date is usually on a Monday, Tuesday, or Friday.
Keep in mind, most Popeyes employees are paid hourly, while certain managers are paid a salary. Hourly workers typically earn between $8.35 to $16.95 per hour, depending on their position and how long they have been employed at this company.
How often does Popeyes give pay raises?
In most cases, raises occur with promotion. However, performance-based increases are also fairly common. Employees can usually expect to receive raises at least once a year if they perform well and maintain high standards of customer service.
Popeyes provides competitive compensation for their employees. The benefits package in some locations includes such incentives as medical and dental insurance, paid vacation time, and tuition reimbursement.
What are full-time hours at Popeyes?
The number of hours an employee should work at Popeyes depends mostly on the type of job. Generally, a full-time employee works 40+ hours a week. For management positions, this may be higher, depending on the number of people being supervised at any given time.
If an employee works 40+ hours a week, they become eligible for benefits such as paid vacation and sick time after a certain period of time, determined by the franchise owner. If the position is part-time, it will be defined in the job description or by Human Resources if not already mentioned in the hiring process.
Most people apply to work full-time hours at Popeyes, but part-time positions are also available.
Popeyes Part-time Hours For Employees
Popeyes part-time employees work for only 20 to 25 hours per week. It means in a day, they work for 4 to 5 hours only.
This is not a bad way to get your foot in the door because, in many locations, there are only part-time positions available. This is due to franchise owners wanting to test new employees out to see if they are worthy of being assigned at least 40 hours in a week.
Employee Shift Hours
Employee shift hours vary but are mostly within the same general time frames.
Most shifts run from:
10:00 AM to 5:00 PM
10:00 AM to 6:00 PM
11:00 AM to 4:00 PM (part-time)
12:00 PM to 8:00 PM
2:00 PM to 11:00 PM
5:00 PM to 10:00 PM (part-time)
Work with your manager if none of these shifts fit your home life. There are plenty of great workers at Popeyes restaurants that need to be accommodated due to having family responsibilities.
Managers at this chain will oftentimes accommodate you if you have a valid reason and have proved you are a dependable worker.
Popeyes Break Policy
Popeyes has suffered negatively in the news for not giving its workers adequate breaks during their shifts. Since most Popeyes are franchise-owned, there is no uniform break policy, which means you will have to work this out with your manager or owner.
Featured image courtesy of Ser Amantio di Nicolao, CC BY-SA 3.0, via Wikimedia Commons.